Purdue safety to play vs. Indiana St. with two broken hands
Junior Landon Feichter admits that catching the ball might be a problem if it comes to it.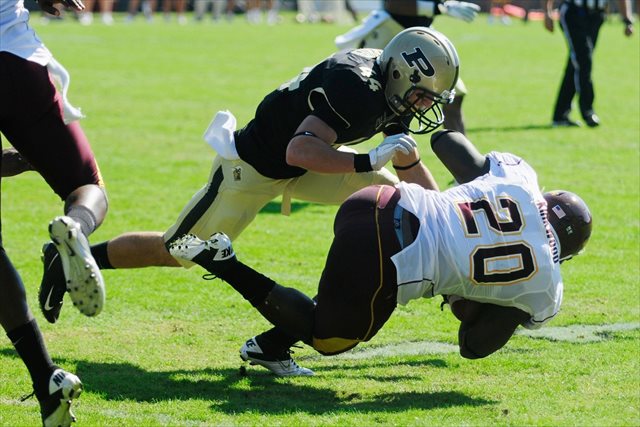 It's not unusual for a college football player to wrap up a broken hand and play with it, particularly for a big game. But Purdue safety Landon Feichter is preparing to play for his Boilermakers' home opener against Indiana State Saturday with two broken hands.
Per the Journal and Courier, first-year Purdue coach Darell Hazell confirmed on his Thursday radio show that Feichter broke both hands in the Boilers' 42-7 loss at Cincinnati last Saturday. Nonetheless, the junior safety will play against the Sycamores, Hazell said, and Feichter is listed as a starter in Purdue's game notes. 
Feichter spoke to the Journal and Courier for a video interview, during which he recalled the two plays on which he injured his hands and admitted he might not be able to catch the ball should an interception opportunity present itself:
Perhaps the most interesting aspect of Feichter's situation is that he's not playing through his injuries for a Big Ten opponent or Notre Dame; he's suiting up to face a 17-point FCS underdog who was waxed 73-35 by Indiana last week. It's fair to say that after the embarrassment of Week 1 -- a result that drove quarterback Rob Henry off of Twitter -- Hazell is serious about getting his first win at Purdue, and that Feichter and the Boilers are serious about putting that defeat behind them.
Air Force was forced to cancel 11 athletic events because of the 69-hour government shutdo...

Olson has a lot of the tools offensive coordinators want in a quarterback

The Tigers have a wealth of talent at their biggest position
Pineiro received the award for stopping an attack the morning of Oct. 15, 2017

The first opening weekend lines for college football in 2018 have been posted

A year-end wrap-up of college football statistics you need to know from 2017