Saban, Alabama agree to contract extension
Alabama coach Nick Saban will likely stay with the Crimson Tide and not take the Texas job, which is currently occupied by Mack Brown.
• 1 min read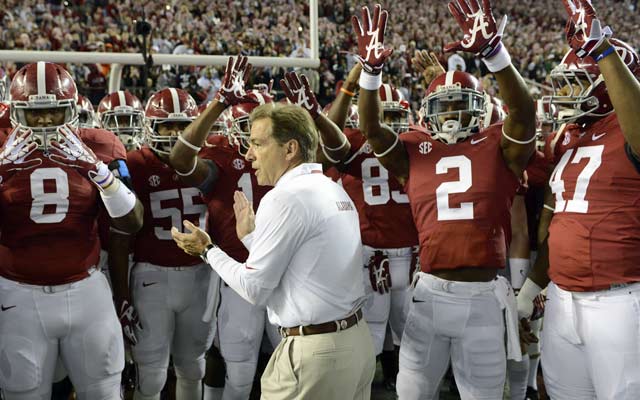 Nothing to see here. Alabama coach Nick Saban is staying in Tuscaloosa after all.
A high-ranking Alabama source said Friday night there's a contractual agreement in place for Saban to remain the Crimson Tide coach.
"There's certainly an understanding that he'll be the coach," the source said. "Obviously he'll be getting more money."
Alabama confirmed the extension about an hour after word got out Saban was re-upping. TideSports.com reports Saban's contract will jump from roughly $5.4 million per year to between $7 and $7.5 million.
"We are excited about the future and the University of Alabama is where I plan to end my coaching career," Saban said in a statement through the school.
The negotiations were 'fairly routine,' according to the source. Alabama approached Saban about a contract extension weeks ago and is prepared to keep him the highest paid coach in the country.
ESPN college football personality Kirk Herbstreit tweeted Friday night that Saban and Alabama had agreed to a multiyear extension.
Alabama fans were uneasy this week as rumors swirled about the Texas job. Mack Brown is still the Longhorns coach but might not keep his job after going 30-20 the last four seasons. Brown on Friday met with president Bill Powers and AD Steve Patterson but did not mention his job status at a UT team banquet Friday night.
Saban, 62, stated numerous times during the season that he's happy at Alabama. He said he was "too damn old to go someplace else and start over."
Saban was recruiting all week and returned to the Alabama football offices Friday, which partly explains the execution of the deal Friday night.
Alabama sources say working with Saban's super agent, Jimmy Sexton, has been cordial and professional over the years.
These will be the names discussed endlessly heading into the 2019 NFL Draft

A series of threatening tweets made by a former player are being investigated in Ann Arbor

There will be storylines a plenty when some traditional powers take the field on Saturday
Bruce led the Buckeyes to four Big Ten titles during his tenure in Columbus

Saban said he had a discussion with Hurts after the second scrimmage regarding his future

Tua Tagovailoa's injury has delayed his battle with Jalen Hurts, but maybe there's room for...