On Wednesday, we're going to see Ken Griffey Jr. gain induction into the Baseball Hall of Fame along with maybe one or two from the Mike Piazza, Jeff Bagwell, Tim Raines trio. We won't see Curt Schilling or Mike Mussina get in this time around and maybe not for a few years. Maybe never, which would be a shame.
Because guess what? While the offensive numbers during the so-called "Steroid Era" became watered down*, pitchers stats were dragged down. And when people only look at raw numbers, they aren't giving the best pitchers of this generation enough credit. Stay with me, because I'm going to prove it, too. Schilling and Mussina absolutely belong.
*For a good look at the numbers, check out the post I did a few years ago. Some of the stat lines compared to where we are now are just lunacy
So far, from an entire generation of pitchers, the only Hall of Famers are Greg Maddux, Tom Glavine, John Smoltz, Pedro Martinez and Randy Johnson.
Who else is coming? Roy Halladay, probably. Andy Pettitte or Roy Oswalt? Doubtful. That's it. So from an entire generation, the Hall of Fame pitchers were Maddux, Glavine, Smoltz, Martinez, Johnson and (maybe) Halladay? That's all? Just six? Even if we note the special case of Roger Clemens (he'd be in if not for PED questions), that's seven pitchers in a nearly 20-year span. That's very underrepresented compared to the already-established standard of the Hall. Adding only Schilling and Mussina gets this era at least a bit closer to the other generations and isn't even close to being excessive with an entire generation having nine Hall-worthy guys. 
For example, take note that this would be nine starting pitchers who debuted between 1986-2004 that I'm saying are worthy of the Hall of Fame. When we go later (debuts 2005 and on) we get the likes of Felix Hernandez, Justin Verlander and Clayton Kershaw, but this is a different generation. I think this is a pretty clear place to divide it up. Past the nine names I mentioned above as Hall-worthy in the era in question (pitchers who debuted from 1986-2004), the next best pitchers were Pettitte, Oswalt, Tim Hudson, Mark Buehrle, CC Sabathia, Johan Santana et al, in no particular order. None of this group is better than Mussina or Schilling in terms of career value, so these two are the next best we've got from the PED Era.
Want to see some comparisons of other eras and how many pitchers got into the Hall of Fame? You sure, "Small Hall" guys?
There are 15 Hall of Fame starting pitchers who debuted between 1950-1967. If Schilling, Mussina and/or Clemens don't get in, let's reiterate that we're looking at six (again, including Halladay, who I would hope makes it) from 1986-2004. Nearly three times as many.
Offense was stupid in the 1930s, though, just like in the so-called Steroid Era. And there were down offensive eras like the Deadball Era. We need to look at all other eras. So we will.
There are 11 Hall of Fame starters who debuted between 1923-1942. We could make it 1918-1939 and it's still 11. That's a lot more than six, no?
Even going back into baseball's early years, with far fewer players and teams, we get more representation among pitchers. Thirteen Hall of Fame pitchers debuted between 1871-1891. From 1897-1916, baseball witnessed the debuts of 21 future Hall of Famers.
For effect, I'll say it again: Unless Schilling, Mussina and/or Clemens get in, we're (maybe!) going to see six from 1986-2004.
Via Dan Szymborski of ESPN.com, here are some nice graphs to illustrate just how stupid the "Hall of Fame is becoming watered down!" people sound.
Reminder of how poorly modern players represented in Hall. @MattSnyderCBS pic.twitter.com/uFW1wLyQmR

— Dan Szymborski (@DSzymborski) January 2, 2016
It's actually getting harder to make the Hall, not easier.
Now, here's where we must address the obvious: Some eras are going to have more Hall of Fame pitchers than others. There can be golden ages and down eras. The problem is, in discussing both Schilling and Mussina, everything on their respective resumes says Hall of Famer. The only real dissent was that they weren't in the top five in their era, but it's already been established that "top five in era" isn't the threshold to gain acceptance to the Hall. This argument is purely revisionist history. It's been the top dozen or so in every other era -- except the Deadball Era, when they threw in over 20, likely because of raw numbers that weren't era- or ballpark-adjusted.
On the other end of the spectrum, why do the pitchers in the Video Game Era get docked for being awesome in spite of the astronomical offensive numbers being put up nowadays? We're smart enough to know context, right? Babe Ruth's 60 home runs were far more impressive than Barry Bonds' 73. We all know that. So why isn't Mike Mussina's career more impressive than Herb Pennock's** or Curt Schilling's more impressive than Waite Hoyt's?**
**If you don't know those names you aren't alone. It also blows up this notion that every Hall of Famer has to be this national household name that even non-fans have heard of. There are dozens of Hall of Famers that most baseball fans wouldn't even recognize these days -- such as Eppa Rixey, Stan Coveleski, Clark Griffith, Vic Willis and, well, you get the point.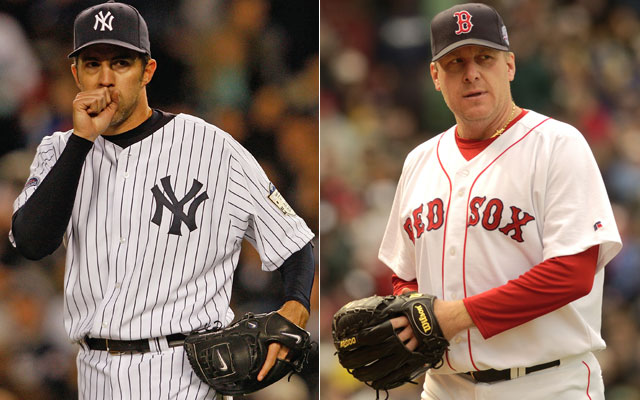 The fact of the matter is that there are already dozens of less impressive Hall of Famers in Cooperstown than Mussina and Schilling. This is no knock on the names I mentioned but instead a selling point for Mussina and Schilling. The current members of the Hall of Fame establish the baseline of what is good enough for enshrinement -- I think it's reasonable to see if a guy is around the average current Hall of Famer, and Mussina and Schilling fly by that standard in JAWS. If you don't believe me, please go in with an open mind and read Mike Axisa's case for Schilling and Dayn Perry's case for Mussina. Take in everything they said and consider everything above about the era comparisons I've given you.
We're allowed to realize the guys we grew up watching are just as good if not better than the guys our fathers and grandfathers told us about.
Further, we need to stop discriminating against pitchers who had to deal with the biggest offensive era in baseball history and embrace the fact that Mussina and Schilling were no-doubt Hall of Famers and we were fortunate to see them in action. The biggest crime of those two on the hill -- when it comes to being considered Hall of Famers -- was being born in the wrong year, apparently. I'm not OK with that and no one else should be.
Hopefully at some point in the near future, the arguably eighth*** and ninth*** best pitchers of the so-called Steroid Era get their due in Cooperstown. They deserve it.
***I say arguably because I actually think both are better than Glavine and Smoltz.