Rays open some eyes with eye-popping commitment to Evan Longoria
The Rays delivered a post-Thanksgiving surprise Monday by extending Evan Longoria's current deal by six-years and $100 million, taking him through 2022. Now, can he stay healthy and productive?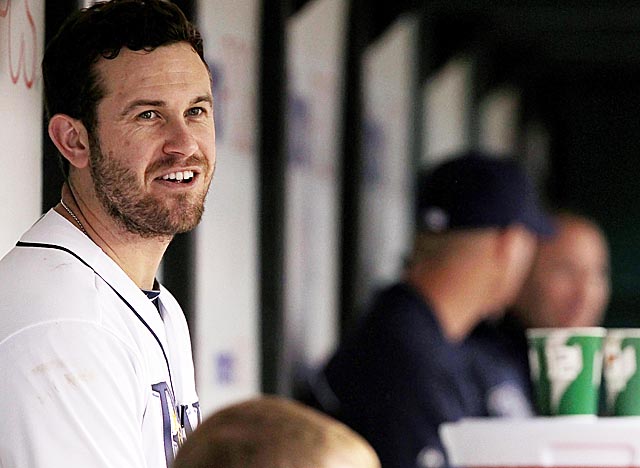 Longoria had one year left on a six-year, $17.5 million deal he signed in 2008. (Getty Images)
Can Evan Longoria's hamstrings outlive his nifty new $100 million deal?
Will Longoria's obliques remain un-tweaked for the next decade?
The Rays delivered a post-Thanksgiving surprise on the first Monday after the holiday, catching most everyone off-guard by extending Longoria's current deal for an additional six years, through the 2022 season.
Where Carl Crawford, Carlos Pena and Matt Garza were not invited, and to where B.J. Upton apparently will not go, Longoria will steam ahead.
This essentially is a lifetime deal for a franchise player. Longoria will be 37 when this contract is up.
And if Longoria stays healthy, backing all that great pitching, Joe Maddon has the transmission he needs to steer the Rays into October for much of the next decade.
"Today is a proud day for myself, my family, and my extended Rays family," Longoria wrote in a tweet. "Happy to call TB my home for the long haul!"
It's easy to see why the Rays were quick to lock this guy up.
Longoria easily is one of the game's biggest impact players -- look at the Rays' record with him (47-27) and without him (41-44) last summer.
And he gets it. He is everything the face of a franchise should be: Clubhouse leader, great in the community, team spokesman. He takes responsibility both for himself and his team, which takes the heat off of other Rays in the clubhouse.
"That's huge," an executive with a rival club said Monday. "He is the guy down there. They don't relate to many players in Tampa, and Longoria is the guy. He's the one people like. He says the right things. He is so productive in that park.
"He's a hell of a player, if he just stays healthy."
If he's on the field as often as he was in 2009 (157 games) and 2010 (151), this has the chance to pay off huge for the Rays. Maybe not as great a deal as the remarkable six-year, $17.5 million deal he signed before the 2008 season, but with a healthy Longoria and their pitching, the Rays will contend.
Clearly, with this deal, the Rays are betting on Longoria's health. That's always the gamble with deals this long and this enormous.
Not to paint Longoria as injury prone, but he now has suffered significant injuries in each of the past two seasons. He partially tore his left hamstring last April 30, which is why he played in only 74 games. And he overcame an early-season oblique strain in 2011 to play in 133 games.
The Rays are a totally different team with Longoria in the lineup than they are without him, evidenced by both the dramatic splits in their record last summer when he played and by the contract a financially challenged organization bestowed on him Monday.
He is a three-time All-Star, a two-time Gold Glove winner, and nobody who was watching will soon forget his game-winning home run against the Yankees to clinch a wild-card playoff spot on the final day of the 2011 season.
And this past summer, despite playing in only 74 games, he still hit .289 with 17 homers, 55 RBI, a .369 on-base percentage and a .527 slugging percentage.
He is one of just a handful of players in the game who is a legitimate difference-maker.
Now we'll see just how far he can extend that ability over the next decade.
"I think they probably overpaid for him to make a statement with the few fans they do have down there," the executive said. "But he is good player, and he must be a very good guy."