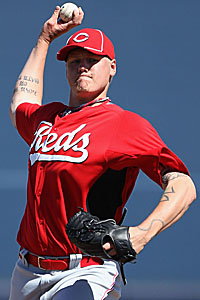 Considering the
Ryan Madson
news over last weekend, Reds fans couldn't have been blamed for freaking out when
Mat Latos
met with an athletic trainer and walked off the mound early during his scheduled start Tuesday.
Fortunately, his departure was termed precautionary, for his strained left calf. He simply slipped in a hole on the mound during a pitch, causing the strain, and has been listed as day to day.
"I don't know the layman's terms of what's going on but I'm fine," Latos said (
MLBlogs Network
). "They looked at it, they evaluated it. I put a little ice on it as a precaution."
Obviously it bears watching, but assuming there won't be any setbacks, Latos will likely not even miss a spring start, let alone a regular-season one.
• Also on the Reds: Relief pitcher
Bill Bray
is still hopeful to be ready for opening day. "I don't know. We'll see," was manager Dusty Baker's response, though. Bray is recovering from a strained groin muscle (
Cincinnati.com
).
• Rangers shortstop
Elvis Andrus
left Tuesday's game with a tight right hip flexor. Evidently Andrus was removed after he told manager Ron Washington about the tightness, simply as a precautionary measure. Andrus will likely be back in game action by Thursday (
ESPN Dallas
).
• Yankees center fielder
Curtis Granderson
was scratched from the lineup Tuesday night with right elbow soreness, but it doesn't sound serious at all (via Scott Miller of CBSSports.com).
• Blue Jays first baseman
Adam Lind
was a late scratch from his game with lower back tightness. The move was said to be precautionary, but also that "it wasn't immediately clear how long Lind would be out." (
MLB.com
)
• Outfielders Andres Torres (strained calf) and
Scott Hairston
(strained left oblique) "should be ready" for opening day for the Mets.
• The A's have placed pitchers
Dallas Braden
and
Joey Devine
on the 15-day disabled list, retroactive to March 24, the club announced Tuesday evening. Braden isn't a shock, as he's still a bit away in his recovery from shoulder surgery. Devine, who was once in the mix to take over as closer, has biceps tendinitis.
• Giants starting pitcher
Ryan Vogelsong
will start opening day ... for the Fresno Grizzlies. He's then expected to make one more rehab start before getting a start for the Giants April 15 (
Giants Talk
).
• Astros center fielder
Jordan Schafer
has flown to Atlanta to have his injured hand examined by a specialist. Initially diagnosed as simply a sprain to his left hand, Schafer is now having nerve issues (
MLBlogs Network
).
• More Astros: starting pitcher
Bud Norris
has tightness in his right triceps, but he says he's not worried and plans on going five innings in his scheduled start Friday (
MLB.com
).
• Superman Sam Fuld is seeking a second opinion for his wrist injury. The first opinion on the wrist of the Rays diminutive outfielder is there's a tendon sheath issue and surgery may be required. He could also rehab, but Fuld himself said "probably not" when it came to being ready for opening day (
Rays Report
).
• On the flip-side, Rays center fielder
B.J. Upton
: "I don't anticipate missing opening day." (
TampaBay.com
) Upton has been sidelined since injuring his back in an ugly collision with
Desmond Jennings
on March 14.
• Marlins ace
Josh Johnson
developed a blister in his right middle finger last time out, but Tuesday he said it was just a product of the grip on his slider and it's not an issue moving forward. He threw a bullpen session and is expected to be ready for his next start (
MLB.com
).
• Both Giancarlo Stanton (knee) and
Logan Morrison
(knee) played the field Tuesday (
Fish Tank
). They seem on track for opening day, but we're just over a week away, so any setback could cost them the start.
• Red Sox left fielder
Carl Crawford
will stay back in Florida when his teammates head north to start the season, due to the Red Sox wanting him to continue his program in warm weather.
"He thinks he could play in a game right now, talking to Carl," manager Bobby Valentine said (
ProvidenceJournal.com
). "He feels that good. His wrist has no problem at all. He has resided in the fact that there is a program the medical staff has him on that he's going to stay on religiously. He's been great with it."
• Several Nationals updates, via
WashingtonTimes.com
: They are hoping
Adam LaRoche
(bone bruise in his ankle) will be ready to play a major-league spring game Thursday. Michael Morse is scheduled to throw Wednesday. Once he's able to throw without issue, he can resume hitting. Finally, closer
Drew Storen
began his throwing program Tuesday. He's working back from elbow joint inflammation.
For more baseball news, rumors and analysis, follow @EyeOnBaseball on Twitter, subscribe to the RSS feed and "like" us on Facebook.