NBPA votes 24-0 to oust Billy Hunter as director
With a unanimous vote and a three-minute news conference, the National Basketball Players Association ousted Billy Hunter on Saturday as executive director.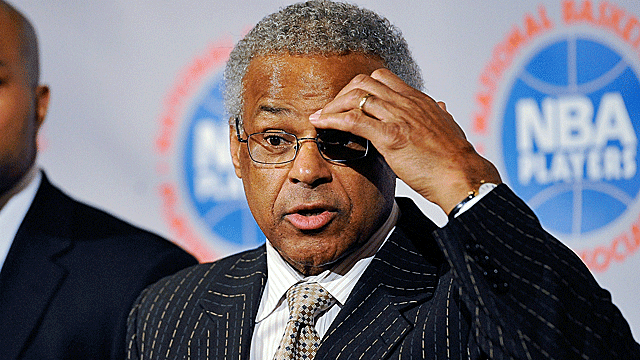 Billy Hunter is out as NBPA union head.
(Getty Images)
HOUSTON -- With a unanimous vote and a three-minute news conference, the National Basketball Players Association ousted Billy Hunter as executive director on Saturday.
"This is our union, and we've taken it back," NBPA president Derek Fisher said.
The board of player representatives voted 24-0 to terminate Hunter's employment with six teams not represented. Seven new members were elected to the executive committee, joining Fisher and vice president Matt Bonner: James Jones, Jerry Stackhouse, Chris Paul, Andre Iguodala, Roger Mason Jr., Stephen Curry and Willie Green.
Fisher, Bonner, Jones, Paul and Mason were members of the previous executive committee that worked with Hunter on negotiating the 2011 collective bargaining agreement and also comprised the interim executive committee that placed Hunter on indefinite leave Feb. 1 in the wake of a damaging, 469-page report about Hunter's leadership of the union.
"We want to make it clear that we are here to serve only the best interests of the players," Fisher said, reading from a prepared statement. "No threats, no lies, no distractions will stop us from serving our membership."
Flanked by Jones, Mason, Iguodala and Stackhouse, Fisher cited three ongoing government investigations as the reason why he and the committee members would not take questions. In doing so, Fisher confirmed a previous report by CBSSports.com that the New York State attorney general's office was looking into Hunter's oversight of the union's charitable foundation. The other investigations are being conducted by the U.S. Attorney and the Department of Labor.
"We do not doubt that this process will possibly continue in an ugly way," Fisher said. "But we want to remind everyone that there are three ongoing government investigations pending, so we'd like to continue to respect that process and continue to handle ourselves accordingly."
Hunter, 70, the executive director since 1996, did not attend the meeting to present his side after his attorneys said Friday that he'd been told for weeks that he would not be welcome. Hunter and his attorneys did not have an immediate comment on his ouster, which came after a nine-month investigation by the Paul-Weiss law firm and ensuing report that raised serious questions about his judgment, handling of conflicts of interest and stewardship of union finances.
"Going forward, we'll no longer be divided, misled, misinformed," Fisher said.
Approximately 35 players (less than 10 percent of the membership) attended the three-hour meeting, in which Paul-Weiss made a summary presentation of its findings against Hunter. The union hired an accounting firm to certify the elections and the passage of the resolution to terminate Hunter, who vowed in a statement to challenge the move.
"My legal team and I will begin carefully reviewing the actions taken and statements made against me in the meeting room in my absence," Hunter said. "I look forward to gathering the evidence showing how certain individuals made sure the outcome was pre-ordained."
Hunter characterized the manner in which he was terminated as an "extremely troubling process" that has "set a terrible precedent for the union. It violates every tenet of fairness upon which the union was founded." He said he will "examine all of my options," including whether his side could be heard "in a different forum."
"I do not consider today's vote the end, only a different beginning," Hunter said.
Among the most vocal players were LeBron James and Stackhouse, who both lobbied the player reps vehemently to make sweeping changes in the union, according to a person present in the meeting. Stackhouse directed some of his ire toward Fisher, whose concerns about the hiring and business practices of the NBPA under Hunter led to the Paul-Weiss investigation.
Hunter is owed $10.5 million on a contract extension that he received in 2010 -- an extension that Paul-Weiss concluded was not valid because it was not voted on by the board of player reps. Hunter's lawyers already have challenged the notion that a player-rep vote was necessary, and they also are expected to challenge whether there was cause to fire Hunter.
According to his employment contract, Hunter could be fired for cause based on findings of embezzlement, theft, larceny, material fraud or other acts of dishonesty, or for failure to perform his duties after 30 days written notice to take corrective action. Hunter also could be fired for cause if convicted of or pleading guilty or no contest to a felony or other crime. If fired for cause, Hunter is contractually entitled to salary and benefits until June 30.
If fired without cause, Hunter is contractually entitled to salary and benefits for the remainder of the contract term, which runs through June 30, 2015.
Commissioner David Stern, Hunter's longtime bargaining adversary, declined to comment on Hunter's ouster in his annual All-Star address Saturday night.
"We've seen Derek Fisher's statement and we await notification from the union on who we should be dealing with," Stern said.
Nerlens Noel is now being represented by Rich Paul of Klutch Sports

Steve Kerr opens up about his back issues and more

OJ Mayo, banned from the NBA for positive drug test, is considering playing overseas
The King? 'LeBron, it turns out, is Aquaman,' or so the account via Dwyane Wade's wife goe...

From Penny to Thunder Dan to Pistol Pete to Agent Zero, guys who would be better in 2017

Griffin said recently he thinks it's more likely that LeBron James goes to New York than L...