College hockey national tournament preview
College hockey's national tournament kicks off Friday afternoon.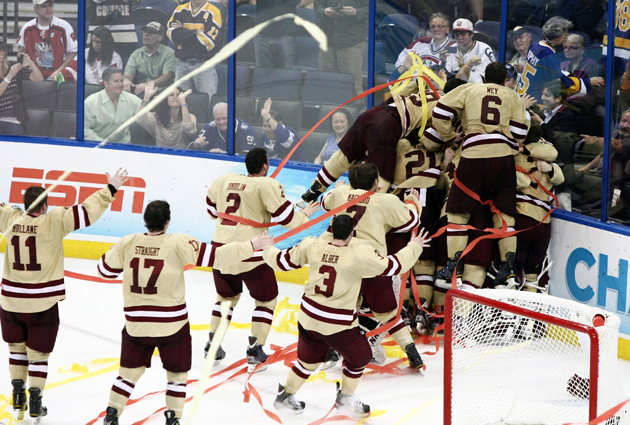 College hockey's national tournament, which begins Friday afternoon, is one of the real hidden treats of the sport. Not usually a headline grabber, the 16-team NCAA tournament is typically dramatic, exciting and -- perhaps most of all -- unpredictable.
Each year, there are overtime thrillers, upsets and controversial calls or noncalls. On a much smaller scale, the college hockey tournament mimics basketball's March Madness in many ways. You can even fill out a bracket.
Eye on Hockey has you covered with a quick look at each team, which players to watch in each regional and a few predictions as well.
All Times ET
West Regional -- Grand Rapids, Mich.
Friday 
No. 1 Minnesota vs. No. 4 Yale -- 2 p.m. (ESPNU)
No. 2 North Dakota vs. No. 3 Niagara -- 5:30 p.m. (ESPNU)
Saturday
Regional final -- 4 p.m. (ESPNU)
One-Liners
Minnesota made it to the Frozen Four last year and might have a more complete team this time around with some of the best scoring depth in the country.
North Dakota is veteran laden and plays a gritty, fast-paced style that could serve them well in the single-elimination format.
Niagara is coming off a terrific season but will likely have to lean heavily on the goaltending of Carsen Chubak if it has any hopes of making a run.
After just barely getting into the tournament, Yale could have its hands full with Minnesota, but the Bulldogs' up-tempo style could help in the matchup with the Gophers.
Player Spotlight
Danny Kristo and Corban Knight, North Dakota: The UND seniors are among the 10 finalists for the Hobey Baker Memorial Award. They've been the best one-two punch in the country, combining for 99 points this season with Kristo's 51 leading the way. As two of the most offensively dynamic players in the country, Niagara is going to have a tough time containing Montreal prospect Kristo and Florida pick Knight.
Nick Bjugstad, Minnesota: Coming into the season, Bjugstad was thought to be one of the nation's best players and certainly one of the top NHL prospects in college hockey. He might still be, but his production surprisingly dipped this season. Though he underperformed offensive expectations, Bjugstad showed a renewed commitment to his two-way game and still managed to put up 21 goals in 39 games this season. He'll need to be a key player for Minnesota this weekend.
Carsen Chubak, Niagara: The lone Hobey Baker finalist out of Atlantic Hockey, Chubak has put up some sterling numbers this season with a 1.91 goals-against average and .938 save percentage. However, his last game out, Chubak had his worst performance of the season, allowing five goals as Canisius downed the Purple Eagles to advance to the AHA final and eventually earn an automatic bid to the national tournament. He's the key to anything that Niagara accomplishes this weekend.
Kenny Agostino, Yale: You know this name from the Jarome Iginla trade as Agostino was one of the pieces that Pittsburgh sent to Calgary to get Iginla. The junior forward is leading Yale with 37 points in 33 games. He has been productive each of the last three seasons and has set career marks this year in goals, assists and points. His speed and offensive skill will match up well with Minnesota's mobility.
Who's going to Pittsburgh?

North Dakota meets rival Minnesota in the regional final and outlasts the Gophers in a classic.
Northeast Regional -- Manchester, N.H.
Friday
No. 1 UMass-Lowell vs. No. 4 Wisconsin -- 4:30 p.m. (ESPN3)
No. 2 New Hampshire vs. No. 3 Denver -- 8 p.m. (ESPNU)
Saturday
Regional final -- 6:30 p.m. (ESPNU)
One-Liners
UMass-Lowell is coming into the national tournament as one of the hottest teams in the country with a Hockey East regular-season and postseason title to their credit after finishing the year on a 12-1-0 run.
New Hampshire at times looked like the best team at the country and others very average, but they have a strong defensive unit and some scoring pop up front to potentially make some noise.
Denver's WCHA tournament ended with an unexpected thud against Colorado College. However, there's a lot of talent throughout the lineup making the Pioneers a dangerous No. 3 seed.
Wisconsin is probably the most dangerous No. 4 in the tournament, having shrugged off a 1-7-3 start and a litany of misfortunes this season to finish with a 22-12-7 record and a WCHA playoff title.
Player Spotlight
Nic Kerdiles, Wisconsin: The true freshman forward was ruled ineligible for the first 10 games of the season by the NCAA. Perhaps it's no coincidence that when Kerdiles returned from the suspension, the Badgers went 21-5-5 after going 1-7-2 without him. Despite missing all that time, Kerdiles is second on the team with 32 points, averaging better than a point per game. The Anaheim Ducks prospect comes into tournament play on an 11-game point streak in which he has collected 18 points.
Nick Shore, Denver: Three of Denver's top players from last season could still be playing for the Pioneers had they not been spending time in the NHL this season. Florida's Drew Shore, Minnesota's Jason Zucker and Pittsburgh's Beau Bennett would probably have made Denver a force this year. But thanks in part to Nick Shore – Drew's younger brother – the Pioneers are still in the hunt. The L.A. Kings prospect leads the team with 33 points and has shown his NHL upside in a big way this year.
Trevor van Riemsdyk, New Hampshire: The younger brother of Toronto Maple Leafs forward James van Riemsdyk, Trevor has proven to be one of the top offensive defensemen in the country this year. The sophomore rearguard finished second on the team with 31 points and has a strong shot from the point. He was named a first-team all-star in Hockey East this year and could generate some serious free-agent consideration from NHL teams after going undrafted.
Connor Hellebuyck, UMass-Lowell: The freshman goaltender has keyed Lowell's remarkable run at the end of the season. In his last 13 starts, Hellebuyck went 12-1-0. The Winnipeg Jets prospect leads the nation with a .949 save percentage and is second with a 1.39 goals-against average and five shutouts. In the Hockey East championship game, Hellebuyck posted a 36-save shutout.
Who's Going to Pittsburgh?

UMass-Lowell gets what it needs out of Hellebuyck to get past Denver.
Midwest Regional -- Toledo, Ohio
Saturday
No. 1 Notre Dame vs. No. 4 St. Cloud State -- 1:30 p.m. (ESPN3)
No. 2 Miami vs. No. 3 Minnesota State -- 5 p.m. (ESPN3)
Sunday
Regional Final -- 4 p.m. (ESPNU)
One-Liners
It has been a season of peaks and one sizable valley for Notre Dame, but the Irish are on a nine-game unbeaten streak and won the last-ever CCHA championship.
Miami was the CCHA regular-season champion and got a lot out of its young roster, particularly its two freshman goaltenders.
Minnesota State had one of the toughest schedules in the country and navigated it admirably, but a 7-2 loss to Wisconsin at the WCHA Final Five last weekend doesn't do much for confidence.
St. Cloud State shared the WCHA regular-season title in one of the conference's most competitive campaigns to date but also fell victim to Wisconsin at the Final Five.
Player Spotlight
Austin Czarnik, Miami: One of two sophomores among the 10 finalists for the Hobey Baker, Czarnik is a solid all-around forward for the Red Hawks. He's tied for the team lead with 38 points, including a team-best 24 assists. Though undersized, Czarnik has great speed and skill, making him one of the more exciting players in the college game.
T.J. Tynan, Notre Dame: After earning MVP honors at the CCHA championship, Tynan appears to have put behind him the least productive season of his collegiate career. The junior forward and Columbus Blue Jackets pick has just 28 points this season after 54 as a freshman and 41 as a sophomore. If the CCHA championship got him going, Notre Dame could be a lot tougher to beat.
Drew LeBlanc, St. Cloud State: LeBlanc returned to St. Cloud State after last season was cut short by injury. He's a fifth-year senior and has hit the 50-point mark with his 37 assists leading the country. LeBlanc is also expected to field numerous NHL offers as an undrafted free agent, so the national tournament is his last audition.
Eriah Hayes, Minnesota State: The senior captain for the Mavericks leads the team with 20 goals and is second with 36 points. At 6-4, 210, he's drawing a fair amount of NHL interest as a free agent. As a veteran on a young team, this is Hayes' time to step up and make a major impact.
Who's going to Pittsburgh?

The CCHA semifinal loss to Michigan had to leave a bad taste in Miami's mouth, which clearly will provide motivation. The Red Hawks should go on a tear and outlast CCHA rival Notre Dame to earn the trip to the Frozen Four.
East Regional – Providence, R.I.
Saturday
No. 1 Quinnipiac vs. No. 4 Canisius -- 5:30 p.m. (ESPN3)
No. 2 Boston College vs. No. 3 Union -- 9 p.m. (ESPNU)
Sunday
Regional Final -- 6:30 p.m. (ESPNU)
One-Liners
Quinnipiac is the top overall seed in the tournament after the program's best season to date, but a shocking loss to Brown in the ECAC semifinals brings the Bobcats into the tournament on a sour note.
Boston College also suffered a semifinal ouster in its conference tournament and has dealt with some uncharacteristic inconsistency this season, but the Eagles are the defending national champions.
A Frozen Four team a season ago, Union earned its way into the tournament by winning the ECAC playoff title and could be more dangerous than they're being given credit for.
Going into its conference playoffs, Canisius was 11-18-1 but went on an eight-game winning streak and became the surprise entry into the national tournament after winning the Atlantic Hockey title for an automatic bid.
Player Spotlight
Eric Hartzell, Quinnipiac: Quinnipiac owes a lot to this senior goaltender for the way that he has performed from start to finish. A Hobey Baker finalist, Hartzell has put up some sound numbers including a national-best 27 wins, a .934 save percentage, 1.52 goals-against average and five shutouts, all while playing the second-most minutes in the nation. This portion of the season gives Quinnipiac its toughest challenge to date, so Hartzell has to be as good as he has been all year.
Johnny Gaudreau, Boston College: He has been one of the most talked about players in college hockey all year as a sophomore. He has earned the moniker "Johnny Hockey," and some have called him "Gaudreaubey Baker." He is a Hobey Baker finalist after putting up 50 points in his sophomore campaign with 20 goals and 30 assists. The Calgary Flames prospect's 1.47 points-per-game lead the country. Gaudreau scored a dazzling, highlight-reel goal in last year's national championship game to ice BC's title, so this is the time of year that he really shines.
Shayne Gostisbehere, Union: As a sophomore defenseman with Frozen Four experience, Gostisbehere could be a huge part of anything the Dutchmen are able to accomplish at this stage. He's one of the more gifted offensive blueliners in the country as well as one of the finer skaters, so he can impact the game in a number of ways. His defense has been solid as well, and it will have to be as good as ever when Union meets the defending national champs. It should be an intense matchup for the Philadelphia Flyers prospect, but he's well equipped to handle it.
Tony Capobianco, Canisius: No goalie has played more minutes this season than Capobianco. If you're looking for why the Golden Griffins made it here, he's a big reason. Capobianco -- which is more fun to say than it is to type -- has a .930 save percentage and 2.35 goals-against average. During Canisius' 8-0 run to the national tournament, the junior netminder saw no fewer than 34 shots in every game. He can expect to see a lot of rubber against Quinnipiac.
Who's Going to Pittsburgh?

Boston College has been here before. It's usually really tough to pick against the winningest coach in the history of college hockey in Jerry York, so I won't.
Get ready for a great weekend of college hockey, because it usually doesn't get any better than this right here.
The NHL said the Flyers defenseman was 'reckless' and used 'excessive force'

'How you gon' do that hockey?'
The puck didn't go in the net but the skater did!

Another sign that Houston is a potential destination for an NHL relocation

The two teams combined for 111 penalty minutes and five ejections