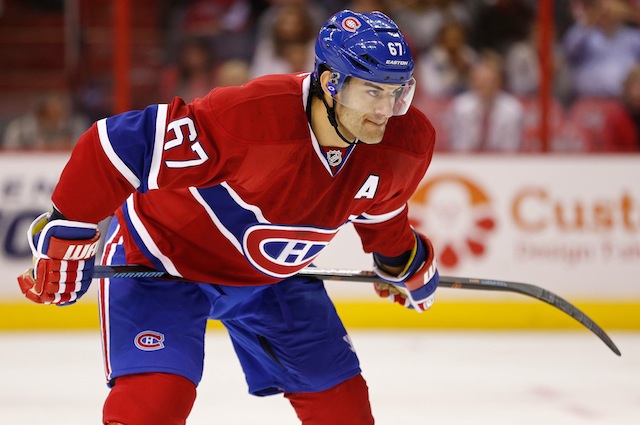 When you think of the NHL's best goal scorers, the first names that come to mind are probably the likes of Steven Stamkos, Alex Ovechkin, Tyler Seguin, Corey Perry or maybe Phil Kessel. But there is another one that you should be taking notice of -- Max Pacioretty of the Montreal Canadiens.
Pacioretty enters Saturday's game against the New York Islanders seventh in the league in goals and is riding a six-game goal scoring streak. If he is able to find the back of the net on Saturday he would be just the third player over the past two seasons to score in seven consecutive games (nobody has done it this season). But this isn't just some random hot streak by your run-of-the-mill NHL forward. This is one of the most dangerous forwards in the league playing at the top of his game. 
Since the start of the 2011-12 season, only five players (Ovechkin, Stamkos, Perry, Kessel and Pavelski) have scored more goals than Pacioretty's 108. What is most amazing about that success is that he has not really relied on power-play scoring to get him near the top of that list -- Pacioretty's 85 even-strength goals over that stretch are more than every other player in the NHL with the exception of Stamkos (101). He has also done all of that without the luxury of playing alongside a top play-making center, spending the bulk of his time in recent years skating next to David Desharnais, a fine player but one whose success is tied more to Pacioretty than vice versa. 
When you consider that he plays for one of the most famous and recognizable franchises in the NHL it's a little stunning he does not get more attention for how productive he is. Part of it might come from the fact that the goals he does score aren't usually the type that show up on highlight reels. He also hasn't hit any of the "milestone" numbers such as a 40-or 50-goal season, though he did score 39 in 73 games last season. His age 24 and 25 seasons, the two that probably should have been his best in the NHL, were cut short by a lockout and injuries. 
What he does do, though, is score from all over the ice. He is a volume shooter that sometimes scores dirty goals around the net, sometimes gets a lucky bounce that slowly slides across the line, or sneaks one in from a bad angle. But that's why getting pucks on the net (and Pacioretty's 3.67 shots per game since 2011 are fourth best among active NHL players) is so important. The biggest part of scoring goals is the fact you managed to even get a shot on goal.
He is also absolutely lethal off the rush, where a large number of his 21 goals so far this season have come.
Having just turned 26 in November, he is still in that part of his career where players have their best seasons. Given his ability to keep finding open spots in the middle of the ice, the way he scores off the rush, and his ablity to generate the number of shots he does, he seems like the type of player who could hit the 40- or 45-goal mark in a single season with just a little bit of luck.
It could even happen this season. Maybe then he will get a little more attention for what he is doing.