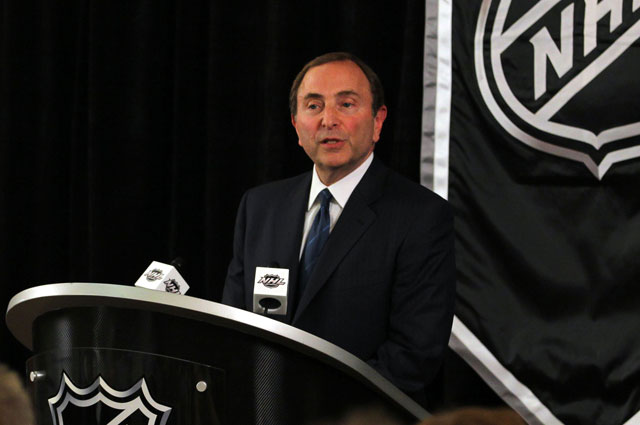 Gary Bettman considered Thursday's proposals by the NHLPA to be a step backward. (US Presswire)
What seemed to be a small step forward in the NHL's ongoing labor battle quickly turned into several steps backward.
At least, to hear the NHL tell it.
Any optimism that may have found its way into the discussion following this week's talks seems to have been obliterated Thursday following an hourlong meeting between the two sides in Toronto.
The league, led by commissioner Gary Bettman and several owners, met with the players following the NHL's proposal on Tuesday. That meeting resulted in the NHLPA making three proposals of its own.
The league did not seem to be impressed with any of them.
"Today is not a good day," said NHLPA leader Donald Fehr. "It should have been."
Bettman said he is "totally disappointed" and considered Thursday's talks to be a step backward, while also adding that the NHLPA's proposals were simply a variation of its earlier ones and did not come close to a 50-50 split of hockey related revenue.
NHL Lockout
| | |
| --- | --- |
| | |
More NHL coverage
"The players' association came back and basically made three alternate proposals on the players' share, all variations to some degree of the one proposal that they made over the summer and really haven't deviated from since," said Bettman. "And none of the three variations of players' share that they gave us even began to approach 50-50 either at all or for some long period of time."
Fehr led a group of 18 players into Thursday's meetings, including Sidney Crosby, Jarome Iginla, Jonathan Toews and Eric Staal.
Thursday was considered a huge day for getting the season started in a reasonable time frame and a lot of it was going to depend on how the NHLPA approached its proposals: Would it negotiate off the one the NHL made Tuesday (it was a very public proposal) or would it come back with something completely different.
The NHL obviously feels it's the latter, as Bettman added that it seems like the two sides still aren't speaking the same language.
"The owners' most current proposal was to reduce players salaries 12.3 percent," said Fehr on Thursday. "Players asked me, 'How could that be fair?'"
The players, as one would expect them to be, were optimistic about their offer going in.
St. Louis Blues captain David Backes told Josh Rimer of NHL Home Ice: "We feel our newest proposal took a great step towards getting a deal done. It's too bad the owners don't feel that way and I fear that we may miss an extended amount of time now."
It seems that while the NHL's offer started off with an immediate 50-50 HRR split, the players' offers would have resulted in a gradual decline down closer to 50-50. The NHLPA isn't expected to release the full details of its offers as the NHL did on Wednesday. Under the previous CBA the players received 57 percent of the HRR.
Fehr said one of the NHLPA's proposals (the third one) was that it will move to 50-50 as long as the league honors all current contracts. He also added that he felt the league did not seriously consider them and rejected them within 15 minutes.
Deputy commissioner Bill Daly issued a statement in response to Fehr's claim.
"The so called 50-50 deal, plus honoring current contracts proposed by the NHL Players' Association earlier today is being misrepresented," said Daly.
"It's not a 50-50 deal. It is, most likely, a 56 to 57 percent deal in year one and never gets to 50 percent during the proposed five-year term of the agreement. The proposal contemplates paying the players approximately $650 million outside the players' share. In effect, the Union is proposing to change the accounting rules to be able to say 50-50, when really it is not. The Union told us that they had not yet 'run the numbers.' We did."
The league has already canceled the regular season schedule through Oct. 24 and will no doubt be canceling more in the coming days, if not by the weekend.
The NHL said on Wednesday that any delay beyond Oct. 25 will result in the cancellation of signature events on the schedule (perhaps the Winter Classic in Ann Arbor, Mich., and/or the All-Star game in Columbus) and that if a full 82-game season is to be preserved they will have to have a deal done by then.
For more hockey news, rumors and analysis, follow @EyeOnHockey and @agretz on Twitter and like us on Facebook.