NHL lockout: Sidney Crosby thinks a 60-game season would be fair
Pittsburgh Penguins captain Sidney Crosby thinks a 60-game season would be "pretty fair" at this point.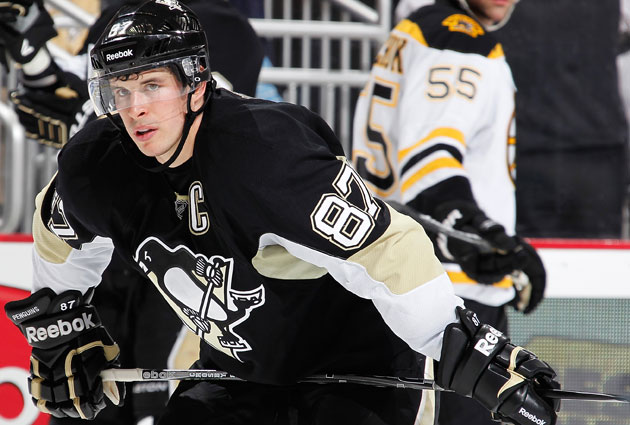 Sidney Crosby thinks a 60-game season at this point would be "pretty fair" for everybody. (Getty Images)
We still don't know when or if the 2012-13 NHL season will begin. If there is a season, we do know this much: It's not going to be an 82-game schedule.
The ongoing lockout has already canceled the regular-season schedule through the end of November and has pretty much eliminated the possibility of a full slate of games. If a new deal is reached before we get to the point of no return in these labor talks, the schedule will certainly be shortened.
But what's a good amount?
Pittsburgh Penguins captain Sidney Crosby thinks 60 games would be a "pretty fair" number.
"Right off the top of my head, I gotta think 60," Crosby told Pittsburgh's 105.9 The X on Friday morning, via Sports Radio Interviews. "I'm sure less than that could be played, but I think 60 would be pretty fair. There are teams that struggle and that give you a chance to go through a tough point in the season and still have time to kinda gather yourself. So that's a length that I'm sure everyone could live with, but I'm sure that we'd all be much happier playing much more than that."
While the 2004-05 lockout eliminated the entire season, the labor dispute that resulted in the 1994-95 lockout ended with an agreement in mid-January that saw the NHL play a 48-game schedule made up entirely of intraconference games (Eastern and Western Conference teams did not play each other that season until the Stanley Cup Final) that started on Jan. 17.
If a deal can be reached in the next couple of weeks and the season starts in early December, there's no reason the NHL can't play 60 or more games.
For what it's worth, there is at least one player, Washington Capitals forward Mike Ribiero, who is still confident the season will start by early December. He told Chuck Gormley of CSN Washington this week that "these are smart businessmen" and that both parties are smart enough not to miss a full year.
(I wouldn't be so sure about that, Mike.)
His optimism is one of the reasons he has yet to sign to play in Europe during the lockout.
Labor talks have been ongoing between the NHL and NHLPA all week, though it's not yet clear what (if any) progress has been or is being made.
"I think, as players, we're asking the same question," Crosby said. "Why couldn't the league meet for three weeks when we all know that the same issue was there for those three weeks. That's negotiations, and none of us like it. It doesn't always seem like there's a great explanation all the time and that's what's frustrating, I think, for everybody."
It should really be frustrating for Crosby who, now that he's finally healthy after missing parts of the past two seasons, could be ready for one of his best seasons yet.
For more hockey news, rumors and analysis, follow @EyeOnHockey and @agretz on Twitter and like us on Facebook.
Stacia Robitaille says Donald Trump told her in an elevator that she was coming home with...

Vladislav Yeryomenko was the Teddy Bear Toss goal scorer for the Calgary Hitmen

The Golden Knights are finally getting their No. 1 goalie back after a 25-game absence
Washington has won four straight, and the Kings are also on a tear right behind the Lightn...

The NHL says it's only interested in expanding to Seattle, but here's a look at all the moving...

The NHL says it is only looking toward Seattle for the next expansion team