NHL Realignment: How new playoffs might work
With a new realignment proposal comes a new proposed playoff structure.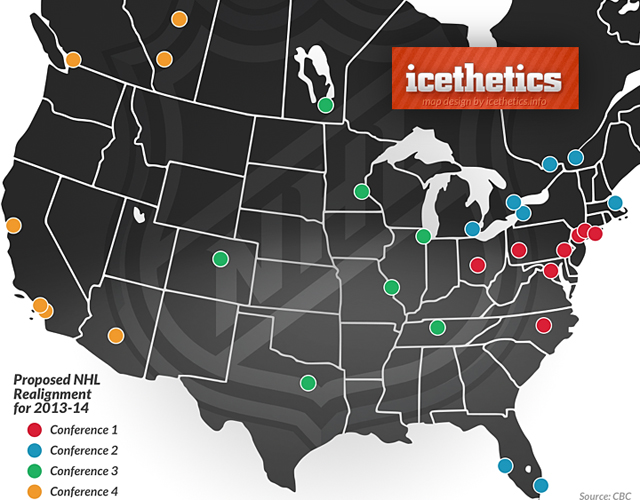 More NHL: Scores | Standings | Odds | Fight-O-Meter | League Leaders | Rumors
When the NHL initially announced plans for realignment into four conferences in December of 2011, it also announced a new playoff format. Now, after a reportedly new proposed realignment structure came to light, so have new plans for the postseason.
According to TSN's Bob McKenzie, there will not be expanded playoffs, nor a play-in game for wild-card teams to get into the playoffs as has been tossed around in the post-realignment report chatter.
With the playoffs remaining at 16 teams, McKenzie shared the details of what we might be able to expect for the postseason as realignment talks progress:
We are looking at a situation like the original December 2011 plan -- four conferences with four teams in each conference making the playoffs and playing the first two rounds; just like the old divisional format in the National Hockey League. That's what the NHL wanted but the NHLPA didn't want to do that, so what we're likely to see this time around is three teams from each of the four conferences guaranteed a playoff spot and then fill out with wild card spots the rest of the way.

So, four of 18 teams would be in the running based on their total points but we don't know at this point how those will be allocated in terms of the first and second round of the playoffs.
This is basically like a hybrid of what exists now with what was proposed two Decembers ago.
The playoff format was among the major sticking points for the NHLPA, which cited inequity in the initial plan.
"We had an issue with the fact that teams would either have a mathematical advantage or disadvantage of qualifying for the playoffs depending upon whether they'd be in a seven-team or eight-team conference," NHLPA executive director Donald Fehr told the New York Post earlier this month.
With two seven-team conferences and two eight-team conferences, the inequity is alleviated with the structure McKenzie revealed. It may not foster in-conference rivalries as effectively as the first two rounds being played amongst only conference foes, but it certainly evens things out.
Keep in mind, this is not final. It is simply in the proposal stage. There's plenty to play out before any of this gets set in stone. It does seem that things are moving rather quickly, however, so the realignment picture should become clear very soon.
(h/t Icethetics for the image)
For more hockey news, rumors and analysis, follow @EyeOnHockey and @chrismpeters on Twitter and like us on Facebook. Also, subscribe to our YouTube Channel.
The University of Denver star and Hobey Baker Award winner is drawing interest

Intrigue is high in Arizona after a wild offseason, but expectations should still be tempe...

Players are set to give personalized messages for Adidas' former hockey equipment brand
The 40-year-old center is returning to the Wild after a successful run in Pittsburgh

Edmonton locks up its 21-year-old RFA a month after McDavid's historic extension

Even with a new coach and added veteran help, the Canucks have a long road ahead