Patrick Kane says he is embarrassed over Wisconsin party trip, wants to change
Patrick Kane has two messages regarding his now infamous trip to Madison, Wis., after the season came to an end: It's embarrassing and things like that won't be happening anymore.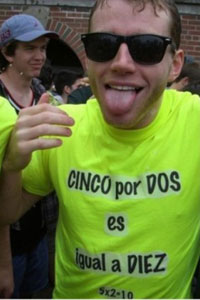 One of the photos of Patrick Kane's weekend in Wisconsin. (Deadspin)
Patrick Kane has two messages regarding his now infamous trip to Madison, Wis., after the season came to an end: It's embarrassing and things like that won't be happening anymore.
Well, OK, maybe there is a third message. He doesn't have a drinking problem, either.
Speaking publicly for the first time since his binge weekend at the University of Wisconsin, Kane spoke about the issue at the Blackhawks fan festival. Adam Jahns of the Chicago Sun-Times was on hand Friday night and relayed what Kane had to say.
"We all saw the photos," Kane said. "They're pretty embarrassing."
It was probably as good a time as any for Kane to speak on the matter, frankly. It gave him the chance to talk directly to/at the fans of the team and many who were let down instead of in a public statement that carries with it no sense of emotion or true contrition that you can see in person.
The setting also provides a much more laid-back situation for him to take a question or two. The grilling from the media isn't quite the same as a question or two from fans.
Kane had a little more to say on the matter, though, wanting to clear up some of the perceptions that people have of him as a lush.
"It was the end of the season, I was up for a good weekend with my friends and things probably got a little bit out of control," Kane said.

Does Kane believe he has a drinking problem?

"I don't think so," Kane said. "There's a lot of rumors that were made about those stories [in Madison] and different things like that. But it's something that I've put behind me and something [where] I don't really want to put myself in that position again. But, no, I don't think I do."
Unfortunately for Kane, who is only 23, the few drunken escapades he has had since joining the Blackhawks five years ago are as synonymous as his immense skill on the ice for many fans. It's hard to go three references to Kane in any fashion without a cab drive joke being made, referring to the time he punched a Buffalo cabbie.
These incidents led to the postulation that maybe Kane was on the trading block this summer. Somehow the rumor actually found a tailwind and spread some but the Blackhawks have repeatedly stomped out that fire and insist they aren't going to trade him but instead do what they can to help him.
We will probably never know if the Blackhawks really did give any consideration to trading Kane or not but perhaps even the word on the streets was enough to realize what could happen if the escapades continue. Or perhaps he truly was deeply embarrassed and had himself a bit of an epiphany.
There will still be a wait-and-see approach for many to believe what Kane is saying since his reputation certainly does procede him. But it would certainly behoove him to try and tone down the partying. Not that he can't have some fun in the offseason or anything, but like most things it's best enjoyed in moderation.
Kane had a career-low 66 points last season for Chicago. If that's the lowest point total of his career, he's doing something right. The potential is certainly there to score more and remain up there for a long time to come. Getting rid of distractions like his Madison visit certainly won't hurt him stay at the top.
More from Eye on Hockey
Blackhawks GM says team disappointed
For more hockey news, rumors and analysis, follow @EyeOnHockey and @BrianStubitsNHL on Twitter and like us on Facebook.
Stacia Robitaille says Donald Trump told her in an elevator that she was coming home with...

Vladislav Yeryomenko was the Teddy Bear Toss goal scorer for the Calgary Hitmen

The Golden Knights are finally getting their No. 1 goalie back after a 25-game absence
Washington has won four straight, and the Kings are also on a tear right behind the Lightn...

The NHL says it's only interested in expanding to Seattle, but here's a look at all the moving...

The NHL says it is only looking toward Seattle for the next expansion team