Quest for the Cup: Can Blackhawks survive loss of Keith in Game 4?
The Blackhawks would love to take a 3-1 lead over the Kings in the Western Conference finals lead back to Chicago, but winning in LA on Thursday night will be even tougher without Duncan Keith.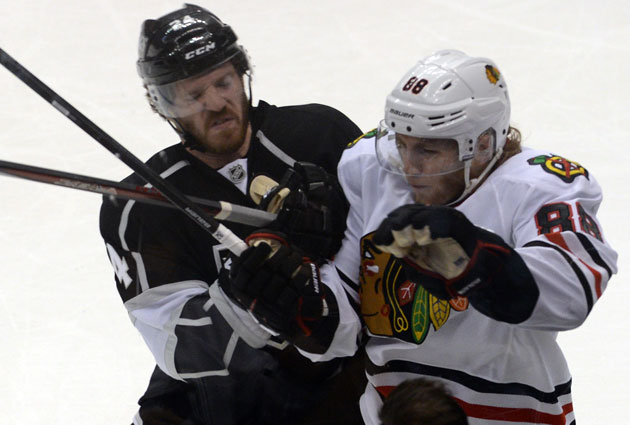 More NHL Playoffs: Scores | TV Schedule | Expert Picks | Odds | Mock Draft | Rumors
First star game of the day
Game 4 (2-1 CHI), Chicago at Los Angeles, 9 p.m. ET (NBCSN)


Winning in Los Angeles has proven to be hard enough for any team. It's going to be just that much harder for the Chicago Blackhawks without defenseman Duncan Keith.
Lacking in discipline for a brief moment, Keith took a swing at Jeff Carter in retalliation for a minor scuffle and caught Carter right in the chops. For his actions, he will be a spectator in Game 4 on Thursday night, when the Blackhawks try to keep the Kings from making this best-of-7 series a best-of-3.
It leaves Chicago in the posisition of most likely playing Sheldon Brookbank in place of Keith. With all due respect to Brookbank, he's not exactly the former Norris Trophy finalist. It's a big hole for the Blackhawks, particularly with LA getting a lot more jump at home, especially on the forecheck. That big ingredient in the Kings' recipe for success returned in Game 3.
Losing Keith for a game won't help to slow that down. He plays a bigger role for the Blackhawks than any other defenseman on their team. His 24:44 per game this postseason is almost three-and-a-half minutes more than any other player on the team (Niklas Hjalmarsson, 21:21). He has been a big part of helping to negate the Kings' forecheck, at least in the first two games, by getting the puck up ice before LA gets set up on a cycle. So, yes, it's a big loss. It's not exactly like a game-long power play for the Kings, but there's no denying it weakens Chicago for a game.
"If he does get suspended, it's a huge loss for their team," Carter said on Wednesday before the suspension was announced. "He's a big part of their team."
It also puts the Kings in a position in which they have to take advantage of Keith's absence. Not winning Game 4 would be crushing. Not only will Chicago be without one of its best players, but the game is in LA, where the Kings haven't lost this postseason. LA simply can't afford to let this one get away.
Perhaps just as important as Keith -- or close to it -- for the Blackhawks at this point, though, would be getting Patrick Kane back. No, he hasn't been out of the lineup or anything, but he has been awfully quiet for a couple of weeks now. When he's going, he is one of the best offensive players in the league. He's magic on the puck at times. Problem is he hasn't had the puck much at all of late. That helps explain why he has gone without a goal in seven straight games and has just two assists in that time.
Interestingly enough, Kane has the same amount of postseason points as Keith. While it's certainly true that Keith is a pretty capable defenseman in the offensive zone, that's not really how it's supposed to be in Chicago.
To try to get himself going again, Kane took some time with his dad recently to watch all of his past playoff goals, perhaps trying to find a spark to get him rolling again. Chicago would love to see it work and get Kaner being Kaner again. The winger is a play-maker but can also do his own scoring.
Chicago needs all the offensive players on top of their game that it can get right now. It's no secret that Jonathan Quick has been outstanding in the playoffs -- save Game 2 in Chicago -- but as good as he has been overall, he has been even better at home. In eight games at Staples Center this postseason, Quick has given up only nine goals. That's how a low-scoring team like LA has been in the playoffs is still alive and now has a chance to even the series with the Blackhawks.
The Kings will likely still be without Mike Richards, so both teams will be missing one of their more crucial players, but LA showed in Game 3 that they can get by without Richards, even if it's tougher. We'll find out if the Blackhawks can say the same sans Keith.
Snap shots
•  The update on Richards: He skated with the extras on Wednesday for roughly 20 minutes. (LAKings Insider)
•  Mike Modano thinks the Stars are in great hands with new GM Jim Nill. (Dallas Morning News)
•  The Calder Cup Final in the AHL is set; Detroit's affiliate, the Grand Rapids Griffins will play Tampa Bay's affiliate, the Syracuse Crunch. (NHL.com)
•  For those who can't wait for the next NHL game from EA Sports, here's a trailer for the new enforcer engine. (XBox360achievements)
•  The CBC montage people are really good at their jobs. The latest bit of proof: The pregame video from Game 3 in Boston on Wednesday.
Saturday's showdown will serve as a rematch of one of the NHL's first-ever regular season...

Stacia Robitaille says Donald Trump told her in an elevator that she was coming home with...

Vladislav Yeryomenko was the Teddy Bear Toss goal scorer for the Calgary Hitmen
The Golden Knights are finally getting their No. 1 goalie back after a 25-game absence

Washington has won four straight, and the Kings are also on a tear right behind the Lightn...

The NHL says it's only interested in expanding to Seattle, but here's a look at all the moving...