Stephen Weiss joining Red Wings with five-year contract
Stephen Weiss is headed to Detroit, signing a five-year deal for just under $5 million per season to be the center they were looking for.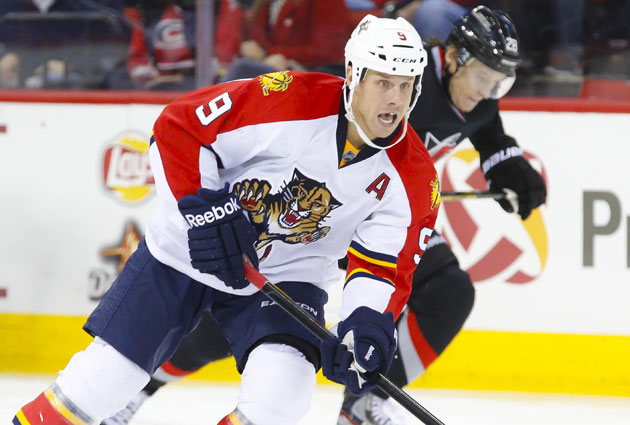 More NHL offseason: Rumors | Top 50 Free Agents | Buyout Tracker | Trades | Transactions
The Detroit Red Wings had one major need in this free-agent market and that was to find a center to play on the second line. They found that center in Stephen Weiss.
Weiss had reportedly been the apple of Detroit's eye for a while. The career-long Panther was signed to a five-year deal for $24.5 million, a $4.9 million salary cap hit.
"Coming from Florida, only being in the playoffs one time, it was pretty easy decision to come play for Red Wings," Weiss said when introduced in a conference call.
Is that a good amount of money to pay for a player like Weiss? Yes, but in comparison to some of the other deals across the league, that's not bad. Weiss is not a top-line guy but he's certainly a top-six centerman who can play in all three zones.
Weiss was reportedly looking for around $6 million per season so in that sense its still a good deal for Detroit. The question now is if he can stay healthy. Weiss has been beat up a bit through the years and he hardly played this past season -- just 17 games -- as he needed surgery on his wrists. That's apparently an issue in the past now and he's ready to go.
By going to Detroit, Weiss will remain in the same conference/division as the Panthers this season, meaning he will have a few chances to return to Florida.
Weiss had just one goal and three assists in the 17 games this season, his injury clearly bothering him. When healthy he has been good for around 50 points per season or more in the previous four seasons. In 2011-12 he had 20 goals and 37 assists for Florida as the Panthers made the playoffs for the one and only time in his tenure there.
Former Lightning standout will be guarding the net in style in 2017-18

Devils are still in rebuilding mode, but they have reason for hope thanks to young additio...

Buffalo is in the midst of contract extension talks with Jack Eichel, and the payout could...
Los Angeles isn't rushing to sign the 45-year-old forward any time soon

The University of Denver star and Hobey Baker Award winner is drawing interest

Intrigue is high in Arizona after a wild offseason, but expectations should still be tempe...