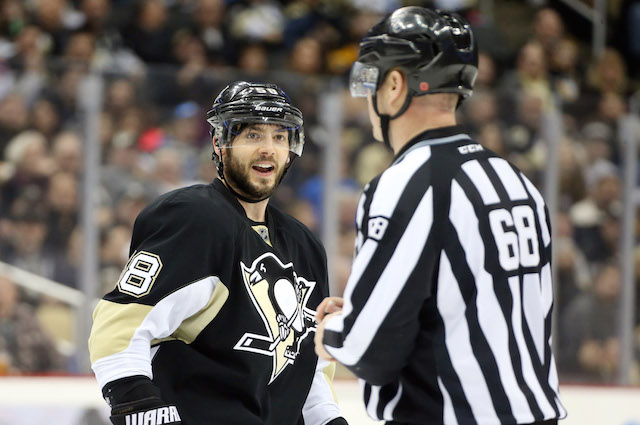 Here is a penalty you're not going to see every day. 
Late in the third period of the Penguins' 4-2 loss to the Tampa Bay Lightning on Saturday afternoon, defenseman Kris Letang was penalized for stealing an opponent's stick and trying to use it for himself. 
It all started when Lightning forward Cedric Paquette slashed Letang's stick out of his hand as he was skating with the puck along the blue line. Paquette was not penalized for the slash (he probably should have been according to NHL rules), a decision by the on-ice officials that clearly frustrated Letang.
His response: Chase Paquette down, tackle him, and then take his stick.
The only problem with that idea: It is an illegal play. 
From Rule 10.3 of the NHL rule book. 
A player who has lost or broken his stick may receive a replacement stick by having one handed to him from his own players' bench; by having one handed to him by a teammate on the ice; or, by picking up his own unbroken stick or that of a teammate's from the ice. A player will be penalized if he throws, tosses, slides or shoots a stick to a teammate on the ice, or if he picks up and plays with an opponent's stick. A player may not participate in the play using a goalkeeper's stick. A minor penalty shall be imposed for an infraction of this rule.
Along with that penalty, Letang also received an additional minor penalty for unsportsmanlike conduct after he was screaming at the officials, presumably for not calling the initial slash on Paquette. 
Penguins coach Mike Sullivan seemed to have a lengthy discussion with the officials after the call as well.
"Well part of it was Kris' reaction to it as well, that is what made it a double minor," Sullivan said. "It is an emotional game out there and Kris felt as if he had his stick slashed out of his hand and he probably would have liked a call there and he didn't get it."
Every once in a while a player will successfully get away with this.
A couple of years ago when Bobby Ryan, then a member of the Anaheim Ducks, actually scored a goal with a stick that belonged to Minnesota Wild forward Mikko Koivu. And then he taunted him with it.