Gold medal would net U.S. women's soccer team $1.5 million bonus
U.S. Soccer Federation president Sunil Gulati announced that a gold medal victory over Japan would earn the U.S. women's soccer team a cool $1.5 million in bonus money to split.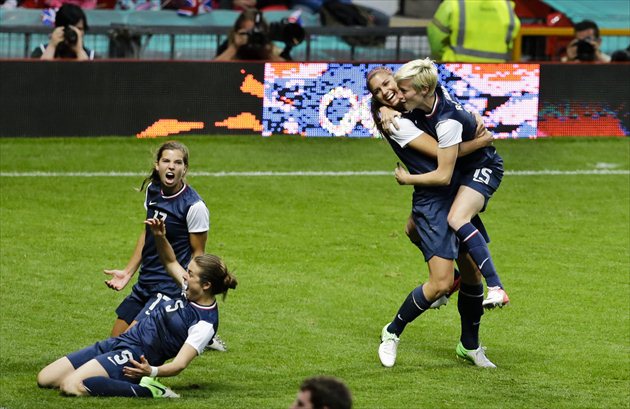 The U.S. will have lots to celebrate if they defeat Japan in the gold medal match. (AP)
When they take on Japan in Thursday's gold medal final, the U.S. women's soccer team will be playing for national pride, Olympic glory, a place in history, and that little something extra: cold, hard cash.
USA Today reported Thursday that U.S. Soccer Federation president Sunil Gulati has announced a gold medal victory would result in the team splitting a $1.5 million bonus. That's in addition to the U.S. Olympic Committee's standard $25,000 bonus for each gold medalist, and a possible extension of victory lap exhibitions that could earn the players even more money.
The $1.5 million bonus would be split among players not included on the final 18-woman roster, coaches, and support staff, and might or might not be weighted towards more substantial; contributors. But however the money is divided, with the salaries of most members of the U.S. Women's National Team program only barely scraping above the semi-professional level, the benefits of victory Thursday represent a substantial financial windfall regardless.
"There's a lot of money at stake for the players," Gulati said.
With the 2011 failure of Women's Professional Soccer -- the second American women's pro soccer league to fold in the past decade -- the professional future of many USWNT members remains up in the air. Though several are officially members of the Seattle Sounders Women W-League club (including Hope Solo, Megan Rapinoe, Alex Morgan, and Sydney Leroux), the steps put in place to help the W-League attract top collegiate talent mean that may not be a viable professional solution in the three-year gap between major tournaments.
None of this will be going through the minds of the players on the field at Wembely Stadium in a few hours, and it's worth noting that the USWNT have already wrapped up a fairly generous amount of money by clinching silver. But if the U.S. does come through with the gold medal, once the adrenaline wears off, that $1.5 million-plus will still provide one heck of an afterglow.
HT: Fourth-Place Medal.
Mike Tierney has reported from nine Olympics and locks in picks for the women's downhill f...

David Kelly is on a 37-9 run in NHL picks and just released a play for Tuesday

Find out everything you need to know about watching the Winter Olympics
Lindsey Vonn, Red Gerard and the USA men's hockey team all have big events on Tuesday

Team USA kicked off the elimination stage with a big win over Slovakia

Some Olympic athletes struggle, but others like Shaun White and Lindsey Vonn aren't hurting...