World Cup: Argentina gets started; rivalry with host Brazil omnipresent
No. 10 jerseys are are everywhere in Brazil for the World Cup. Neymar's No. 10 is huge, obviously, because he plays for the host country. But Messi's No. 10 is reminds everyone of the heated rivalry between Argentina and Brazil.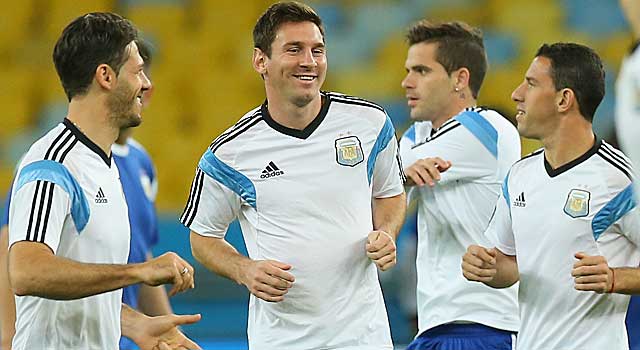 More World Cup: Latest news & notes | Scoreboard | Complete schedule
RIO DE JANEIRO -- Neymar Jr.'s No. 10 jersey is everywhere. It's at the market, sold next to giant Brazilian flags. It's at the restaurant, as the default uniform for waiters. It's at the soccer fields that decorate the inner city, on the backs of young Neymars dreaming big. It's impossible to miss, sort of like the other No. 10 jersey vying for attention on the streets of Rio de Janeiro.
Lionel Messi's sky blue and white striped shirt is at Copacabana Beach. It's on the metro, in the hotel lobby and at the bar down the street. Thousands of Argentinian fans have flocked to Rio and other World Cup host cities to watch this No. 10 try to add soccer's most prized trophy to his resume.
Argentina is second only to the United States in World Cup tickets bought outside of Brazil, totaling just over 61,000 at the start of the tournament, according to FIFA. In Latin America, Argentinians bought more seats than any other group besides Brazilians. Some fans embarked on a 36-hour bus ride to cheer on their national team in the land of its biggest soccer rival.
"It sounds a little bit crazy, but it's normal to us," said Nicolas Salto, who journeyed from Buenos Aires on a minibus with 50 other fans to reach Rio Thursday afternoon.
Salto and nearly 79,000 ticket-holders will be in the stands when Argentina and Bosnia kickoff World Cup play at the renovated Maracana Stadium on Sunday night. Though Argentinian fans will be out in full force, locals could try to remind Messi and his team how far they are from home, like they did during a pre-World Cup practice. Brazilian fans booed as Argentina took the pitch, offering the team a glimpse of what may happen when games begin.
The stunt is a testament to a rivalry that runs deep, with too many anecdotes to list. The diehard Brazil national team fanatic won't miss the opportunity to point out that Pele scored his 1,000th goal against an Argentinian. Brazil has won five World Cups to Argentina's two, but the superiority of either squad is always up for debate.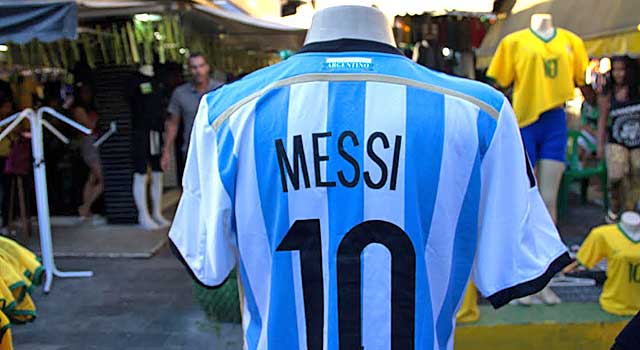 "Our biggest passion is football, both of us. During the World Cup, it gets even crazier," said Victor Castro, a Brazilian who lives near Maracana, "We have jokes about Argentinians, they probably have jokes about Brazilians, but it's nothing violent. It's all about having fun and football."
Brazilian authorities have enlisted Argentinian help in case the passion does take a violent turn. Extreme Argentine fans dubbed "Barras Bravas" have been linked to crimes -- anything from murder to drug trafficking -- in and around stadiums since the 1950s. Along with heightened security on the border, Brazilian police plan to have Argentinian forces in some World Cup host cities to quell any Barras Bravas activity.
Sunday's group-stage matchup in Rio will be the first World Cup game at Maracana since 1950, when Brazil last hosted the tournament and lost the final to Uruguay. With the closing match of this year's Cup being held at Maracana, a championship bout between the staunch rivals could be in the cards.
"That's what I'll think it'll be, Argentina and Brazil in the final," Castro said, "and of course Brazil's going to win, no doubt."
The U.S. has a huge match coming up in Paris

The FIFA Women's World Cup quarterfinals start Thursday

The United States won Group D at the Gold Cup as a result
Who will be crowned champions this summer in France?

The U.S. has a huge showdown with France on Friday

McDonald's 7-year-old, Jeremiah, just arrived in France to watch his mom in the tournament