Free-agent progress reports: Wings need more from Stephen Weiss
It's only a month into the NHL season but early returns are already on free agents. Some deals have worked well but some like Stephen Weiss in Detroit, haven't yet.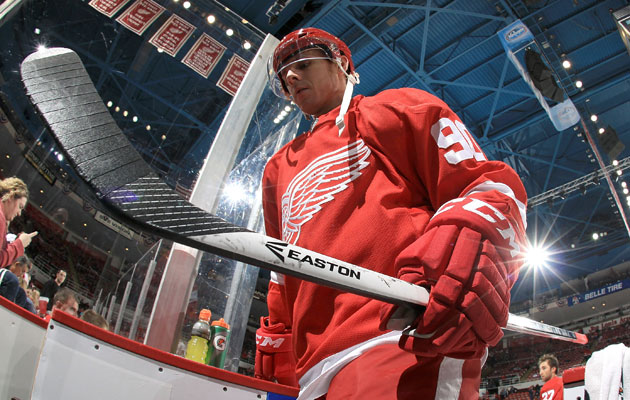 More NHL: Scores | Standings | League Leaders | Odds | Injuries | Power Rankings
There are few more exciting days on the NHL calendar than the first day of free agency. It's always a wild spending spree where GMs open their wallets and almost without fail overpay for aging veterans slipping out of their prime years. It is always a veritable cornucopia of cash.
And the results are always anything but a sure thing. For the number of great free-agent signings over the years, there's nearly an equal amount of bad sigings. OK maybe not quite but if sure feels that way because we remember the bad ones more (hello Ville Leino ).
The idea in free agency is to get players to complement your roster, not build your team through free agency. For the most part there aren't any true difference-makers in the class from year to year but on occasion some get through and teams go after them with reckless abandon. Because of the frenzy of the day, teams are forced to make instant and sometimes rash decisions.
Today, we're not much different. The season is just approaching one month old but already we're taking a look at the free-agent signings from this last summer to see how they're doing. Consider it a progress report, not necessarily a report card. The focus is on the top 10 free agents per our offseason free-agency tracker (that actually tested the market) and a few more of note.
While there have been some treats, there are a few tricksters in there too, guys who are underwhelming to start like Stephen Weiss in Detroit. His minutes and role have been cut with Mike Babcock trying to find a spark to ignite Weiss' offense but even that's not working yet. They hoped he could be the No. 2 center and fill in perfectly what Valtteri Filppula left behind but so far he hasn't. At least there's still time for a turnaround the for the Wings to get a little back on their investment.
Now, to the progress reports.
Free agent progress report
Good

Vincent Lecavalier

,

Philadelphia Flyers

. The top free agent after he was bought out by Tampa Bay, Lecavalier has looked pretty good when he's been on the ice (injuries have slowed him some). He's one of the few Flyers who can score with five goals and two assists in eight games. His possession numbers are bad though, but then again so are all the Flyers.
Good

Jarome Iginla

,

Boston Bruins

. Iggy has fit in pretty seemlessly with the Bruins this season, though his goal scoring isn't where you might expect at two through 10 games. However he has six assists and has done the things they like in Boston out of their big forwards such as fight. He appears to be settling in with seven points in the past four games.
Good

Mike Ribeiro

,

Arizona Coyotes

. The Coyotes needed a guy like Ribeiro if nothing else than to add a little name recognition to a team that needed some after their long summer. While I didn't love the signing, it's hard not to say he's looking pretty good so far while scoring more than he's assisting. His D is criticized a lot but overall he is driving play the right direction.
Good

Daniel Alfredsson

,

Detroit Red Wings

. It was fair to wonder how much Alfie still had in the tank at 41 and so far the answer is more than enough. Alfie is just shy of a point-per-game player with 10 points in 12 games on the strength of eight assists. His goal-scoring days are likely gone but for what the Wings wanted, a little production on the wing, he's giving it to them.
Good
Valtteri Filppula,

Tampa Bay Lightning

. Another signing I wasn't wild about, Filppula has been pretty solid for the Bolts. He's averaging more minutes per game in Tampa Bay than he ever did in Detroit and he's already more than halfway to his point toal of last season with five goals and four assists through 12 games.
Incomplete

David Clarkson

,

Toronto Maple Leafs

. Let's see, Clarkson missed the first 10 games for coming onto the ice illegally in the preseason. So his resume only shows three games and a big fat 0 in the points column. As of yet he's simply an incomplete but he needs to get up to speed with the rest of his team quickly.
Bad
Ryane Clowe,

New Jersey Devils

. Of all the signings this one popped out to me as the most curious and nothing has changed. Clowe has only played six games due to injury but that actually contributes partly to a bad grade for this deal, the Devils knew he had concussion/injury issues of late. Not to mention in his six games he had just one assist and a minus-5. Awful start all around.
Bad
Stephen Weiss, Red Wings. Last season in Florida, Weiss had an abysmal start before being shut down for surgery on his hand. He was supposed to be better now but his numbers look an awful lot like they did while injured a year ago. Two goals in 12 games and ice time down to 15:30 per game, his lowest in almost a decade. This is not how Detroit saw it working on his five-year deal.
Incomplete
Nathan Horton,

Columbus Blue Jackets

. Horton hasn't played a game and that wasn't a real surprise to the Jackets. They knew he had an injury that needed to be addressed before he began. Still waiting.
Good

Jaromir Jagr

, Devils. Jagr can keep playing until he's 50. The veteran who was labeled too slow and a liability by some for Boston last season just so happens to lead the Devils in scoring so far with 10 points in 12 games. On a team that hasn't scored much, it's tough to rack up points but Jagr has done it well.
Good

Mikhail Grabovski

,

Washington Capitals

. Grabovski began with a bang, netting a hat trick on opening night and has been pretty steady since. His numbers are headed toward pre-Carlyle demotion days in Toronto despite less ice time. The hard part, something they're still working on, is trying to find the best linemates for Grabbo.
Good

Derek Roy

,

St. Louis Blues

. Roy almost ended up as a consolation for the Blues, they wanted a center and missed out on all of the top guys. But in his reduced role now with the Blues, things have gone pretty well. He has seven points in 10 games already and that's with playing just 13:43 per game. His days as a top-line guy are gone but he's doing exactly what the Blues needed him to.
OK

Mark Streit

, Flyers. Like Philly is wont to do, they threw big money and term at a veteran defenseman and so far the results are just meh. Streit is more of an offensive player but he has just four assists so far, only one at even strength. The same can be said for pretty much everybody in Philly but they need a little more.
Bad

Viktor Stalberg

,

Nashville Predators

. The Predators spent a lot of money in free agency, much of it curious. Their biggest catch, if you will, was Stalberg but the relationship is off to a rough start. He has been limited to just six games, 11:21 of ice time per game and zero points. Not the best first impression I've ever seen.
OK
Tim Thomas,

Florida Panthers

. When Thomas has been healthy (and not facing the Blues), he's actually been pretty good but he just can't stay healthy. Twice now he's had to leave games with lower-body injuries and it just happened to him in practice too. Florida intended to rely on Thomas pretty heavily but his body can't seem to take it.
Pittsburgh sits atop them all as the repeat champs, while Nashville rises up after its big...

Islanders could also be loading up for scoring talent, and Vegas has plenty of D-men to se...

Fired by Dallas this offseason, Ruff is expected to replace Jeff Beukeboom
Even without a can't-miss prospect, the first round features a handful of solid center pic...

Casey Mittelstadt goes off the board in the top 10 picks of the 2017 NHL Entry Draft

New Jersey makes the Halifax Mooseheads star the first overall selection in this year's dr...