Kentucky enhances its reputation during August trip to Bahamas
The Wildcats played six games in eight days against legitimate competition and went 5-1 even though they were shorthanded and, by the end, admittedly tired. In the 240 minutes of basketball, it became obvious that John Calipari has the talent to achieve special things.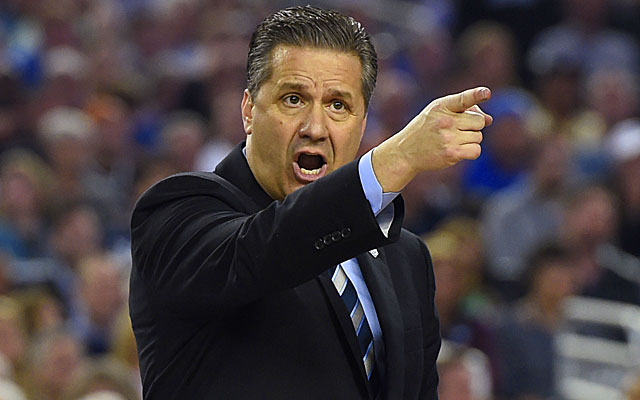 Relateds: Cats giving back | 2015 recruiting rankings: UK No. 28| Top 25: UK No. 1
The whole thing ended Sunday with a turnover that prevented Kentucky from returning to the continental United States with a perfect record during what, for television purposes, became known as the Big Blue Bahamas trip. So that wasn't ideal. But the shorthanded Wildcats were still impressive while compiling a 5-1 record over a span of eight days against mostly grown and reputable professionals, and it's now hard to imagine any reasonable person voting anybody other than John Calipari's team as the preseason No. 1.
Did you watch the games?
If so, you recognized the overwhelming talent Kentucky displayed even without the services of Willie Cauley-Stein and Trey Lyles, both of whom missed the exhibitions while recovering from injuries. If not, no worries. Because I watched them for you. Every minute that was televised, I saw. And my main takeaway is that something I previously thought might be true now seems absolutely true -- specifically that the Wildcats are better when freshman point guard Tyler Ulis is on the court.
"Kentucky has tied it up, and Tyler Ulis is the primary reason," ESPN analyst Jay Bilas said during the first half of Sunday's telecast. Later, after Ulis sank a runner just before halftime, Dave Neal, the play-by-play man, asked a simple question: "What hasn't he done?"
Ulis averaged 7.7 points, 4.0 assists and 1.3 steals in 20 minutes per game on the trip while shooting 60.0 percent from 3-point range, meaning his per-40-minute averages were 15.4 points, 8.0 assists and 2.6 steals. Even more notable is that the staff had Ulis on the court in crunch time of both close games, which suggests he could be one of UK's most important pieces even though he's hardly the most heralded member of this freshman class.
"He was good," Calipari told reporters afterward. "He was good."
Among the reporters with UK in the Bahamas were Jerry Tipton (Lexington Herald-Leader) and Kyle Tucker (Louisville Courier-Journal). They cover the Wildcats on a daily basis and are thus more familiar with the personnel, at this point, than anybody else, which is why I reached-out to both Sunday for their thoughts on the roster. For what it's worth, Tipton and Tucker -- as well as Cats Illustrated's Brett Dawson -- each had a different answer when I asked for a prediction on who will be UK's MVP. But they all agreed that Kentucky's best lineup will eventually feature Ulis playing alongside both Andrew and Aaron Harrison, which is an indication that Calipari's challenge of trying to find proper minutes for his incredible group of frontcourt players might be more difficult than most anticipated.
All along, the plan has been for Alex Poythress to get minutes at small forward.
And he might.
But every minute Ulis plays alongside the Harrisons is a minute the Wildcats will be utilizing a three-guard lineup rather than a three-big lineup, meaning it's hard to envision a scenario where Poythress, Lyles, Cauley-Stein, Karl Anthony-Towns, Dakari Johnson and Marcus Lee all get the minutes they'd probably prefer. The good news is that this means UK will be able to endure an injury or two in the frontcourt without missing a so-called beat. The bad news is that this means UK might need an injury or two (every now and then) in the frontcourt to ensure Calipari doesn't have frustrated bigs buried on his bench.
"I still say the 1996 team was the most talented I've seen," said John Clay, who works with Tipton at the Herald-Leader. "But [this team] has so much depth it's ridiculous."
Bottom line, the Wildcats, dead-tired by the end, didn't escape the Bahamas without a loss, but they still managed to enhance their reputation as the favorites to win the 2015 national championship. To that point, folks are yet again starting to talk about the odds of Kentucky finishing 40-0, which has always been among Calipari's dreams, and it's important to note that the odds remain stacked against it. But after watching 240 minutes of August basketball, I wouldn't completely rule it out.
Am I predicting it?
No.
Perfection in this sport is a sucker's bet, always. But lots of people talked lots about 40-0 this time last year, and that team, though crazy talented in its own right, wasn't nearly as equipped to make a run at that kind of history as this team, on paper, now seems to be. Simply put, this group seems better than that group, and that group nearly won it all.
The Bearcats cling to a one-game lead in the AAC heading into Saturday

The second-ranked Spartans travel to Wisconsin for their regular season finale on Sunday vs....

Bagley has missed the last four games with a mild right knee sprain
Our advanced computer model simulated Saturday's Auburn vs. Florida game 10,000 times

The Jayhawks, ranked No. 6 in the Top 25 (and one), can grab a share of the league Saturda...

Micah Roberts set lines for Vegas' biggest casinos. Now, he's locked in a pick for Oregon vs....