North Carolina AD says P.J. Hairston will play next season
It was an unexpected spot for news to break, but UNC forward P.J. Hairston will play next year -- just not all the games -- according to Bubba Cunningham.
• 1 min read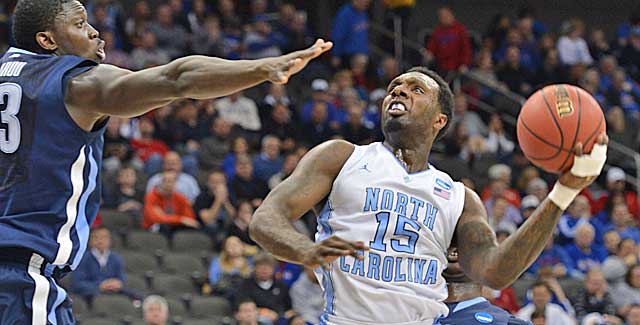 While at a faculty retreat Thursday, North Carolina athletic director Bubba Cunningham offered a brief glimpse into the future for North Carolina star forward P.J. Hairston.
Is Hairston set to play at some point next season? Cunningham took a question from the crowd and answered ...
Bubba Cunningham takes a PJ question. "Will he play?" Answer: "Yes, but not all the games."

— Andy Bechtel (@andybechtel) August 15, 2013
That'll come not so much as a shock but as welcomed news for North Carolina fans. Hairston is currently indefinitely suspended. On Wednesday, UNC coach Roy Williams expressed fatigue and irk over discussing Hairston so much. Williams suspended Hairston in late July after he was caught speeding, his third run-in with police this offseason
Now the question becomes, when will Williams decide on a timeline for Hairston? How many games will be out? Some believe, nay, they bet P.J.'s back for Kentucky.
Four years ago, Bryant told Jimmy Kimmel that he'd have picked UNC

Dates, start times and streams of LaVar Ball's interview with CNN

Wichita State and Notre Dame could meet in the final of the Maui Jim Maui Invitational
The Wildcats are 3-2 with two losses to unranked teams

Trump again says he should have left LiAngelo Ball in China

Cincinnati and Iowa highlight an impressive inaugural field for the Cayman lslands Classic