Ranking the NCAA Tournament coaches by playing career, 1-68
A look at the 68 head coaches in this year's NCAA tournament, and their achievements before they moved from court to sideline.
Danny Manning is an outlier. 
The second-year Tulsa head man and former NBA player is the rare Division I coach who was a star at the collegiate level. He's the rare Division I coach who had a meaningful professional playing career. He's seemingly one of the few whose playing days can't be summarized by the words "scrappy, high-effort, limited-ability point guard."
There is virtually no connection between playing ability and coaching ability, as the list below lays bare. All of the men below, including Manning, have reached the top of their profession by virtue of leading teams to the NCAA Tournament in 2013-14, but the depth of their success as former players is all over the map. To wit: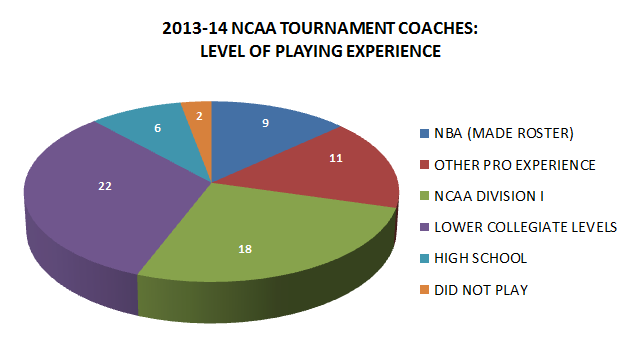 And now, in highly dramatic Casey Kasem-like fashion, a ranking of those playing careers as rated in a mostly unscientific manner by the author:
68. Marvin Menzies, New Mexico State -- Menzies did not play high school or college basketball, but lettered in football and track at Hamilton High School in Los Angeles before getting a degree in economics from UCLA.
67. Steve Hawkins, Western Michigan -- Hawkins did not play organized basketball beyond the 10th grade, becoming a coach at 19 and starting his route to a destination at the Division I level by working John Wooden's camps.
66. Scott Drew, Baylor -- Despite coming from a basketball family that includes a brother, Bryce, who played in the NBA, Scott Drew never played basketball beyond the JV level at Valparaiso High School.
65. Bruce Weber, Kansas State -- Weber played basketball through his senior year at John Marshall High School in Milwaukee, but did not play sports as a collegian at Wisconsin-Milwaukee.
64. Bob Marlin, UL Lafayette -- Marlin was a starting point guard on a state tournament team at Tupelo (MS) high school, but declined junior college offers to end his playing career and attend Mississippi State.
63. Cliff Ellis, Coastal Carolina -- Ellis did not play beyond the high school level at Chipley (FL) High School, with a broken ankle suffered before what might have been his freshman season at Chipola JC ending his career.
62. Mick Cronin, Cincinnati -- Cronin was a quality high school point guard, playing for his father, Hep, at La Salle High School in Cincinnati. Knee injuries prevented the 5-foot-7 Cronin from playing at the collegiate level.
61. Mark Few, Gonzaga -- Few was a star point guard for Creswell (OR) high school, leading the team to the state's AAA semifinals as a senior. Few planned to play basketball and baseball at Linfield College, but shoulder problems ended his playing career.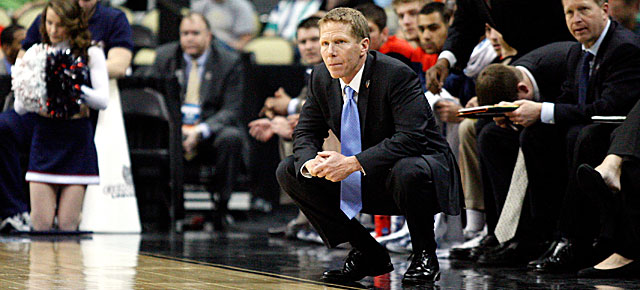 60. Randy Rahe, Weber State -- Rahe was a point guard at Division III Buena Vista University in Storm Lake, Iowa from 1978-82, but his better sport was probably baseball. Rahe was an All-Iowa Conference infielder in 1980 and 1981.
59. Tim Miles, Nebraska -- Miles played ball at the University of Mary in Bismarck, ND (then-NAIA, now D-II), serving as a deep reserve for three years before accepting an offer to become a student assistant as a senior. (A smart move, it would seem.)
58. Herb Sendek, Arizona State -- Sendek played at Division III Carnegie Mellon in Pittsburgh, where he was a reserve for three years before being cut prior to his senior season in a move he later described as "devastating." Sendek spent his senior year serving as a volunteer assistant at Central Catholic High School, launching his career in coaching.
57. Gregg Marshall, Wichita State -- Marshall was a high-effort, limited ability player at Division III Randolph-Macon in Virginia, where his teammate Rod Wood once described his typical stat line to the Wichita Eagle as: "1 point, a few charges, a bunch of rebounds and 10 stitches."
56. Mike Young, Wofford -- Young was a four-year letterman and point guard for Division III Emory & Henry from 1982-86, serving as team captain his junior and senior seasons.
55. Dana Altman, Oregon -- Altman was a guard and captain at Southeast JC in Nebraska before landing at Division II Eastern New Mexico University, where he played as a guard (and self-described "poor player") under Larry Riley.
54. John Beilein, Michigan -- Beilein was a backup guard at Division II Wheeling College (now Wheeling Jesuit), where he also served as a team captain for one season.
53. Steve Fisher, San Diego State -- Fisher played two years of varsity basketball at (then-Division II) Illinois State, including the 1967 team that played in the Division II Final Four. He logged a career total of 56 points at ISU.
52. Saul Phillips, North Dakota State -- Philips played for four seasons under Bo Ryan at D-III Wisconsin-Platteville, and was captain of the 1995 team that went undefeated and won the Division III national title. Said Ryan of Phillips, "He was always one injury away from being the starting point guard."
51. Mike Lonergan, George Washington -- Lonergan was a starting point guard at Division III Catholic during his tenure there (1984-88), later returning and leading his alma mater to the D-III national title as a head coach.
50. Joe Callero, Cal Poly -- Callero was a reserve guard for some good teams at NAIA Central Washington in the 80's, serving as a team captain one season and playing on a pair of NAIA tournament teams.
49. Rick Barnes, Texas -- Barnes served mainly as a reserve guard under head coach Bob Hodges at Division II Lenoir-Rhyne College in Hickory, NC.
48. Monte' Ross, Delaware -- Ross played four years at Division II Winston-Salem State, where he served mainly as a reserve for the legendary Clarence "Bighouse" Gaines. Among Ross' teammates: one Stephen A. Smith.
47. Bob Hoffman, Mercer -- Hoffman was a standout guard and forward for NAIA Oklahoma Baptist in the late 70's, scoring more than 1,000 points in his career at the school.
46. Shaka Smart, VCU -- Smart was a four-year starter and three-year captain at Division III Kenyon College in Gambier, Ohio. He was an all-conference pick as a senior and remains the school's career assist leader.
45. Roy Williams, North Carolina -- Williams played basketball at T.C. Roberson High School in Asheville, NC, earning all-region honors before attending North Carolina and playing as a non-scholarship player on the freshman team under Bill Guthridge in 1968-69.
44. Josh Pastner, Memphis -- Pastner played four years as a walk-on at Arizona, logging 26 minutes for the season on the team that won the 1997 national championship. Pastner scored 40 points in his collegiate career.
43. Steve Masiello, Manhattan -- Masiello served as a walk-on under Rick Pitino and Tubby Smith at Kentucky from 1996-2000, playing on a pair of Final Four teams including a national title team in '98. Masiello scored 42 points and logged 25 assists for his college career.
42. John Calipari, Kentucky -- Calipari started his career at UNC Wilmington, lettering for a year (scoring 29 points in 25 games) before transferring to Division II Clarion, closer to his Moon Township, PA home. Calipari started at point guard on a good Clarion team, averaging 5.3 points and 5.3 assists per game as a senior.
41. Phil Martelli, Saint Joseph's -- Martelli was a starting point guard at Division III Widener in Chester, PA, playing on NCAA Tournament teams in 1975 and 1976, and graduating as the school's career assist leader.
40. Ed Cooley, Providence -- Cooley was a three-year captain at Division II Stonehill College in Easton, MA, after a high school career in which he led Central High School in Providence to a pair of state titles.
39. Bo Ryan, Wisconsin -- Ryan starred at point guard for Division III Wilkes University in Wilkes-Barre, PA, earning team MVP honors during his senior year. Ryan holds the school record for field goals made in a game, during a 43-point performance against Susquehanna in 1969.
38. Will Brown, Albany -- Brown was a star at D-II Dowling College on Long Island, earning all-conference honors twice and becoming the only player in school history to combine for more than 1,000 points and 500 assists. Brown is Dowling's all-time leader in assists (591), three-point field goals (181) and free throw percentage (.859).
37. Tom Izzo, Michigan State -- Though college-years bios on Izzo tend to focus solely on his bromance with Steve Mariucci, Izzo was a player of note at Division II Northern Michigan, earning All-America honors and serving as team captain as a senior.
36. Rob Jeter, Milwaukee -- Jeter starred under Bo Ryan at Division III Wisconsin-Platteville,captaining the team to the 1991 NCAA Division III title. Jeter, who started 89 consecutive games, played professionally in Portugal for a year before becoming an assistant coach at his alma mater.
35. Jeff Neubauer, Eastern Kentucky -- Neubauer was mostly a reserve guard for four seasons under Speedy Morris at La Salle (1988-93), playing on two NCAA tournament teams and alongside the likes of Lionel Simmons, Doug Overton and Randy Woods.
34. Chris Mack, Xavier -- Mack began his career at Evansville under head coach Jim Crews, serving mostly as a starter from 1998-90. After transferring from Evansville to Xavier, Mack appeared in 21 games (including two in the NCAA tournament) for the Musketeers during the 1992-93 season under Pete Gillen.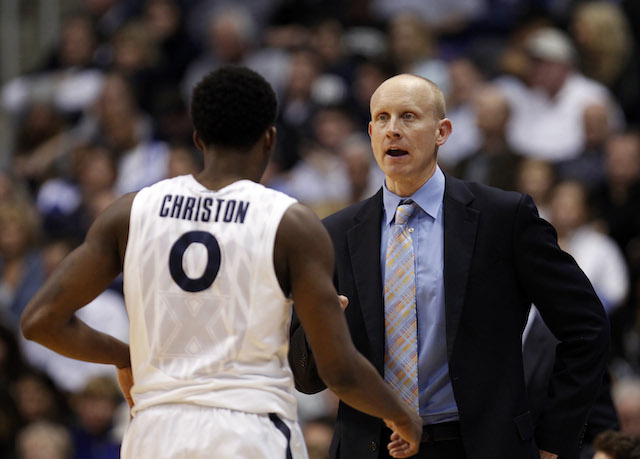 33. Jamion Christian, Mount St. Mary's -- Christian was a three-year captain at Mount St. Mary's, leading the Mount in scoring in 2001-02 and starting 56 games over the course of his career.
32. Tad Boyle, Colorado -- Boyle was primarily a reserve guard for four years at Kansas under Ted Owens then Larry Brown, playing on a pair of NCAA Tournament teams and serving as a captain during his senior year.
31. Brad Underwood, Stephen F. Austin -- Underwood played two years at Kansas State (1984-86) under head coach Jack Hartman, serving as a key reserve and occasional starter.
30. Jim Crews, Saint Louis -- Crews was a contributor on the Indiana team that went undefeated and won the 1976 national title, scoring 3.3 points per game as a senior. Crews subsequently became an assistant under Bob Knight for eight seasons.
29. Dave Rose, BYU -- After starting his career at JC Dixie State, Rose played on two NCAA Tournament teams during the Phi Slama Jama era at Houston, including on the team that was upset by North Carolina State in the national championship. Rose averaged 3.6 points per game as a senior on that team.
28. Thad Matta, Ohio State -- Matta started his career at Southern Illinois in 1985-86 before transferring to Butler for his final three seasons. Matta led the Bulldogs in assists as a sophomore and also started as a junior before spending his senior year a reserve.
27. Jay Wright, Villanova -- Wright was Bucknell's leading scorer as a junior, but came off the bench as a senior after being supplanted by eventual Bison star Jaye Andrews ("I was a jerk about it," Wright has regretfully said of his reaction to the benching.).
26. LeVelle Moton, North Carolina Central -- Moton was a star at NCCU from 1992-96, finishing his career ranked third on the school's all-time scoring list and fifth in assists. He was the 1996 CIAA player of the year during the Eagles' Division II era and led the team to the D-II tournament twice. From there, Moton played four years professionally in Indonesia and Israel.
25. Mike Krzyzewski, Duke -- Coach K was a point guard under Bob Knight at Army (1966-69), serving as a co-captain and starting on a team that went to the NIT semifinals in 1969.
24. Archie Miller, Dayton -- Miller was an undersized sharpshooter at NC State under Herb Sendek (1998-2002), finishing with 218 made three-pointers and averaging 7.7 points over the course of his career in the ACC.
23. Rick Pitino, Louisville -- Pitino played three years as a point guard at UMass (1972-74), dishing out 329 assists during his career there.
22. Bill Self, Kansas -- Self was a four-year letterwinner and two-year starter under Paul Hansen at Oklahoma State (1982-85), helping to lead the Cowboys to the NCAA Tournament during his sophomore season. Self led OSU in assists during his final two years there.
21. Fran McCaffery, Iowa -- McCaffery (aka "White Magic" according to his official bio) played one season as a part-time starting point guard at Wake Forest (1977-78) before transferring to Penn for his final three collegiate seasons. He subsequently led Penn to two NCAA appearances and an NIT berth.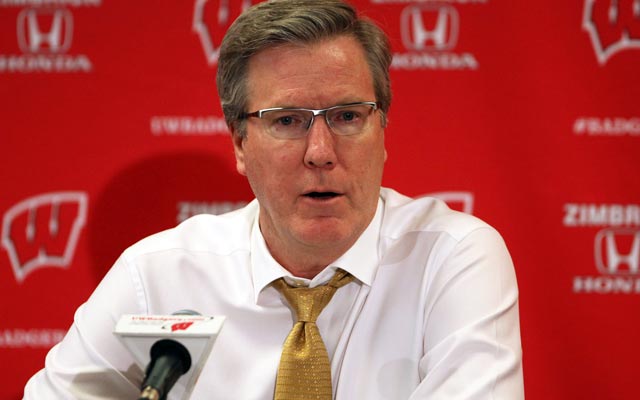 20. Greg McDermott, Creighton -- McDermott was a productive center at Northern Iowa from 1984-88, scoring 1,033 points (or about 2,000 fewer than his son) and being named an all-conference pick as a junior. McDermott went on to play one professional season in Switzerland.
19. Mike Brennan, American -- Brennan started all four years at Princeton, playing on NCAA Tournament teams in 1991 and 1992 and being named All-Ivy in 1994. Brennan went on to make some money playing basketball for three years in Europe.
18. Derek Kellogg, Massachusetts -- Kellogg played during the heart of the John Calipari era at UMass (1992-95), graduating just before the Minutemen made their Final Four appearance but playing on four NCAA Tournament teams. Kellogg finished with 453 career assists.
17. Sean Miller, Arizona -- Miller was a four-year starter on some quality teams at Pitt (1987-92), playing alongside the likes of Jerome Lane and Charles Smith and leading a pair of teams to the NCAA Tournament during the halcyon days of the Big East. Miller averaged 10 points and 5.8 assists as a player.
16. Jim Boeheim, Syracuse -- Boeheim evolved from a freshman walk-on at Syracuse to a team captain, one who helped the Orange all the way to the Elite Eight in his senior season of 1965-66. Boeheim subsequently played a couple of professional seasons with the Scranton Miners of the ABL, as unlikely as it might seem that Jim Boeheim made money playing basketball.
15. Jamie Dixon, Pittsburgh -- Dixon was a good player at TCU from 1983-87, earning All-Southwest Conference honors after leading the league in assists as a senior. A seventh-round pick of the NBA Washington Bullets, Dixon never played in the league but did some time in the CBA and overseas.
14. Travis Ford, Oklahoma State -- Ford started his collegiate career as a point guard at Missouri before transferring to Kentucky, where he evolved into an All-SEC player and helped UK reach the Final Four in 1993. Ford went to training camp with the Golden State Warriors but did not make the team.
13. Mark Gottfried, NC State -- Gottfried started his career at Oral Roberts, where his NC State bio says he was a freshman All-American, before transferring to Alabama for his final three years (1984-87). Gottfried was subsequently drafted in the seventh round by the Pistons but did not make an NBA team.
12. Tommy Amaker, Harvard -- Amaker was a four-year starter at point guard for Duke in the mid-80's, helping lead the Blue Devils to an appearance in the national championship game during his junior season of 1986. Amaker was a third-round NBA pick of the Sonics but did not catch on at the next level.
11. Mike Davis, Texas Southern -- Davis averaged 10.1 points as a starter at Alabama under C.M. Newton and Wimp Sanderson, playing in two NCAA Tournaments along the way. Davis was the 42nd overall pick in the 1983 NBA Draft, chosen by the Milwaukee Bucks, but never played in the league. Davis played overseas and in the minor leagues throughout the 80's.
10. Lon Kruger, Oklahoma -- Few modern-day college hoops fans realize what a quality player Kruger was at Kansas State, winning Big Eight player of the year honors twice (1973 and 1974) and leading the Wildcats to back-to-back conference titles and NCAA Tournament appearances. Kruger was a ninth-round pick of the Atlanta Hawks, was drafted by two MLB teams as a pitcher, and was also invited to Dallas Cowboys training camp as a quarterback but opted to go into coaching.
9. Cuonzo Martin, Tennessee -- Martin was a star for four years under Gene Keady at Purdue (1992-95), where he was known primarily as a defensive stopper and quality outside shooter. Martin was an All-Big Ten pick as a senior, then went on to have a 32-minute cup of coffee in the NBA with the Grizzlies and Bucks. He was playing in Italy when a bout with Non-Hodgkins Lymphoma effectively ended his playing career.
8. Billy Donovan, Florida -- Donovan's playing career is best remembered for his efforts in leading Providence to the 1987 Final Four, the same season he averaged more than 20 points per game and earned All-Big East honors. When Donovan's college coach, Rick Pitino, became coach of the Knicks, Donovan was signed by the Knicks (averaging 2.4 points) before being waived after 44 games.
7. Craig Neal, New Mexico -- Neal was an important, if unsung player on Georgia Tech teams of the mid-80's that featured stars like Mark Price and John Salley. Neal still holds the single-season assist record at Tech, which is saying something for a school that produced Kenny Anderson, Stephon Marbury, Jarrett Jack, and Travis Best. Neal went on to play 63 games as an NBA backup with the Blazers, Heat and Nuggets.
6. Tony Bennett, Virginia -- Bennett won Mid-Continent player of the year honors twice while playing for his father, Dick, at Wisconsin-Green Bay, graduating as the conference's leader in points and assists, and also led the Phoenix to three postseason berths. Bennett also got a shot in the NBA, playing a couple of seasons as a reserve with the Hornets before a foot injury hastened his exit from pro basketball.
5. Steve Alford, UCLA -- Alford was an All-American and national champion during his time playing point guard for Bob Knight at Indiana, and though his game didn't really translate to the NBA, Alford gave it a go. He averaged 4.4 points and 1.0 assists over 169 games with the Mavericks and Warriors before calling it quits. He was also a U.S. Olympian on the 1984 team that won gold.
4. Fred Hoiberg, Iowa State -- Hoiberg starred under Johnny Orr and Tim Floyd at Iowa State from 1992-95, then became a serviceable role player for a decade in the NBA. Hoiberg's most memorable NBA years were probably with the Timberwolves at the end of his career -- he helped the Kevin Garnett-led Wolves to the Western Conference finals in 2004, then led the NBA in three-point percentage in his final year in the league (2004-05).
3. Kevin Ollie, UConn -- Ollie played point guard on three NCAA Tournament teams under Jim Calhoun from 1992-95, but was not drafted and took the slow road to glory in the NBA. Once there, Ollie refused to go away, playing in 662 games for 11 different franchises and remaining in the league until the age of 37.
2. Johnny Dawkins, Stanford -- Dawkins was Coach K's first real star at Duke, earning two All-America citations and leading the Blue Devils to the national title game as a senior. Dawkins was also a pretty good pro, averaging double figures in scoring during each of his nine NBA seasons spent with the Spurs (1986-89), Sixers (1990-94) and Pistons (1994-95).
1. Danny Manning, Tulsa -- A College Basketball Hall of Famer for his work in leading Kansas to the 1988 national title, Manning also played 15 years in the NBA, including a pair of All-Star Game appearances in his early years with the Clippers.  Numerous injuries prevented Manning from being an all-timer at the next level, but he was a solid, dependable pro.
Creighton AD Bruce Rasmussen answers questions about some of the committee's grouping metr...

Guy, the leading scorer for the No. 1 Cavaliers, had a big weekend even though UVA didn't...

The stigma of being the first men's Division I team to vacate a title will be difficult to...
The Quicken Loans Confidence Builder focuses on Syracuse, Butler and Florida

Rhode Island can clinch a share of the A-10 regular season title with a win on Tuesday

20 programs have had their national championships taken away by the NCAA