Scouting Title Contenders: Kansas Jayhawks
Kansas is playing some of the best basketball in the country -- are the Jayhawks good enough to win a title? How do you beat them?
• 13 min read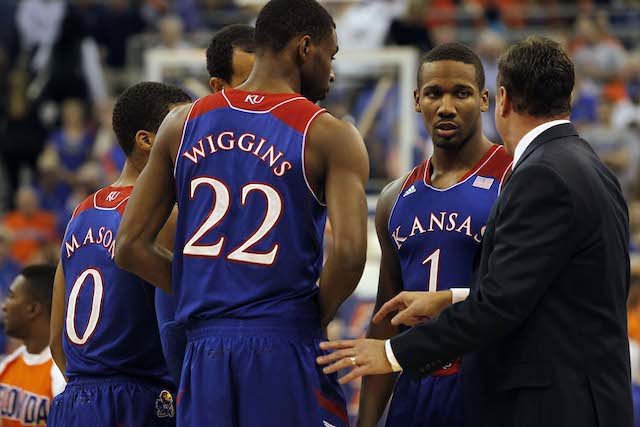 When watching a game or looking at statistical trends, we might figure out one or two ways to slow down Wisconsin's half-court offense or score against Florida's multiple defenses. But that's obviously not the whole story. But what about the guys who get paid to break down that stuff; what are they thinking?
Over the next eight weeks, I will go through each of the national championship contenders and attempt to address the key preparation points when facing each team. I will talk to four or five coaches who played those teams this season, and get in-depth insight into each team. How do you score on Arizona? How can you stop Syracuse in transition? What's Michigan State's biggest weakness? We'll find answers to each of those questions, and much more.
Previous scouting reports:
Up next is Kansas, winners of seven in a row and perhaps the most talented team in the country.
Style of play
"Disciplined, fast, confident, and they're balanced more than anything. Offensively, they run their system, the two-game. They run the same plays they ran in the past, they just have different guys. They play inside-out. It's their talent with their two-game offense. That's harder to stop than their plays. Defensively, they're quick, long, athletic – and they do a great job of going over the top on screens to make you fade, and then they help on drives."
"Their defensive rebounding is powerful and relentless. They're unforgiving. You don't get two or three chances. You need to have a really good offensive possession. If you take a bad shot, you're not going to go scoop it up and put it back very often. They're supremely talented. They're not great offensive players, but they're so talented. They can all do something really well. It's size, talent and depth. They have McDonald's All-Americans and top-50 guys that aren't even in the rotation. Wayne Selden is a freak. If [Andrew] Wiggins doesn't score, he statistically doesn't hurt you, but you have to prepare for him, you have to game-plan for him. We shaded and face-guarded Wiggins, tried to keep it out of their hands."
"We definitely were worried about their transition game. They were one of the top 10 or 15 transition teams in the country. We sent three guys back, only offensive rebounding with two. Concede a few offensive boards for transition defense. Always have someone up top stopping the ball, see if he can turn that guy or ride him to the sideline. Make them turn or pass it, can't let them go straight to the free-throw line. And then keep feet in the paint. Make them beat you with 12-footers. No clear path to the basket. You're not going to crush them on the boards anyway, so concede it. Your guards aren't going to get shit on the boards, so send them back."
"They're fast offensively. And when they're not fast offensively, they're confident. They know exactly what they need to do, where the ball should go. Defensively, they're aggressive. Aggressive on the glass, aggressive in passing lanes, aggressive on the ball. They can turn around and play fast. Coach [Bill] Self is terrific. He knows where the ball needs to go, and his guys know how to get it there. The shots they take aren't by accident."
Offensive strength
"Spacing. Their spacing makes it hard. If they hit 3s, you can't help – and you have to double-team their big guys. The way Wiggins is playing right now, the confidence he's playing with, it makes it hard to double-team. They rotate it around, and then he's making threes, it's going to be a long night."
"I think it's more so the frontcourt. They grind you out. Not even in pace or anything like that, but they just keep coming. They have five bigs, six guards. They're patient to get quality shots. They shoot high percentages, because you get so much stuff for [Perry] Ellis and [Joel] Embiid inside, and Selden and Wiggins are athletic guys that will attack. Those guys will get to the rim and get to the line. Even though the don't shoot it that well, they don't rely on it."
"They have it all. They have a ball-handler in [Naadir] Tharpe and [Frank] Mason, they have shooters in [Brannen] Greene and [Conner] Frankamp, they have a slasher in Andrew, they have size in [Tarik] Black, they have an interior presence in Embiid, and then you have Bill Self. The one thing they don't have is experience, but Bill Self has experience. He's coached in the national championship game. He knows what this should look like. I put more stock in the experience of a coach rather than a player. Players have to have confidence."
Key player
"I think it's Tharpe. If he's playing well, I think they're going to be hard to beat. Those other guys are going to give you what they give you. He's had one turnover in last three games. If he does that, they're hard to beat."
"The guy that's the most undervalued nationally is Perry Ellis. He's their best player to me. There's no doubt in my mind. He makes them go. He does every little thing they need. If they don't have him, they're still super-talented, but they're not the same."
"It's the point guard position. We've seen games where Tharpe didn't play well, but Frank Mason did. Those two guys can work. Joel is going to be tough, you know he's going to be aggressive on the offensive boards. Perry Ellis is a four-man who can stretch it. Andrew Wiggins can give you 12, he can give you 25-plus. But if they're solid at the point guard spot, and those other guys are getting shots, and Tharpe and Mason aren't turning it over, they're pretty good."
Primary weakness
"It's crazy that I have to think so long about it. I don't know. If Tharpe isn't playing well would be the only thing. And I don't even know if that's a weakness."
"If you can find one, it's probably point guard play and perimeter shooting. They don't shoot it exceptionally well."
"On-again, off-again mentality of rookies. There isn't a consistency with rookies. Sometimes there are great games, sometimes they're off. Perry Ellis is consistent this year, but you see Andrew and Joel have big waves. If you go into a game knowing you're getting this, it helps your game-planning. The one thing you want is consistency. The inconsistency of rookies is tough."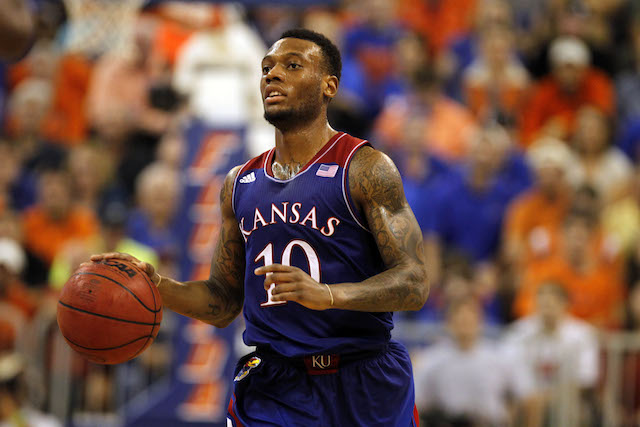 How to stop them
"First of all, it's transition. Take good shots so they don't get out on the break. On misses, you have to stay back, because they'll get a layup within the first 3-5 seconds; they're that athletic. And then playing good post defense. Not giving their bigs angles in the post, so they can't throw over the top and get an angle for a layup. Pressure their guys, make them put their head down and get out of character."
"You can face-guard Wiggins. It's a good strategy. You have to pick who is going to beat you. You can go concentrate on Perry Ellis or Joel Embiid, and front and back the low-post stuff, but then you're going to free Wiggins and let him get confident, or let Selden get good looks, or let the guards get free. You have to pick your poison. You can face-guard Tharpe and Mason and screw up their rhythm, too."
"I guess you can zone them if you can rebound out of it. The problem is, if you get a stop, there's an offensive rebound and another possession or an offensive rebound and a stickback. There's so little room for error. They create that with their relentlessness and size. You can't make mistakes." 
"Look at the games where they've struggled. San Diego State beat them shooting 37 percent. They were defensively solid. They doubled the post, made them throw out of it. Stay in front of them, make them shoot over you. And limit them to one shot. They're not at their best playing half-court basketball. Make them one and done. And especially at their place, their crowd gives them energy, so you have to limit transition opportunities. That's where Andrew Wiggins is best, that's where Frank Mason is best, they've got guys that are best in the open court."
Best way to score on them
"Attacking them, but being strong when attacking. A lot of teams take a lot of jump shots because they have the big guys down there. You have to get Embiid on the floor. Iowa State has an untraditional five man, but they were in the game because Embiid was out, not just in the paint and blocking shots."
"We tried to drive them, partially because they sometimes get into overplay on the perimeter. That was good, because we went to the free-throw line a bunch. You have to get some easy stuff. You have to get offensive rebounds, some trash stuff, get to the free throw line. You're not going to get much inside. There's so much size. No one has a frontcourt like that. If you have the personnel to do it, you can spread them out. Iso some of their big guys and let them drive it, essentially to draw fouls. Elbow cut, rip through and drive to see if they reach."
"If you have a stretch-five like [Georges] Niang and can get Joel away from the rim. [Iowa State] was able to do that and that allowed [DeAndre] Kane to get to the rim and not worry about finishing. A guy that can keep him honest. Put them in a situation to where you're taking Joel away from the rim, you're better off."
Ultimate concern
"I think it's transition defense and rebounding. They get a lot of points off of transition, because they do a great job of changing defense to offense. If you give them easy baskets, it's hard. They go on runs real quick. Rebounding-wise, not giving them second chances. Wiggins crashes hard, Selden crashes hard, Embiid crashes hard."
"Our bigs' level of activity. Offensive board, defensive board. Running the floor and getting back. Those big guys run their asses off. Embiid is incredible, Ellis really runs. Your guards are going to be OK, but our big deal was the bigs. You have to be active, stay out of foul trouble."
"You have to make them a half-court team. And in order to do that, you can't turn the ball over. You have to get quality shots, you're not going to be able to just cough it up and throw bad passes. And bad shots, you can categorize those as turnovers. Teams that aren't confident in the half-court will struggle. Their pressure speeds up your thinking. If you're not prepared for it, it's a tough do."
Is their PG play good enough to win a title?
"If Tharpe is playing like he is, they have a chance. At the beginning of the season, it was questionable. Now, I think Tharpe has taken that role over. And Mason brings toughness; he's quick. He does a good job of taking and hitting big shots. There's not a big drop-off. And they can play him and Tharpe together, for defensive pressure."
"I think so. When you put Tharpe and Mason together. It's not that they're not good, because they're both very good players, it's are they going to help you win or are they going to contribute to losing. At the beginning of the season, Tharpe was contributing to losing. It was bad shots, bad timing and decision-making. Now he's playing as good and solid as I've seen him play. When he's that guy, they're really good."
"I don't know about that, because I haven't evaluated every point guard. I will say that Tharpe is better defensively than people give him credit for. I know Mason is young, but he is fast. If you can keep him out of the open court, you're at an advantage. Tharpe's experience at that position really aids those guys. If those guys are solid with the basketball, there's not a lot of pressure on Tharpe and Mason to score. There's confident in the half-court. Tharpe's been around long enough to understand."
Andrew Wiggins and Joel Embiid
"Wiggins looks more relaxed. He's more confident. He put too much pressure on himself early in the season, now it looks like he's just playing. For Embiid, it's the same thing. They've adjusted to college basketball. Embiid has done a great job of changing the game on both ends."
"Each of them improving is helping the other one. They're getting a feel for it. They've found a comfort level, found their role a little bit. Felt each other out. They've had a lot of time to come together. Wiggins is having a better feel for time and situation, shot selection. They were running stuff for him just to say they got him a shot. He's not going to dominate the ball. There's more of a flow now. It's less like a team of pieces; there's more of a flow, them playing together. It's less choppy."
"In the last five games, Wiggins has played very well. He has a better idea of who he is as a player. He's a very good slasher, he can make jump shots if open, he can get out in the open court, and he can offensive rebound. Early in the year, he wasn't getting to the free-throw line and he was settling for jump shots. And they've done a good job with him. Embiid, confidence-wise, he's just growing and growing and growing. He's learned from those experiences. He's had a couple times to react in a negative way like he did in the Iowa State and Kansas State game, and he's handled those situations much, much better. Some of that has to do with confidence, and some of that has to do with him being a bright kid and understanding what it takes."
Leftovers
"Ellis is the mismatch problem. He can put it on the floor, he can hit mid-range shots, and he just competes. He's their guy that's under-the-radar, but he's an extremely valuable guy."
"They're deeper than most of the teams in the country." 
The disgraced former Louisville coach really wanted those Yeezys with the zebra stripes

It's difficult to imagine an athletic director giving the Hall of Famer another chance

The recruiting scandal has cost Rick Pitino his job as coach of the Cardinals
Pitino's lawyer fought for his client's job Monday

These teams who have the potential to pull some upsets should they make it to the Big Danc...

Gary Parrish and Matt Norlander explain how and why UNC escaped penalty