Shabazz Muhammad needs time, empathy
Shabazz Muhammad hasn't had it all that easy of late. Sure, he was the number one player in the nation -- but he and his family have taken plenty of hits in the last several months. UCLA's star freshman needs time and empathy as he returns from his NCAA-imposed three-game suspension.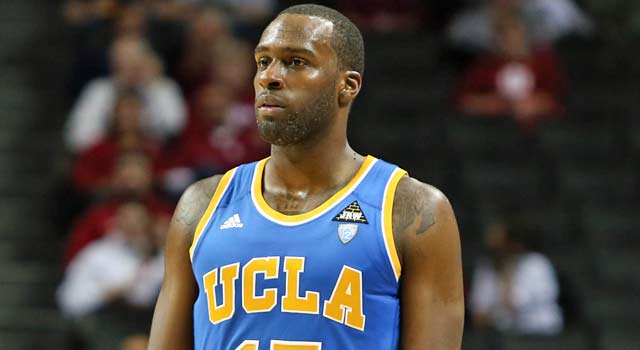 Considering all the hype and controversy, don't forget Shabazz Muhammad is only 19 years old.
(US Presswire)
BROOKLYN, N.Y. - Shabazz Muhammad is the savior, the freshman who is expected to make certain Ben Howland sticks around in Westwood, the freshman who will bring pride back to Pauley Pavilion, the freshman who sits atop numerous NBA Mock Drafts. 
"It's a lot to handle," said Muhammad's father, Ron Holmes. 
Too much. 
Muhammad exploded on the national scene after his sophomore year in high school at Bishop Gorman in Las Vegas, rising all the way to the top spot in just about every recruiting ranking. But then the rumors began to circulate. 
Was adidas paying Muhammad directly, or through an endorsement deal with his older sister, a one-time highly rated tennis player?  Did Muhammad's family get paid from a pair of financial advisors who were tied to Holmes and Clayton Williams -- one of Holmes' closest friends?  Was there a sports agent involved?
More on UCLA-Georgia
Related links
At the end of it all, all Muhammad wound up missing was a grand total of three games via an NCAA suspension, for a few unofficial visits to Duke and North Carolina in which financial advisor Benjamin Lincoln footed the bill. We say all, but Muhammad likely had no clue. Most kids (other than maybe O.J. Mayo) don't know what's going on with their recruitments. It's usually run by their "guy", parents or an AAU coach. 
The talk hurt Muhammad. He's proud -- and that's evident just by watching his game. He's not the most skilled, certainly not the most athletic. But what he does is play hard on just about every possession. He's ultra-competitive -- and that, along with his strength and enough skill, make him one of the most feared players in the country. 
He finished with a game-high 21 points in the 60-56 victory over Georgia on Tuesday night and Muhammad didn't even play all that well. 
"There's a lot of pressure on him," Holmes said. "But I haven't seen him buckle yet." 
"It's been really hard," Muhammad added. "I know I'm a good kid and wouldn't jeopardize my future, but I'm just glad I'm on the floor now." 
Muhammad admitted he's about 10 or 15 pounds heavier than he wants to be, but the offseason injuries -- ankle and most recently his shoulder -- have taken their toll. He doesn't have that explosiveness we saw on the AAU circuit a couple summers ago, but he's hopeful that he'll lose that weight in a couple weeks, be able to do more off the dribble and be able to play harder for longer stretches. 
"It's going to take some time," he admitted. 
But there's still that issue of having to save the program that's not going away anytime soon. As the cornerstone of a stellar recruiting class and someone whose been scrutinized off the court for much of the past eight months, he can't avoid the expectations. 
"It's tough because I see him at the top of the draft boards and publications pick him as a first-team All-American before he's even played a game," Holmes said. "I'm not sure that's fair." 
Not much has been exactly fair to Muhammad in recent months. He's heard the word "dirty" associated with his family on a fairly regular basis, he's gone through a myriad of injuries and people forget that he's still just a 19-year-old kid. From all accounts, a high-character one. Those who play with him rave about his effort, intensity and unselfishness. Those who go against him rave about the identical qualities. Holmes is the first to admit he's not a lights-out shooter, but his work ethic will likely enable him to become an improving perimeter shooter over the next few years. His father also said there's minimal disparity between his great games and his sub-par ones. 
Will Muhammad be the first guy shaking David Stern's hand in late-June?  The NBA scouts I spoke to at the Barclays Center on Tuesday night in Brooklyn weren't overly impressed by his performance, which was primarily built on point-blank buckets, but they also understood it's just his second game after missing extended time and that the time to evaluate him is when Pac-12 play rolls around. 
"It's too early to tell," one NBA executive said. "I think he's a lottery pick, but I'm not buying the top overall pick." 
Muhammad, though, is just hours removed from being cleared by the NCAA. He wasn't certain he'd even play in Brooklyn this week -- or if at all this season. He and his father maintain their innocence of any wrongdoing, and now Muhammad is hopeful the cloud that has hung over him and his family will begin to disappear. 
"When I was younger, my dad taught me to be respectful," Muhammad said. "There's been a lot of stuff out there, but at the end of the day I'm on the court and that's what matters." 
And when he does step up to the podium in June, whenever number he gets chosen, one thing can be certain: Muhammad will be mentally prepared. 
Matt Norlander is on a 11-7 run in college basketball picks and shares his best bets for W...

Kentucky losing this game probably cost it a shot at earning a high NCAA Tournament seed

Freshman had 12 turnovers and 20 points; the Wildcats rattled him and kept OU on its heels
Kentucky and UNC are just behind the Blue Devils and Jayhawks

Cal's form wasn't pretty, but when it works, it works

Josh Nagel has his finger on the pulse of Purdue basketball and locked in a play for Tuesd...