Triple Threat: Big 12 tournament is anybody's ballgame
Jon Rothstein explores the greatness of the Big 12 and Atlantic 10, also telling you a little bit about Richmond's ShawnDre' Jones and UCLA's Kyle Anderson, among others.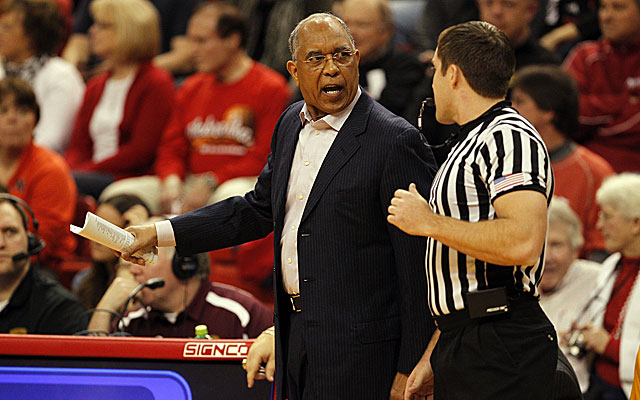 What are three things I never thought I write? Which three players are starting to come into their own? Answers to those questions and more in this week's edition of the Triple Threat.
Three quick hits
1. How many teams in the Big 12 can reach the title game of the conference tournament?
Nine. After Texas Tech took Kansas to the wire Tuesday night in Lubbock, losing 64-63, the Red Raiders officially joined the conversation as a team that can make a run during championship week. Tubby Smith's team has already beaten Baylor, Oklahoma, as well as Oklahoma State and their performance against the Jayhawks reiterated that they're going to be a tough out moving forward. What does that mean in terms of the big picture? The Big 12 has reached a point where 90% of its teams have a legitimate chance in March to play for an automatic bid to the NCAA Tournament. You can't say that about any other league in America. With the exception of TCU, every team in the Big 12 is going to have a chance during the final weekend of the season. This conference is truly the gift that keeps on giving for college basketball junkies. We simply can't get enough of it.
2. Which BCS-level player is being underappreciated nationally?
Kyle Anderson. UCLA's stellar sophomore is the odds on favorite for Pac-12 Player of the Year and is starting to look more and more like the Magic Johnson of the 2013-14 season in college basketball. The 6-9 point forward is a legitimate threat to get a triple-double each time he takes the floor and is averaging 15.4 points, 8.7 rebounds, 6.8 assists, and 1.6 steals. Another thing about Anderson? He's become a much better shooter. After shooting just 21 percent from three-point range as a freshman, Anderson is now up to 52% from deep as a sophomore. The Bruins are currently 20-5 overall and in second place in the Pac-12 heading into tonight's game at Cal.
3. Who is ShawnDre' Jones?
A terrific freshman guard for Richmond who's playing at an unbelievably high level. The Spiders looked like they were going to be pushing a boulder up a hill a few weeks ago when it was announced that leading scorer Cedrick Lindsay was lost for the season with a knee injury, but Chris Mooney's team has remained competitive and Jones is a major reason why. The 5-10 guard is averaging 16.3 points in Richmond's last four games and scored 25 in last night's home loss to George Washington. The Spiders are very much alive in the NCAA bubble conversation moving forward and Jones' emergence is a major reason why. Richmond is currently 17-9 overall and 7-4 in the Atlantic 10.
Three games I'm looking forward to
1. Creighton at Marquette (Wednesday, 8 PM ET)
Can the Bluejays keep their show going on the road? It will be interesting to find out. Buzz Williams' squad quietly has some palpable momentum coming off Saturday's win over Xavier and will be looking to add another marquee win against Creighton. Marquette is 15-10 overall and has serious limitations in the backcourt, but the Golden Eagles are playing their best basketball of the season at the right time. They'll do everything they can to turn this game into a street fight.
2. New Mexico at UNLV (Wednesday, 11 PM ET)
The Lobos are looking for payback while the Runnin' Rebels are quietly trying to stay the course. UNLV's best win of the season was when they beat New Mexico earlier in the year at the Pit and Dave Rice's team can make a strong push towards March with a season sweep of the Lobos in Sin City. The biggest key for UNLV remains junior point guard Deville Smith, who was tremendous in Saturday's win over Utah State. In 31 minutes, Smith scored seven points, handed out eight assists, and only committed one turnover.
3. VCU at UMass (Friday, 7 PM ET)
It seems like every week the Rams have a brutal road game. VCU beat the Minutemen twice last season and it's no secret that these two teams push the pace as much as anyone in the Atlantic 10. If you love helter-skelter type basketball, this is the game for you. Look for Derek Kellogg to use three-guard sets with regularity featuring Chaz Williams, Derrick Gordon, and Trey Davis in an effort to offset the Rams' vaunted HAVOC defense.
Three things I didn't think I'd ever write
1. Creighton averaged 98.5 points in two meetings this season against Villanova.
The Bluejays have beaten the Wildcats twice this year by a combined 49 points and have been able to get whatever they wanted, whenever they wanted. Creighton's 101-80 victory over Villanova on Sunday was one of the more breathtaking offensive performances we've seen in quite some time in college basketball. In addition to 39 points from Doug McDermott, the Bluejays also got a combined 39 points from their bench and that was a major difference in the game. The Wildcats have never seemed at ease against Creighton this season and appeared to be on their heels on nearly every defensive possession.
2. The Atlantic 10 has a legitimate chance to get more than four teams in the NCAA Tournament.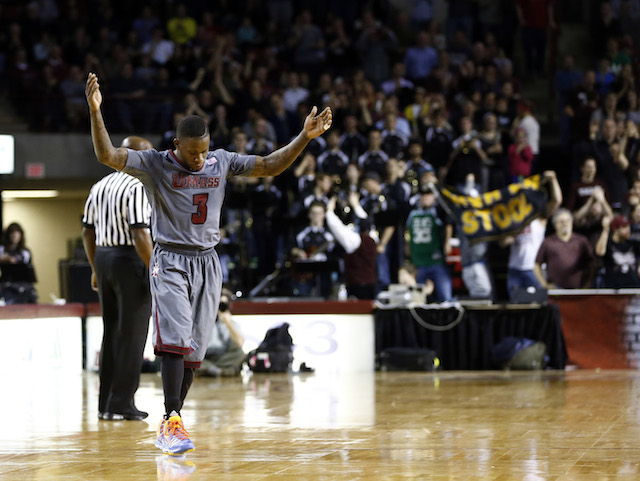 How does a league lose Temple, Xavier, Butler, and Charlotte and still be in this position? It's a good question. We're still three-and-a-half weeks away from Selection Sunday but right now it looks like barring any major collapses the Atlantic 10 should again be well represented in the NCAA Tournament. Saint Louis, VCU, UMass, and George Washington have all posted marquee wins this season and Saint Joseph's has quietly joined the bubble conversation at 17-7 overall and 7-3 in A-10 play. Dayton and Richmond are also very much in the mix as well, giving the Atlantic 10 seven teams with a fighting chance for the field of 68.
3. Wisconsin is a better team when it pushes the pace.
And that was never more apparent than during the first half of the Badgers' win over Michigan on Sunday in Ann Arbor. Against the Wolverines, Wisconsin pushed the ball, got transition opportunities, and was the aggressor in the game's first 20 minutes. Bo Ryan's team built a 15-point halftime lead and never looked back, reiterating the notion that this team is much more comfortable playing at a faster tempo than some of Ryan's squads in the past. The Badgers technically play with two point guards -- Traevon Jackson and Josh Gasser (who was supposed to be last season's point guard before tearing his ACL) -- and that puts them in a position to always be thinking about attacking the other team as early in the shot clock as possible. Wisconsin has also gotten good mileage out of 6-3 freshman Bronson Koenig, a terrific passer and underrated floor general who truly embraces his role as a reserve off the bench.
Three guys who are coming into their own
1. Will Artino, Creighton
Who says the Bluejays can't use a traditional center in spurts? Artino had a double-double (11 points, 10 rebounds) against Butler last week and has been very productive for Creighton over the past few weeks. In Artino's last five games, he's 12 for 14 from the floor. That's beyond efficient.
2. Jermaine Marshall, Arizona State
Jahii Carson should buy Marshall dinner for the rest of the season. The Penn State transfer has been the missing perimeter piece for the Sun Devils and scored 29 points in Arizona State's win over Arizona last Friday. Marshall has scored 22 or more points in three of his last four games and is averaging 16.2 points this season. Herb Sendek's team is 19-6 overall and 8-4 in Pac-12 play.
3. Xavier Talton, Colorado
The 6-2 sophomore has given the Buffaloes an identity at point guard in the aftermath of Spencer Dinwiddie's season-ending knee injury. Talton has scored 9 or more points in four of his last five games and has also made 12-of-17 three-point shots during that span. Colorado won't be the same team it was when it had Dinwiddie, but that doesn't mean it still can't be an NCAA team. Talton is a major reason why that is possible. Tad Boyle's squad is 19-7 overall and 8-5 in Pac-12 play.
Three mid-major names you may hear in March
1. Jerrelle Benimon, Towson
Pat Skerry has turned this one-time Georgetown forward into the Royce White of the CAA (in a good way). The Tigers have put the ball in Benimon's hands as a point forward and let him go to work. The results have been great for Towson and a recurring nightmare for the rest of the CAA. The 6-8 Benimon is averaging 18.8 points, 11.8 rebounds and 3.9 assists along with 1.4 blocks. In Monday night's win over Delaware, Benimon had one of his best games of the season and torched the Blue Hens for 25 points, 18 rebounds and five assists.
2. Alec Brown, Green Bay
A mid-major team with a 7-foot-1 option at center is a rarity in college basketball but that's just what the Phoenix have in Brown. The senior big man is extremely skilled for his size and has already made 33 three-point shots this season. Brown is currently averaging 16.1 points, 5.9 rebounds, and 3.1 blocks while shooting 50 percent from the field and 41.8% from three-point range.
3. Wesley Saunders, Harvard
There isn't a conference in college basketball where Saunders wouldn't have a major impact -- he's that good. Smooth, confident, and always under control, the 6-5 junior emerged as the Crimson's go-to scorer last season and is again their alpha dog as a junior. Saunders is currently leading Harvard in scoring at 14.6 points and is also tallying 4.6 rebounds, 3.9 assists, and 2.0 steals. 
Duke's much-anticipated Allen-Duval connection is off to a hot start already

It'll be Miller vs. Miller if the Hoosiers and Wildcats can finalize the proposed series

Wisconsin's Ethan Happ has made only two jumpers in his career, but is adding a long-range...
The deal is part of long-awaited $2.64 billion contract; CBS' hoops-only commitment runs through...

If Wichita State guard Landry Shamet has a breakout season, he could leave early for the N...

Athletic big man finished 3-day trip to Durham, N.C., with trips to USC, Arizona coming up