Bielema asks fans to 'chill out' over 'joke' Alabama comments
New Arkansas coach Bret Bielema made waves by publicly referring to his superior Big Ten record over Nick Saban's.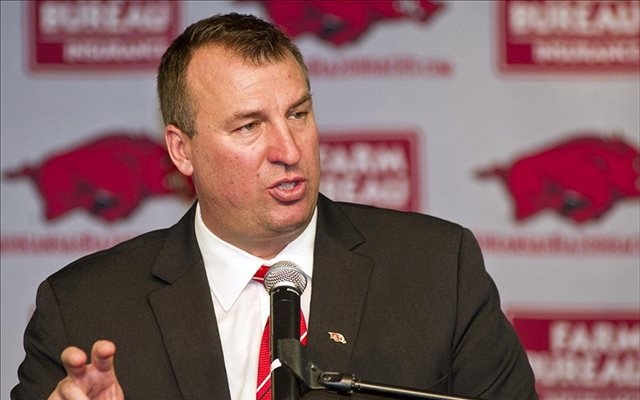 After Bret Bielema's comments at a Razorback fan gathering last week surfaced over the weekend -- comments in which Bielema said he had come to Fayetteville to beat Alabama, and that Nick Saban's Big Ten record "can't compare" to his own at Wisconsin -- two questions seemed to demand answering: 1. How would Bielema back away from those comments? 2. How forcefully would that backing-away be?
Those answers came Monday and were, respectively, "via Twitter" and "not all that forcefully," as Bielema admitted to making the statements but that they were a "joke." The tweet in question:
Things to chill out about today:1- I'm only driving my car today2- Alabama quotes were a joke to a question from a fan at pep rally. #wow

— Bret Bielema (@BretBielema) April 1, 2013
If you're wondering about what point No. 1 refers to, April 1 just-so-happens to mark the one-year anniversary of the infamous motorcycle wreck that led to the ouster of Bobby Petrino. 
That's a not-so-subtle reference that makes this tweet something of a public relations masterclass. How to acknowledge that, yes, you made some comments that will be splattered all over the Crimson Tide's lockers this fall -- "joke" or not, fan-centric context or not -- while simultaneously painting those comments as not a big deal, emphasizing the sense of humor that yielded the "joke" in the first place, and reorienting the conversation towards the problems you don't have (i.e., covertly hiring one's mistress with university funds and lying to one's bosses' faces about it) vs. the ones you do (talking an even bigger game than necessary in a public setting)? You send out that tweet.
Bielema might have pushed the new-coach-winning-over-the-Razorback-faithful angle a little too far last week. But it's clear from the 140 characters above that if that was a mistake, it'll be an equally big mistake to assume Bielema's not media savvy enough to make up for it.
NCAA football scoreboard, highlights and updates from the biggest Week 12 games

Wisconsin has a chance to impress the College Football Playoff Selection Committee

SportsLine's computer model simulated every Week 12 game 10,000 times with surprising resu...
Though a marriage between the Vols and Gruden has been rumored for a while, it seems unlik...

Barrett Sallee is cashing on 67 percent of his best bets and gives 3 strong picks for Week...

The No. 16 Bulldogs will travel to Arkansas Saturday afternoon on CBS