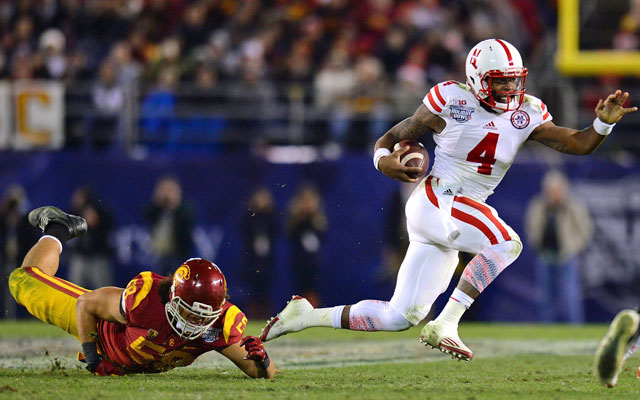 Tucker Zeleny grew up loving Nebraska football and math. As a kid, he would see something interesting about sports on television and try to analyze some statistical conclusions or observations.
Until recently, Nebraska football and math would have been two polar opposite skill sets to apply in the working world. Zeleny's passions would have simply meant he's a big Cornhuskers fan who got his Ph.D. in statistics with a dissertation using weight lifting data collected from Nebraska players.
But times are changing. Last month, Nebraska made Zeleny director of sports analytics and data analysis -- a full-time position the university believes doesn't exist anywhere else in Division I athletics. Other schools certainly use advanced statistics, but they often hire companies to analyze the data for them.
Zeleny's job: analyze anything that might help Nebraska win more games in all sports. That even includes recruiting trends that could improve the Cornhuskers' difficult challenge of landing highly-coveted players.
Though Zeleny is helping all sports, since this is Nebraska, his work will be most heavily watched in football. Nebraska has gone 15 straight years without a conference title in football -- its longest drought since 1941-62 -- and regularly winning nine or 10 games a year isn't cutting it in Lincoln.
Steve Waterfield, Nebraska senior associate athletic director for performance and strategic research, told The Lincoln Star that Zeleny is "my Billy Beane." It's a nod to the Oakland A's general manager, who turned Major League Baseball on its head with applied statistical analysis more than a decade ago. It's also an acknowledgment Nebraska believes it must think outside the box to return to its glory days.
"We've seen analytics sort of start in baseball and gain speed in the NBA and NFL," Zeleny said. "I think probably the same thing will happen in college. The nice thing at the college level is football seems to be a sport there's a lot of data available already. Some people are into it, and others not so much."
First-year Nebraska coach Mike Riley, a 62-year-old football lifer, doesn't consider himself a stats guy, but he is intrigued after hearing about some presentations Zeleny gave to Nebraska assistants recently.
"I think it's exciting," Riley said. "The one thing I don't want to ever be accused of is not continuing to learn or strive out. I don't want to be that guy who says this is the way we've always done it. … The stat part of it, I'm interested in seeing how that might affect some decisions I might have to make in a game."
What is Zeleny going to study? Interestingly, he hopes to help with recruiting and speed up player evaluations.
"Personally, I probably wouldn't be looking at a lot of film, probably looking more at raw numbers and pick up any trends on which recruits tend to pan out well and which ones don't," Zeleny said. "I might even look at things like recruiting from the South or West, are there any factors on how likely that player would come to a Midwest school or a Big Ten school?"
Recruiting is a sticking point for the Cornhuskers. Forty-five percent of their 2015 roster comes from Nebraska, but the state of Nebraska ranks 32nd per capita in producing FBS recruits from 2008-13. Texas, Florida, California, Georgia and Ohio produce the most FBS players, but only 23 percent of the Cornhuskers' roster comes from those five states.
Nebraska isn't a convenient visit for many coveted recruits to make unofficial visits on their own dime while trekking to different campuses. As recruiting decisions get made earlier, getting players onto campuses has become more vital.
"People that are in a metropolitan area, like (Southern California), they're going to have 200 prospects within a three-hour drive," Riley said. "They're going to get a ton of people through. Well, we don't have that. As (recruiting) has gotten ramped up and gone faster, that's where we have to find the way to get them to campus."
Could Zeleny's statistical analysis help? Maybe, maybe not. But he's going to give it a shot.
What are football advanced stats?
Here's the thing about the term advanced statistics: It's a very nebulous term. It could mean GPS tracking of players, opponent-adjusted analysis of teams, success/failure probability numbers, or all sorts of other definitions.
Some of the metrics are mind-boggling. The results are written to the public or told to coaches in ways that are difficult to understand how they're derived and thus why they matter.
But some metrics help coaches do their jobs more efficiently. Scott Prather, co-founder of SportSource Analytics, said his company will have about 25 FBS clients this season, though Prather believes college football advancing deeper into statistics will take a while. SportSource doesn't attempt to predict outcomes.
"We're giving the what, we're not telling the coaches why," Prather said. "If we're saying not giving up a sack on a drive leads to a much higher percentage of touchdowns, we're not telling you how to avoid sacks. We're telling you it's important."
In recent years, total yardage statistics gave way to per-play statistics. Red zone efficiency is vital, but maybe not as important as points per trip inside the 40-yard line. Average starting field position has become crucial.
There are even deeper dives. Early-down efficiency has become a vital stat tracked, with SportSource rating teams based on compiling at least 40 percent of needed yardage on first down and at least 50 percent by second down. Prather believes a better stat than third-down conversion is the "Walsh Ranking" that tracks which teams avoided third downs the most.
Bill Connelly, an advanced stats writer for SB Nation and Football Outsiders, believes five factors represent the most important stats in college football: Explosiveness, efficiency, field position, finishing drives, and turnovers. Connelly's F/+ ratings rank the offensive and defensive efficiency of teams based on a national average. Ohio State was in the top two last year even before its College Football Playoff run, and Florida State was ranked far lower than its playoff status, Connelly said.
Connelly believes winning over some coaches to advanced stats will always be hard in a "man's man" game like football, but he knows one SEC coach who digs deep into future opponents with 300-page dossiers.
"I think the way analytics will play in coaching is the same with video," Connelly said. "To some degree, coaches have always been thinking like this. They might do stuff the same way, but they can now do everything so much faster. Talk to any coach who came up in the 70s and his first job was literally clipping film and splicing it all together. Now they can do it in eight seconds."
The hiring of Zeleny could one day be viewed the way MLB teams spun off advanced statistics into entire departments. Today, the practice of shifting baseball defenses based on statistical trends is as common a sight at a game as peanuts and beer.
"I love what Nebraska is doing," said Connelly, who has spoken with Zeleny. "It seems they're not exactly sure what they're going to use him for, but they want him available to start poking and pecking at different problems. It's showing they're taking a chance and figure out how it goes."
Riley is interested in "Chip Kelly-type stuff"
In reality, Zeleny doesn't exactly know what he will do yet. He worked part-time for Nebraska last season under a different coaching staff. As of last week, he had yet to meet with Riley, but made some presentations to Nebraska's offensive and defensive coordinators.
"They seem excited about it," Zeleny said. "It's not like it's totally new to look into the numbers. Hopefully, we can provide a little more insight. It's not like we're going to revolutionize how they do their jobs, but hopefully we can give them any little edge that's helpful."
Nebraska coaches are interested in opponents' tendencies, such as the frequency of runs and passes and certain play calls. So Zeleny might dig deeper to see if there's a more complex model that can emerge.
Riley said he could envision getting statistics related to third and fourth-down calls such as run/pass decisions; whether to go for it on fourth down; field position metrics; and other decisions that might differ from what he would normally do. "Chip Kelly-type stuff," Riley called it.
"I think we have to make sure we work closely with various coaching staffs," Zeleny said. "I can spend weeks working on a project that I find interesting, but if you give it to the coaches and they say, 'Hey, I already knew this,' or 'It doesn't help us,' it doesn't serve our purpose. I'm trying to figure out what they found that already works for them, what have they always wanted to learn or what is an idea they want some affirmation."
Like many major programs, Nebraska is exploring GPS data and any health, energy and movement trends it can learn about players. That's going to continue, although given the staff change with Bo Pelini gone, Zeleny isn't certain how much of Nebraska's data last year will translate to this season.
One game statistic Zeleny likes is yard per point differential. That shows how many yards your team is gaining for every point you score compared to how many yards your opponent has to gain for them to score. The idea: your team should be making the opponent work harder for its points.
Zeleny views his job as a combination of predicting the future -- such as analyzing player health -- and reviewing the past to understand what worked or failed in a game or season. The idea is to uncover new findings that people never thought could have an impact on success.
Tucker Zeleny might not revolutionize college football. He'll settle for much less: Getting paid to statistically help his Nebraska Cornhuskers win games.