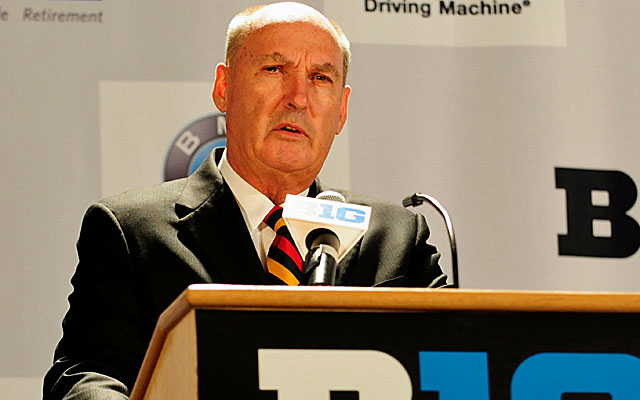 The antitrust lawsuit brought by former UCLA basketball player Ed O'Bannon and other college football and basketball players seeking a share of television revenues could have vast, far-reaching implications for the NCAA if it loses the suit -- and is forced to negotiate a split of those revenues with the players it oversees.
How vast? Big Ten commissioner Jim Delany wrote in a declaration filed in court last week and revealed by SI.com's Andy Staples that he envisions his league dropping back to a Division III non-scholarship model if the court sides with the plaintiffs.
"[I]t has been my longstanding belief that The Big Ten's schools would forgo the revenues in those circumstances and instead take steps to downsize the scope, breadth and activity of their athletic programs," Delany wrote. "Several alternatives to a 'pay for play' model exist, such as the Division III model ... These alternatives would, in my view, be more consistent with The Big Ten's philosophy that the educational and lifetime economic benefits associated with a university education are the appropriate quid pro quo for its student athletes."
"It's not that we want to go Division III or go to need-based aid," Delany added to SI.com. "It's simply that in the plaintiff's hypothetical -- and if a court decided that Title IX is out and players must be paid -- I don't think we'd participate in that. I think we'd choose another option ... If that's the law of the land, if you have to do that, I don't think we would."
Of course, whatever Delany's rhetoric, it remains highly, highly unlikely the Big Ten would simply walk away from its hundreds of millions in revenue to go Division III, and much, much more likely that Delany is simply saber-rattling ahead of the court's decision. Remember that Delany is the same commissioner who once said that joining the BCS "was not a first step toward a playoff, but a last step." (The last step, as it turned out, except for all those other steps that delivered the playoff with the Big Ten's, Pac-12's and Rose Bowl's blessing.)
So no, we wouldn't tell Ohio State fans to start scouting hotels near Mount Union just yet. But if Delany's threat doesn't carry much weight in terms of actually being carried out, it does in terms of showing how seriously the NCAA and its biggest power brokers are taking the threat of the O'Bannon suit. As Staples reported, Delany isn't the only major college athletics figure who filed a statement for the court case -- Larry Scott, Bob Bowlsby, SEC associate commisioner Mark Womack, Texas athletic director Deloss Dodds and others all had their say, all warning that a court decision forcing schools to split their revenues with players would lead to disastrous consequences, including the cancellation of dozens of non-revenure sports.
Exactly what the ramifications of such a decision would truly be remains a matter of highly contentious debate. But what's not up for speculation is that the O'Bannon suit has become a major thorn in the NCAA's side, and one that may not be removed anytime soon.