Ducks' Lyerla 'really upset' with Helfrich's explanation for absence
Mark Helfrich's evasiveness regarding Colt Lyerla's absence from Saturday's win over Tennessee has angered the junior tight end.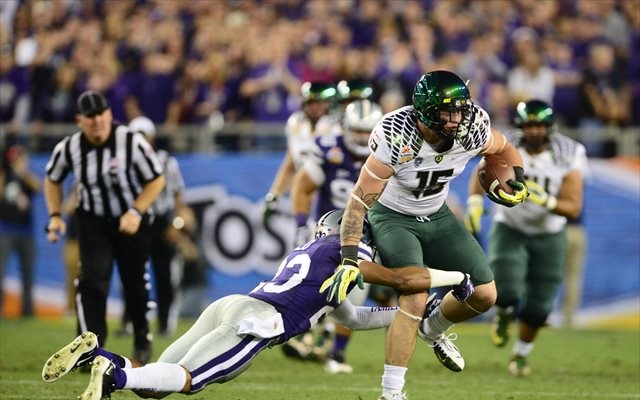 Is there such a thing as a Pyrrhic victory in a battle with the media?
First-year Oregon coach Mark Heflrich may be in the process of finding out. Helfrich was pointedly evasive with the press on the status of Duck junior tight end Colt Lyerla in the wake of his team's 59-14 demolition of Tennessee. Lyerla didn't dress for the game, telling the Oregonian he had missed too many practices with a midweek illness and was held out per the team's practice attendance policy.
But despite repeated questioning from the media, Helfrich would only describe the cause of Lyerla's absence as "circumstances." With Lyerla having missed portions of the Ducks' 2012 fall camp with what the team termed "personal issues," Helfrich's responses sparked speculation on the part of Duck fans and media, the Oregonian included -- and in turn publicly angered Lyerla.
"I'm really upset with the way coach Helfrich said that after the game," Lyerla said Sunday. "Really disappointed. I feel hurt about this ... it was unfair.
"I have no idea why he said that. It made me really upset. It's not my fault I got sick. I just felt he could have had my back a little bit more instead of throwing me under the bus."
Helfrich told the Oregonian Sunday evening that he does not discuss players' injuries or illnesses as a matter of policy, out of both privacy concerns and competitive reasons. He said he had used the term "circumstances" before in discussing a player's status and didn't believe it to have negative connotations.
Which is all well and good, but there's a time when what's best for the team isn't necessarily what's best for the player and policy has to be set aside. Even if Helfrich wasn't at liberty to discuss Lyerla's specific medical status, he could have hinted at some sort of physical problem -- thus avoiding any flashbacks to Lyerla's 2012 absence -- and even suggested that his status for the Ducks' next game (Sept. 28 vs. Cal) was up in the air. No one would have batted an eye.
For his part, Lyerla easily could have declined comment until he talked to his coach and avoided setting off this little firestorm. And after back-to-back 40-point wins over BCS competition, it's impossible to suggest Helfrich isn't acquitting himself very, very well on the field -- or that it wouldn't take a much larger off-the-field issue to throw the apparent Duck juggernaut off-course. So Helfrich isn't required to necessarily drop everything and offer a heartfelt public apology or anything.
All the same, the Duck schedule is going to get substantially more difficult from here, and the multifaceted Lyerla is another substantial weapon in Helfrich's arsenal. At some point, the Duck coach will need as many those weapons at his disposal as he can find, and alienating one of them in order to gain some tiny semblance of an advantage over the media (or Cal?) just doesn't seem worth it.
These three Pac-12 teams could surprise in 2017

Maybe this wasn't the use of social media considering the circumstances

Saban has thoughts on conference schedules, changing bowl requirements and expanding the p...
Chip and Barton pick win totals for Ohio State, Penn State, Michigan and more

These three teams could surprise quite a few people in 2017

With the Chargers moving to Los Angeles, the Aztecs now need to find a new home -- fast