EMU: English fired over 'absolutely unacceptable' comments to team
Eastern Michigan has issued a statement saying Ron English was fired for 'wholly inappropriate comments' made to the team.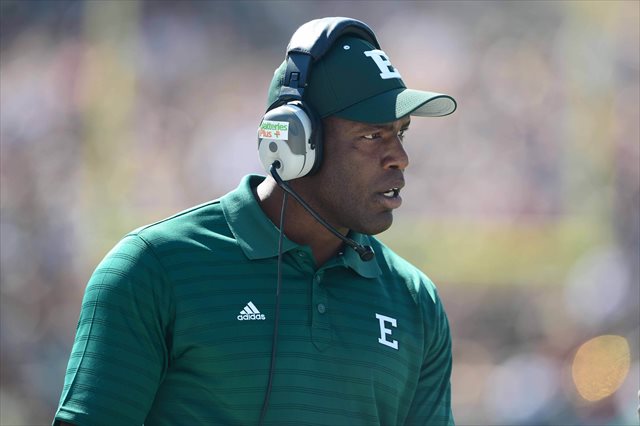 Eastern Michigan has issued a statement saying that Ron English was fired in part over "wholly inappropriate language" used in comments to the team.
mlive.com's Brandon Folsom tweeted a photo of the statement, which was distributed in the EMU pressbox before the Eagles' game Saturday against Western Michigan. In it, athletic director Heather Lyke said that she "received a tape of a situation in which Coach English had addressed the team." The comments made by English on the tape, Lyke said, were "absolutely unacceptable."
The audio was published Saturday by the Detroit News. Though somewhat garbled, English can be heard on the recording using assorted profanities, saying 'I respect football players … you ain't no football players," and other similar statements. The News writes that "it also sounds like English used a derogatory word for gay" (possibly at the 2:04 mark of the audio).
"We hold our coaches to high standards of professionalism and conduct and there is no place, particularly in a student environment, where this language is appropriate," Lyke said. "My decision to make a change in the leadership of our football program was the culmination of a lot of factors including the comprehensive review of our program, the competitive performance and this tape."
EMU and Lyke announced Friday that English was "relieved of his duties," effective immediately. English leaves the school with an 11-46 record over four seasons and the first nine games of 2013. The Eagles are 1-8 entering Saturday's game against the Broncos.
College football bowl games were all announced on Sunday, and you can check out the entire...

SportsLine simulated every bowl game 10,000 times for pick'em leagues and confidence pools

Everything you need to know to watch and pick the Las Vegas Bowl on Saturday
Everything you need to know to watch and pick the Camellia Bowl on Dec. 16

Everything you need to know to watch and pick the New Mexico Bowl on Dec. 16

Everything you need to know to watch and pick the Cure Bowl on Saturday