Ex-BYU coach Bronco Mendenhall: Independent status not 'sustainable'
Bronco Mendenhall said he doesn't believe BYU's independent status is sustainable.
• 2 min read
Bronco Mendenhall took over the BYU program at a turbulent point in the Cougars' football history. Fourteen players were disciplined for Honor Code violations during Gary Crowton's last season, and four former players were indicted on allegations of gang rape the day after Crowton's resignation. There were expectations that Mendenhall, a defensive coordinator under Crowton, would not only bring winning football back to Provo, but limit the off-field issues that built this horrifying tipping point for the program. 
Mendenhall built a foundation and then proceeded to win a clip only topped by the legendary LaVell Edwards. The Cougars won 99 games in 11 years and never missed the postseason, making Bronco, the son of a BYU linebacker, the second-winningest coach in program history. There were opportunities to leave before, but when Virginia called this offseason, Mendenhall felt like it was time to make a move to the biggest stage in college football. 
BYU fans will be quick to point to the program's history as a reason to consider the Cougars shoulder-to-shoulder with many Power Five programs, but as Dennis Dodd wrote this week, the gap between the have's and have not's is growing wider and wider. Bronco Mendenhall did not mention the financial gap when describing his decision to leave to USA Today's Paul Myerberg, but he did point to BYU's independent status. 
"I don't think it's sustainable," Mendenhall said of BYU's independent status, via USA Today. "I was trying everything I knew how to do to advance and pioneer that part. If I were to be really blunt about it, I took it as far as I could go in relation to that setting of independence.
"After all that and setting all that foundation and direction, there became a point where it was guardian, custodian of that direction -- where it was, I'm not sure now if I'm one supposed to be doing that here."
Mendenhall admitted that he thought he would never leave BYU, but that the school's decision to pursue independence -- which officially kicked in six years into his tenure -- contributed to a changed outlook on his career. After finding himself asking, "OK, so now where?" near the end of the 2015 season, Mendenhall said it became clear that it was time for him to take on a new challenge. 
Many of Mendendhall's BYU assistants have joined him in Charlottesville, where he hopes to guide the Wahoos back to the postseason for the first time since 2011.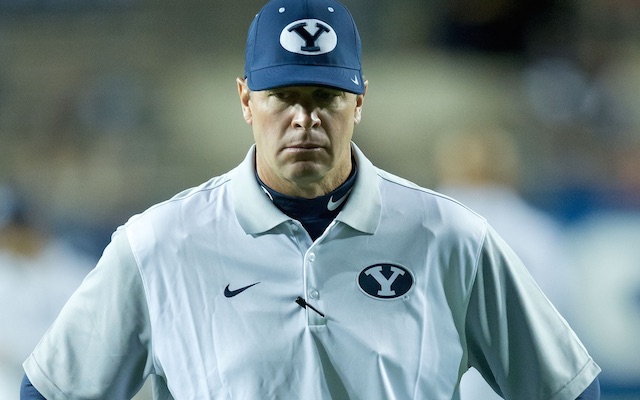 McElwain will coach receivers and help coordinate the offense for the Wolverines

Nathaniel Watson Jr. was involved in a car accident that injured a passenger in early Febr...

The honorable Tom Fornelli presides over the ASU vs. UM case
Arkansas State is seeking $650,000 for a canceled home game last September due to Hurricane...

Friday Five is tackling the big questions this week

Two unnamed players are being investigated for an incident at an off-campus apartment