Florida DL coach Bryant Young makes 'personal decision,' resigns
Bryant Young, Florida's defensive line coach, has resigned for "personal reasons."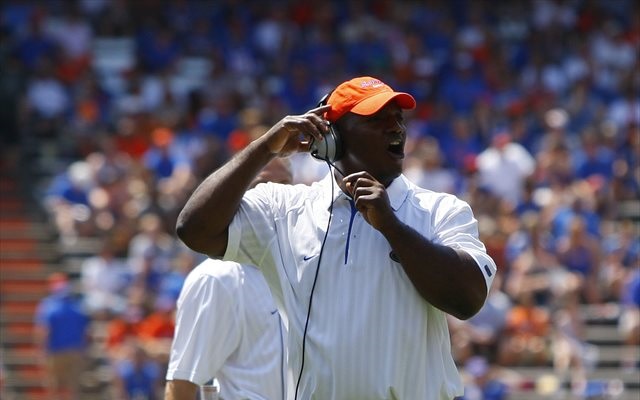 "Life as a college football coach and father of six is a challenge [that] one Gators defensive line coach Bryant Young has decided to take a break from," Gatorzone.com writer Scott Carter wrote for the official Florida football site Wednesday.
And with that, Young and Florida surprisingly announced that the 41-year-old former San Francisco 49er All-Pro had resigned his position on the Gators coaching staff. Young was an original member of Will Muschamp's staff, joining as defensive line coach from San Jose State in January 2011.
"After heavy consideration and giving over two decades to the game of football, I have made a personal decision to resign from my position at the University of Florida in order to pursue more time with my family." Young said.
Young had only been coaching football for four seasons, having started as a graduate assistant under Charlie Weis at Notre Dame in 2009. His role in Gainesville focused mostly on coaching the defensive tackles.
The timing of his decision will no doubt raise eyebrows, with the Gators having just completed spring camp and the usual offseason coaching carousel having slowed to a stop weeks ago. Those eyebrows won't be any less raised by Muschamp's contribution to the announcement.
"We are very thankful for Coach Young's contributions to the program and I respect his decision. This is strictly a personal decision and has nothing to do with NCAA compliance, but just an opportunity to evaluate his future path," Muschamp said. "I always have, and will continue to be very supportive of Coach Young and his family ... We wish he and his family nothing but the best."
Why the "NCAA compliance" mention when neither Young nor Florida appears to be under any current NCAA scrutiny? The best guess from 247Sports Gators writer Thomas Goldkamp is that Muschamp is heading off at the pass any comparisons between Young's sudden resignation and that of Aubrey Hill, the former Miami assistant who left the Gators staff in 2012 over his connection to the Hurricanes' NCAA scandal.
Whether there's anything more to Young's departure than a desire to spend more time with his family (and as of right now, there's no indication there is), it leaves a pivotal hole in Muschamp's staff at an inopportune time. Young had played a key role in developing blue-chip linemen like Sharrif Floyd and Dominique Easley into the nation's No. 4 rush defense in 2012, and a still-developing offense will likely rely on that kind of run-stuffing as the 2012 Gators did.
So what's next for Muschamp? Goldkamp speculates that he could move linebackers coach D.J. Durkin to defensive line responsibilities and focus on hiring another top-notch recruiter (apparently not a Young specialty). But whatever his move, it's the kind of out-of-nowhere off-field hurdle that won't do a thing to help the Gators in their bid to unseat the Georgia Bulldogs in this year's SEC East.
The 2021 Chick-fil-A Kickoff Game will feature Louisville and Ole Miss

The Fornelli 50 ranks teams based on nothing but their performance in 2017

Penn State better have its eyes wide open with a trip to Iowa City on deck this weekend
Ohio safety Javon Hagan has a rather unique personal tradition during games

Mississippi State has been good to Mullen, but he should be the next Bulldog to upgrade

Cowart was the No. 3 overall recruit in the 2015 class but has not panned out yet for the...