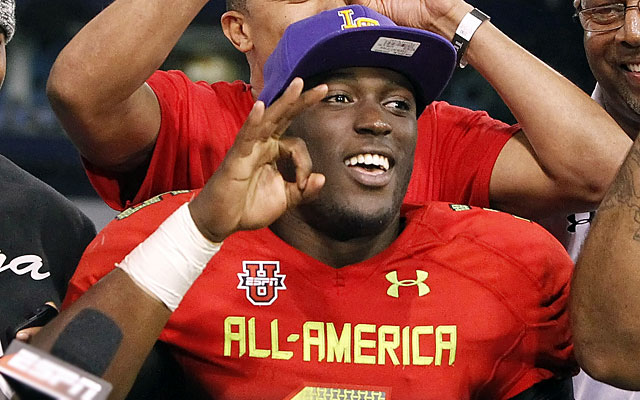 SEC Media Days: Mizzou no pretender | Day 3 diary | Latest from Birmingham
HOOVER, Ala. -- He didn't, did he? Les Miles didn't just use Leonard Fournette's name in the same sentence with Michael Jordan.
A teammate didn't just say Fournette is comparable only to Adrian Peterson.
Tyrann Mathieu didn't say he knew Fournette was a "grown man" playing against him in the 12th grade. At the time, Fournette was in eighth grade.
In an SEC media days devoid of star power, the nation's No. 1 recruit isn't actually here. But his legend -- still in formative stages -- is. Fournette's name was the one most often on the lips of media, players and teammates.
When asked how LSU's freshman tailback was looking -- he arrived on campus only last month -- 320-pound tackle La'el Collins simply said, "Apart."
"He looks like he's been there three years," Collins continued. "He looks like a guy who knows what goes on. He looks like a guy who played in games last year for us."
Fournette, of course, didn't. LSU won the recruiting war for perhaps the state's most-heralded running back prospect. If you want to go further, fill in the blank: Fournette is the most-celebrated SEC tailback prospect since ...?
He's a little bit of Herschel, a hint of former LSU star Kevin Faulk. But they all keep coming back to Peterson, a Heisman runner-up as an Oklahoma freshman.
"To be honest that's the only guy playing the running back position you can compare him to," fellow tailback Terrence Magee said. "Who wouldn't want to play in the same backfield as that guy?"
The product of legendary St. Augustine High (Honey Badger's school) seems like he could jump straight from New Orleans' 7th Ward to an NFL backfield.
At 6-foot-1, 225 pounds, Fournette runs a 4.35 40 -- with a bullet.
"I'd probably say it took about 7 seconds [to realize] when I saw him run the ball, the power and the speed and the vision that he runs with," Magee said. "I feel like I'm getting my opportunity to play with a guy they're comparing to AP."
Inherent in that comparison is the assumption that Fournette could make that immediate NFL jump. Peterson finished second in the Heisman voting as an Oklahoma freshman, staying in school only because he had to.
Things are vibing the same way in Baton Rouge. In this Sports Illustrated video Fournette states his simple goals -- Heisman, All-American, national championship.
As a freshman.
In another age, not too long ago, Fournette would be what they call a hoss. Look at the highlights. Those are just a teaser, Fournette's junior season. Now look at tape from his senior year in 2013. Stunning comes to mind.
"I still get a 'wow' factor watching him catch the ball and running away from guys who have been there since I've been there," Magee said.
Inherent, also, is an LSU dichotomy. Most tailbacks come to a place wanting to be the man. Fournette came knowing he'd have to share time in one of the most congested -- albeit successful -- running-back-by-committee cultures in the country.
For the sixth time in the last seven years, at least two LSU players ran for at least 400 yards. Only twice in the last five years have the Tigers produced a 1,000-yard rusher.
As good as he is, Fournette will be sharing the ball with seniors Kenny Hilliard and Magee.
"I think that's an advantage," Miles said. "I think you can always count on that from us."
Factor that in with this reality: Fournette likely would have also shared the ball at Alabama and Florida State -- recruiting runners-up for his services. We live in an era when the running back's relevancy has been diminished. Auburn's staggering 300 yards-plus rushing average last season is an aberration. Even then, Tre Mason had to share carries with 1,000-yard rushing, dual-threat quarterback Nick Marshall.
In 2006, teams averaged 140 yards on the ground tying the third-lowest figure in history, 1938. Although numbers have rebounded, they're still down 16 percent from the heyday of the wishbone in the 1970s. (NCAA stats have only been kept since 1937).
The reality, then, is that big-time runners come to LSU knowing they will share the ball, glory and headlines. The payoff -- for some -- is getting to the NFL, quickly, with low miles. A combined 18 juniors have left the program in the last two seasons.
"At times you may look at it and say, 'The backfield's too crowded, I don't want to play there,'" Magee said, "but in the long run it ends up benefitting you."