Friday Five: The most attractive Big 12 schools to the rest of the Power Five
Every Friday, the Friday Five will rank something in the world of college football -- anything and everything from the logical to the illogical. This week, we rank the five schools in the Big 12 that would be the most attractive to other Power Five conferences.
Every Friday, the Friday Five will rank something in the world of college football -- anything and everything from the logical to the illogical. This week, we rank the five schools in the Big 12 that would be the most attractive to other Power Five conferences.
Big 12 expansion has been a topic of college football offseasons ever since the Big 12 was seemingly left behind by the SEC, Big Ten, ACC and Pac-12 during the great Power Five game of Musical Chairs in 2010 and 2011. Now more than ever, it's starting to look as though the Big 12 is finally ready to put the 12 back in Big 12, which is leading to the obvious question: who will the Big 12 add?
While I have no inside info, I think BYU is an obvious choice, and there are a bunch of other schools that make sense for the second spot, each with its own set of flaws.
But here's the thing. I don't know if the Big 12 expanding back to 12 will really be the thing that "saves" the Big 12. In my eyes, if the other Power Five conferences ever decide to expand again, it's not going to be the Group of Five crumbs that they're looking at to do so. I believe that what the American Athletic Conference or the Mountain West are to the Big 12, the Big 12 is to the other Power Five conferences.
So while plenty of people are trying to figure out which schools are most attractive to the Big 12, I've decided that for this week's Friday Five, I'm going to figure out which Big 12 schools would be the most attractive to the other Power Five conferences.
We're going to do things a little differently this week than we normally do. The modus operandi for Friday Five has always been to start at No. 5 and work our way to No. 1, no matter what we're ranking. Well, this week I want to change it up because I think the top two schools are the most obvious.
They're the two schools that are the foundation of the Big 12, and were they to leave the conference, the Big 12 would not survive. So this week, I'm going to list those two schools first, and then work from No. 3 to No. 5.

1. Texas: There are plenty of people around the Big 12 that will all too willingly tell you that it was Texas that's put the Big 12 in this position in the first place. Texas not only has it's cake, but it's a very large cake, and Texas wants to eat every single damn piece of it. Texas won't even let you dip your finger in the frosting for a taste.
I can understand why this would annoy Texas' conference partners, and I can also understand why Texas would behave the way it did.
And all the reasons Texas was able to create its own network is what would make Texas the most attractive Big 12 school to any of the other Power Five conferences. Not only would you get one of the biggest names in college sports, and one of the most financially successful athletic departments in the country, you'd get entrance to the state of Texas and all of its football recruits. 

2. Oklahoma: A lot of the things I said about Texas applies to Oklahoma, except Oklahoma is one of the Big 12 schools annoyed by Texas hogging all that cake. Still, Oklahoma brings a rich football history, a basketball program that has shown it can be successful, and some major brand recognition.
My question with Oklahoma is that, if you take on the Sooners, but you don't bring in Texas too, do you lose Texas as a recruiting ground? The Sooners have done well recruiting in Texas over the years, but that's because Oklahoma is playing so many games in the state of Texas on an annual basis.
If the Big Ten or Pac-12 plucks the Sooners up, can they maintain those Texas ties not only for themselves, but for the rest of the conference as well? 

3. TCU: One of the Big 12's newest members is also one of its most attractive to other conferences. 
Now, while you could pair TCU with Texas, I think the school becomes even more attractive if you can't get Texas. That's because TCU is located in Fort Worth, Texas, which is the home of over 812,000 people. That population is enough to rank Fort Worth 16th nationally, and the city is just a few miles west of another giant metro area known as Dallas.
TCU not only helps other conferences get their footprint in the Dallas-Fort Worth metro area, but it also gives you another strong football program. A football program that's not only won a lot of games over the last decade, but one that's done so while on the move from conference to conference.
Trust me, adjusting to life in a new conference won't be hard for TCU to do. Back in 2000, TCU was a member of the WAC. In the 15 seasons since it's been a member of Conference USA, the Mountain West, and now the Big 12, and it's won at least one conference title at each stop.
While there are plenty of other Big 12 programs in the state of Texas, if you miss out on the crown jewel in Austin, I think the Horned Frogs are the most attractive of any of the other options. While Texas and Oklahoma would be the dream for any conference, Oklahoma and TCU wouldn't be anything to be upset about.

4. Kansas: Now, this one undoubtedly caused you to do a double-take. Kansas? The Kansas that's coming off an 0-12 season, and has been bad at football for a long time, save for a few seasons that look more an more like an insane outlier with each passing season?
Yes, that Kansas, but let me explain.
Even without a strong football program, there are reasons a school like Kansas would be appealing to other conferences, and I'm thinking of the Big Ten and SEC here in particular. While it won't bring much -- if anything -- recruiting wise, Kansas will bring one of the elite college basketball programs with it. The Big Ten wouldn't mind having another terrific basketball program, and if you're the SEC, you could not only boost your basketball reputation, but if you grabbed the duo of Texas and Kansas, you'd also be adding existing rivals for both Missouri and Texas A&M. The two schools you nabbed last time.
Also, while the SEC has garnered enough attention in Kansas City (the 37th most populous city in the country) -- due to the Mizzou addition -- the city of Wichita, Kansas, has a population of 388,413, which ranks 49th in the nation. To put it another way, there are more people in Wichita than there are in New Orleans, and there are only about 1,000 more people in Cleveland.
Kansas may be considered one giant farm by those outside of it, but it's a giant farm with more television sets than you think.
Another reason I rank Kansas (slightly) ahead of our next option is because, like I said, it's basketball program would be attractive to both the Big Ten and SEC. I'm not sure the SEC would be as interested in...

5. Oklahoma State: I'm trying to look at this from the standpoint of other conferences. Let's say you're the Pac-12 or the Big Ten, and while you were able to land Oklahoma, you couldn't convince Texas to come with you. Maybe the Longhorns want to join the SEC, or maybe they just want to go the independent route and keep their own network.
If that happens, Oklahoma State becomes a rather attractive option to pair with Oklahoma. First of all, it gives Oklahoma a rival and a sense of familiarity with somebody the moment they step into your conference. Plus, let's say you're the Big Ten, you've now added two quality football programs to the Big Ten West that can help prop it up and compete with the behemoths you have in the East, and then there's the benefit of giving Nebraska a couple of old Big 8 friends to reunite with.
Honorable Mention (in order): Baylor, West Virginia, Texas Tech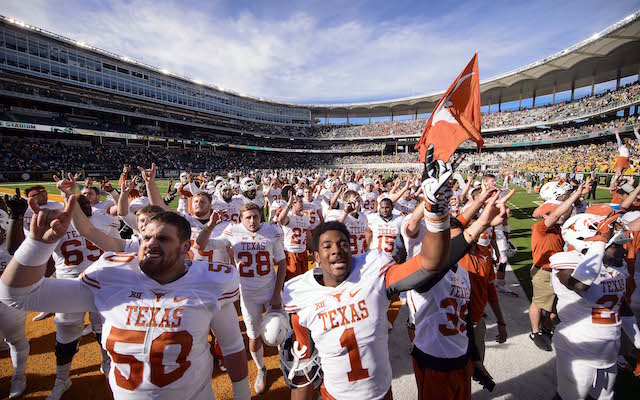 CBS Sports HQ Daily Newsletter
Get the best highlights and stories - yeah, just the good stuff handpicked by our team to start your day.
Please check the opt-in box to acknowledge that you would like to subscribe.
Thanks for signing up!
Keep an eye on your inbox for the latest sports news.
Sorry!
There was an error processing your subscription.
SportsLine's advanced computer model simulated every Week 8 game 10,000 times with surprising...

Our advanced computer model simulated Friday's UNLV vs. Air Force game 10,000 times

These will be LSU's most dramatic alternates in years
Bryce Love's status is still unknown because of an ankle injury

While all eyes have been on Ed Orgeron and LSU, even more are shocked by Nebraska's historically...

Barrett Sallee went 28-18 on his best bets at SportsLine last season