Fun 'N' Gun 2.0? South Carolina offense plans to go up-tempo
At a time when SEC offenses could be in transition after losing several top players, South Carolina, armed with experience, is looking for more plays.
• 1 min read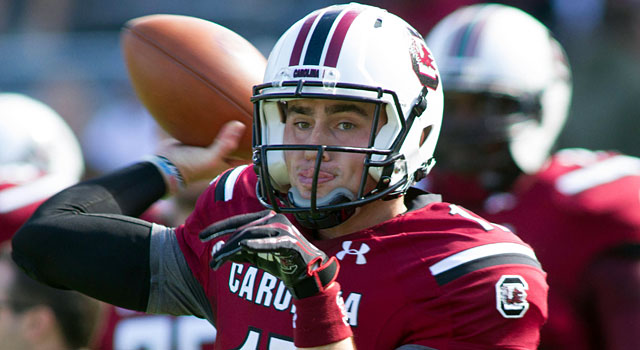 More college football: Jon Solomon | Dennis Dodd | Latest news
HOOVER, Ala. -- Maybe Steve Spurrier's Fun 'N' Gun isn't a thing of the past.
With three consecutive 11-win seasons and several starters returning, South Carolina expects to run "a little more tempo" with the offense, offensive guard A.J. Cann said. Quarterback Dylan Thompson echoed that sentiment, adding the Gamecocks went "really fast" in spring ball.
"We like it," Cann said. "We can get down, set ready to go and catch a defense off guard." 
The Gamecocks have won with the running game, which isn't exactly a departure from Spurrier's Florida days, though those Gators teams were known more for passing prowess.
Thompson, who has good arm strength, says though controlling the game on the ground will be critical, "I do think you'll see the ball in the air a little more" this year.
"I think we get in a rhythm and a flow like that," said Thompson about running no-huddle. "You just ahve to be careful. You don't want to have your defense on the field too long."
South Carolina ran 920 plays last year, good enough for seventh in the SEC. Five SEC teams ran at least 950 plays last year, more than the previous five seasons combined.
But the departure of several top quarterbacks and playmakers to the NFL draft could affect the plays-per-game numbers next season. That's no problem for the Gamecocks, who feel they have the experience to go faster.
"We have a good chemistry," Cann said.
The pace will hinge on Spurrier's in-game management, which Thompson said "is something that's cool to watch."
Oliver's star has already been born, but 2018 is when it will truly be recognized

Craig Kuligowski is reportedly leaving Miami to take the same job with Alabama

BT Potter is about to be very popular in the Clemson locker room
McElwain will coach receivers and help coordinate the offense for the Wolverines

Nathaniel Watson Jr. was involved in a car accident that injured a passenger in early Febr...

The honorable Tom Fornelli presides over the ASU vs. UM case