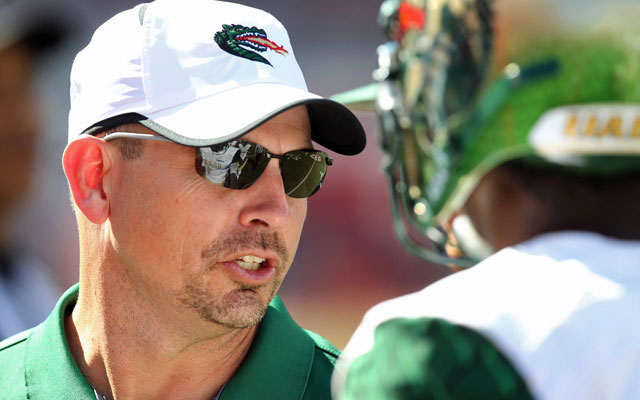 BIRMINGHAM, Ala. -- The blueprint for an indoor football practice facility for the University of Alabama at Birmingham sits on a table in Bill Clark's office. Clark, an energetic first-year UAB football coach, asked a friend to design the plans so he could sell the idea to the Birmingham business community at an estimated cost of $7 million.
Clark knows the designs are very much a dream. Because even as UAB is finally showing a glimmer of hope to advance to a bowl game for the first time in a decade, the football program is on the brink of possibly being killed once and for all by the University of Alabama System Board of Trustees, which oversees UAB. That would make a university located in football-crazed Alabama the first Football Bowl Subdivision/Division I-A school to drop football since Pacific in 1995.
Skepticism about UAB football's future surfaced this month when a group of boosters and former players expressed concern publicly. Clark only has a three-year contract (unheard of for a first-year FBS coach) through 2016, and UAB has no nonconference games scheduled beyond 2016.
Some UAB boosters and Birmingham civic leaders are trying to create a foundation to save the program. Atlanta Falcons wide receiver Roddy White, golfer Graeme McDowell and Olympian Vonetta Flowers -- all former UAB athletes -- attached their names to the foundation as board members.
UAB's president and athletic director put out noncommittal statements about the need to soon finish a strategic study about the future of UAB athletics. The interpretation by many people from these statements is that UAB is very close to killing football.
Clark said he was told UAB's report, written by consultant Bill Carr, will come out shortly after the season concludes Nov. 29. In other words, Clark is one win away from making UAB bowl-eligible for the second time in its 24-year history, and two games away from finding out whether the program will continue to exist.
Simmering under the surface of this debate is the role of powerful trustees with Crimson Tide ties, including Paul Bryant Jr., the son of the legendary Alabama football coach. To UAB supporters, there is no doubt Bryant Jr. plans to finally kill UAB football before he leaves the board this year after a decades-old feud tied to Gene Bartow, the late founder of UAB athletics.
Bartow accused Bear Bryant of cheating in a letter to the NCAA in 1991.
"Gene Bartow, out of his mouth, told me on many, many occasions that the aim of the board of trustees was to kill UAB football in the last 8-10 years," said Jimmy Filler, UAB's biggest booster and the creator of the UAB Football Foundation. "They're going to get the recommendation from [UAB President Ray Watts], and they'll accept what he brings to them."
Alabama state Rep. Jack Williams, a longtime supporter of UAB, said the board has always been opposed to UAB football.
"It's been a thorn in their flesh since day one," Williams said. "I think they've done everything to kill it. I'll be honest: I think the program's success this year may be what leads to its demise if the board goes through with this because people are excited."
A message left for Bryant Jr., who rarely speaks publicly, was not returned. Finis St. John, who chairs the Alabama board's athletic committee, declined to comment about UAB.
"I really don't want to answer questions about UAB," St. John said. "I think Dr. Watts and [UAB athletic director] Brian Mackin have said all that needs to be said about it, and I don't want to complicate the process."
Before taking the UAB job last January, Clark heard the rumors that the board did not want UAB football to succeed.
"I 100 percent didn't see how that could be possible because we're not competing against Alabama in any shape, form or fashion. They're a national program," Clark said. "When I came in, I thought that was crazy. I don't see how you wouldn't want to see us do well."
Clark is asked what he thinks about the board's role now that he's 10 months on the job. He pauses and shakes his head.
"I don't know. I don't know what the holdup is."
'I'm not going to throw my career away'
The football coaches' offices at UAB reside in a one-story building in downtown Birmingham, which was once known as the "Football Capital of the South." Clark jokingly refers to the building as a dentist office, and it's easy to see the resemblance. Nearby are grass practice fields that can get torn up when it rains. Clark wanted to get turf and got denied, though the locker rooms were renovated.
On days when the practice field is unusable, Blazers players and coaches travel to nearby Legion Field, which has turf and is their home stadium after years of staging many Crimson Tide games and Iron Bowls. Previous UAB coaches used to take the team to Division III Birmingham-Southern for those practice days, but Clark refuses to send the message to his players he's taking them to another school.
Clark said he grew "concerned" about UAB's future given the answers he received in recent weeks when he asked the administration about extending his contract beyond the remaining two years. Clark said he could not return in 2015 with two years left on his contract. He sought assurances the program would still be around and was told the release of the study would be expedited.
At a Nov. 9 meeting with Watts, Clark said he was told to be patient and was commended by UAB's president for fighting to make the football program successful.
"The only thing I told him was, 'Look, guys, I'm not going to sit on my hands,' " Clark said. "I mean, I'm not going to throw my career away. I'm coming to win the conference championship. I'm leaving a great school (Jacksonville State, the third-ranked team in the Football Championship Subdivision) that's got a chance to win the national championship there."
Watts and Mackin declined to be interviewed for this article. Watts said in a statement that it would be "counterproductive and inappropriate to speculate on outcomes based on an incomplete process." His statement also said that UAB welcomes input from fans but "the fact is that rumor and innuendo will be distracting to our coaches and players who have big games in the coming weeks."
Once a highly successful Alabama high school coach, Clark was a first-year head coach at Jacksonville State in Jacksonville, Ala., when UAB hired him. UAB was a chance for Clark to land an FBS job despite his limited head-coaching experience in college. He would also get a major bump in salary from $175,000 to $500,000 and remain in the state retirement system, all without his family being forced to relocate.
However, no one in the public knew that Clark's contract was for only three years. That's a short length when hiring a new FBS coach. UAB dodged requests for months by local media outlet AL.com to get a copy of Clark's contract.
Clark's contract has not been executed yet by the board of trustees, UAB claimed on Nov. 20. Clark has been operating since January under a letter of intent.
"It's not uncommon for it to take a significant amount of time for a contract to be fully negotiated and executed," UAB spokesman Jim Bakken wrote in an email. "The contract must be submitted to the compensation committee for approval. Contracts are only submitted after signoff by UAB's vice president of administration and financial affairs -- a position that was recently filled after being vacant. As a result of that vacancy, many contracts have been held for a time and are now being prepared and processed."
Documents UAB provided to CBSSports.com on Nov. 20 confirm that Clark has a three-year agreement worth $450,000 in base salary, $25,000 in radio and talent fee, and $25,000 in promotional and fundraising fee. 
Clark said he accepted a three-year contract "because I was led to believe that we needed to see some success because of past history." If UAB showed an unspecified measure of success, Clark said his understanding was the contract would be extended.
"I said, 'We'll show them some success.' I really believed that after where the program was at," Clark said. "I don't say that because that sounds arrogant. But we thought if we could get bowl-eligible, we would be performing a miracle. But I believed that. I also told our players we're going to try to win the conference."
Clark signed a release of claims with UAB that includes "all complaints, causes of action and claims based on seeking to challenge any conduct, event, action or decision that took place prior to Clark's signing of this Agreement. Clark agrees and understands that the effect of this Agreement is that all such complaints, causes of action and claims are forever waived, released and discharged as against the UAB Parties."
If UAB terminates Clark's employment without cause, the letter of intent states UAB owes him his $500,000 total compensation through the term of the agreement. If Clark leaves, he owes the lesser amount of his total annual pay ($500,000) or the total compensation remaining through the agreement if the remaining term is less than one year.
Clark is eligible for season-ticket sales bonuses of $10,000 (5,000-7,499 tickets sold), $20,000 (7,500-9,999 tickets), or $30,000 (more than 10,000 tickets). He could get a $25,000 bonus for reaching a bowl and $10,000 if he wins a bowl game.
UAB entered into an "assignment and assumption of employment contract" with Clark and Jacksonville State from his contract at his previous school. UAB assumed all of Jacksonville State's "rights, obligations and liabilities" under Clark's Jacksonville State contract in exchange for $400,000, according to the agreement. 
The key moment in UAB's future came in 2011 when the Alabama board shot down UAB's proposal to build a $75 million, 30,000-seat stadium on campus. Fans often complain about the experience and amenities at aging Legion Field.
For years, Birmingham civic leaders have tried to build a dome stadium but got tepid support from UAB, which is the city's biggest employer and prides itself on medical research. Carol Garrison, UAB's president in 2011, wanted to build up campus life in part through a stadium. UAB proposed that the stadium would carry a debt service of $60 million to be repaid over 30 years with an annual debt service of $3.88 million.
The stadium never came up for a formal vote. The Alabama board said in a statement it could not justify the borrowed money because UAB football "has not generated sufficient student, fan or financial support to assure the viability of this project." Garrison resigned in 2012, the stadium was dead, and UAB football limped along to more irrelevance under the next losing coach.
Life as a have-not in FBS football
In many ways, UAB football symbolizes the have-nots in college football -- schools with limited resources for such an expensive sport. It's a divide that's only going to widen due to NCAA autonomy and pending court cases. Athletes are going to receive more benefits from universities, such as cost of attendance, and consideration of those extra expenses is a large part of UAB's strategic study.
Like many lower-resourced Division I schools, UAB has drained money on football. From 2006 to 2013, UAB athletics received $85.4 million in direct institutional support and $28.4 million from student fees. Subsidies accounted for 64 percent of UAB's athletic revenue in fiscal year 2013, though the university's support declined by $1.4 million that year in a rare instance when subsidies decreased.
UAB listed no annual debt service on athletics facilities in 2013 for the fourth consecutive year -- a rarity in Division I sports. That's the point from UAB supporters: The board's investments have only been to keep the program alive and have never given it a chance to succeed.
Most notably, Jimbo Fisher agreed to a $600,000 deal after the 2006 season to become UAB's coach; half of the money would come from UAB boosters. At the time, Fisher was also considering becoming Nick Saban's first offensive coordinator at Alabama and joining Bobby Bowden as Florida State's offensive coordinator. The Birmingham News reported UAB was ready to send a plane to bring Fisher to the introductory news conference when Alabama trustees stopped the deal.
"Somebody made a decision," Fisher said last January before Florida State's appearance in the BCS Championship Game. "It's funny in this business. You coulda went here. You coulda went there. Luckily, I'm glad they made that decision."
A year ago, UAB averaged 10,548 fans per game -- the program's lowest turnout since its final season in Division I-AA in 1995. Fans were photographed with bags over their heads during Garrick McGee's disastrous second and final year as coach before he resigned to become Louisville's offensive coordinator.
But a funny thing happened as UAB football appeared headed for death by a thousand cuts. The Blazers have won five games in 2014, rekindling some optimism from past successes in their early years, back when Roddy White caught passes and UAB upset Nick Saban in Baton Rouge.
Yes, Conference USA is weaker than it once used to be. Still, a program that went 26-70 from 2005 to 2013 has given its supporters some hope. UAB ranks 101st nationally in announced attendance at 20,538 fans per game. That's better than seven Conference USA schools: North Texas, Rice, Old Dominion, Middle Tennessee, Western Kentucky, Florida Atlantic and Florida International.
Williams, the state representative and UAB supporter, said previous UAB presidents saw their tenures end because they supported athletics. He describes the board dynamics as "baffling," given that in the same system one university can spend whatever it wants on Alabama given the return on investment, yet 70 miles down the road UAB cannot take on debt to invest in its future.
"I think there are members of the board who want to see this program end before it generates so much momentum that it's more difficult, if not impossible, to get rid of," Williams said. "I think Paul Bryant Jr. is the most powerful member of the board so I think it starts there."
Gene Bartow's Bear Bryant letter
To this day, many longtime UAB supporters trace the lack of investments in their football program by Alabama's board to -- of all things in the state of Alabama -- a basketball dispute.
Bartow, once UAB's basketball coach and athletic director, engaged in fierce basketball recruiting battles with Alabama coach Wimp Sanderson that involved cheating accusations. In 1993, a letter surfaced publicly that Bartow wrote in 1991 to David Berst, then the NCAA assistant executive director for enforcement.
According to a 1993 story by The Los Angeles Times, Bartow urged Berst to investigate the Alabama basketball program and noted that several football coaches whose programs had been penalized by the NCAA -- including Jackie Sherrill, Danny Ford and Charley Pell -- were "trained" by Bryant, the Crimson Tide's legendary coach from 1957-82.
Bartow, who died in 2012, quickly apologized for writing the letter. He said he had "great respect" for Bryant and his protégés "are all fine coaches, and I'm not sure why I put that in my letter."
He continued: "This letter was written out of deep frustration about our apparent inability to recruit the same higher-caliber players Alabama was getting under their former staff."
Has this issue lingered with Bryant Jr? He rarely talks publicly. In a 2011 interview with AL.com columnist Kevin Scarbinsky, given after UAB's campus stadium proposal died without a vote, Bryant Jr. said there are many ways to support the football team other than building a stadium.
"To start with, it's very difficult for them to have a chance recruiting with the facilities they have," Bryant Jr. told AL.com. "It's very difficult for them to recruit when they can't admit players from Birmingham that qualify under NCAA requirements (but not under UAB's higher requirements). It's tough being the Vanderbilt of Conference USA, and that's what they're having to try to do. My main interest in it is to support the players and the coaches."
During that interview, Bryant Jr. criticized an opinion piece in The Birmingham News questioning whether UAB fans should pull for the team to beat Marshall in 2011, or hope the Blazers lose in order to fire coach Neil Callaway. "I think that was a horrible thing to write," Bryant Jr. said. "If anybody's looking at it that way, they ought to be doing everything they can to support the team to win games right now."
So here UAB football sits, in perpetual limbo again, wondering if it's supported or not even as it wins more games.
No one can precisely measure the value of football to a university. Is UAB football a financial sinkhole that was never worth the investment? In which case, why was football started in the first place? Or is there inherent campus and public-relations value by UAB keeping football? And if so, will there be real investments as the costs of FBS football only increase?
"Why are people fighting to create football at the Old Dominions and the Charlottes?" Clark asked rhetorically. "Because they know what it does for the university and how many students it brings in. I saw it literally change the face of a campus (as an assistant coach at South Alabama) from you didn't really know where South Alabama was to you couldn't have better PR. No, football is not more important than academics. But it's a great part of it."
Williams expressed concern about whether marching band members would lose scholarships without football. "You don't have the marching band at halftime of the soccer game, do you?" he asked.
If UAB drops football, the school's historically more accomplished men's basketball team could have to leave Conference USA, along with UAB's other teams. C-USA's bylaws require its members to be an FBS school in football.
"We have been in communication with UAB and will be in touch throughout the process," C-USA spokeswoman Courtney Morrison Archer said. "We're not aware of any decisions that have been made."
Filler, who created the foundation to try to save UAB football, becomes agitated at the thought of UAB joining Pacific University two decades later in dropping FBS/Division I-A football.
Pacific has "those asterisks, and UAB should never have asterisks. We're Birmingham, Alabama!" Filler said. "How much money can we raise? I don't know. But the administration has never gotten back to me or asked us. You can't ask people for money until they've made up their mind whether we'll have football."
Clark tells his players he'll let them know the program's future as soon as he knows something. But he realizes this is a distraction for them. It's a distraction for him.
"I should be working on stuff during the open week, and I'm answering this other stuff," Clark said. "And some of this is part of your job."
Left unspoken is some of this isn't part of his job. It's not what Clark signed up to do.
There are recruits de-committing because of the speculation. There are former players asking him about the program's future. There are doubts Clark has in his own mind about where he will be working in a month or so.
"It's just my life on the line," Clark said, laughing. "Somebody once said, 'Well, how important is recruiting?' I said, 'Well, I've kind of gotten used to eating.' Same deal here. This is pretty important. No big deal. I just put my whole life into this."