LSU's Miles: SEC coaches unanimous on early signing period
Coaches want a post-Thanksgiving signing, but SEC commissioner Mike Slive isn't ready to endorse that plan without more vetting.
• 1 min read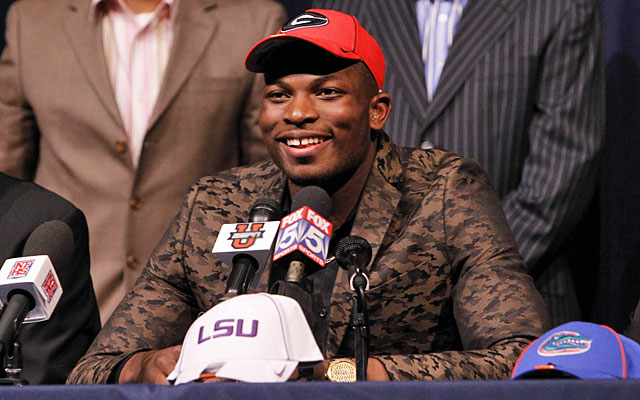 More college football: Jon Solomon | Dennis Dodd | Jeremy Fowler | Latest news
DESTIN, Fla. -- Southeastern Conference football coaches are in favor of a post-Thanksgiving signing period, said LSU's Les Miles, who expects the stance to be passed onto the "next judicial issue." 
Not so fast, commissioner Mike Slive said. The league opposed a signing period in previous legislations and, though Slive acknowledges that might change, the issue must filter through the system with athletic director and president approval.
"We aren't there yet," Slive said.
The Conference Commissioners Association, which governs signing date, meets in mid-June.
Slive cautions moving the first signing period off early February could alter the recruiting calendar, which most coaches don't want.
"The question is are we going to be willing to make other changes that accompany an early signing date?" Slive said. "I think we need to vet that out and see if the conference wants to change its position. Up to now, the conference has been opposed to it." 
Last week, the ACC announced a recommendation for an August signing period.
In an informal CBS poll, nearly 80 percent of 25 FBS head coaches favor early signing. The American Football Coaches Association likely won't recommend an August signing because it undercuts high school coaches who want players motivated.
Miles said the players that grew up admiring a specific school or whose parents attended a school should have an outlet to sign early.
"He knows it well enough to commit," Miles said. "Let's sign him."
Miles acknowledges both sides could get buyers remorse but adds, "It should eliminate the guy who goes up to signing day and changes at the last minute."
The former Oregon coach is one of the hottest commodities on the coaching market

Gary Danielson previews the keys to the game in Saturday's Iron Bowl matchup

Finally getting on board with Wisconsin as a title contender and what's next for UCLA
The CFP Selection Committee got Miami right, but there are some decisions that make you go...

The newest college football rankings are out, but did your favorite team make it in?

Sumlin is 51-25 overall and 25-22 in the SEC over six seasons in College Station