Michigan State adds 4-star DL arrested on battery to 2016 class
Michigan State finally got a signed letter of intent from four-star defensive lineman Auston Robertson.
• 1 min read
Michigan State was always the No. 1 school for Auston Robertson, a four-star defensive lineman from Fort Wayne, Indiana, but his addition to the Spartans' 2016 recruiting class was not official until he finally signed his letter of intent this week. 
According to our friends at 247Sports, Robertson was unable to commit to the Spartans because of off-field issues, specifically a misdemeanor battery arrest less than a month before National Signing Day. Robertson was arrested, charged and issued a "no contact" order with a hearing scheduled for the week after NSD. 
According to court records, a pretrial diversion agreement was filed after a hearing on March 11. If he fulfills the terms of his program, which include no further legal trouble, the misdemeanor charges can be dropped in one year. 
"It's a lesson learned," Robertson said of the legal issues, via 247Sports. "I'm just thankful that my team never gave up on me and I'm just ready for the next level."
Michigan State coach Mark Dantonio released a statement about the signing on Wednesday afternoon.
"Our decision to accept Auston Robertson's signed National Letter of Intent and Big Ten Tender has been evaluated over the last three months while utilizing all resources available to us to thoroughly review his situation," Dantonio said.
"Our relationship with Auston began last summer when he committed to Michigan State. When we accepted his verbal (commitment), we also made a commitment to him and his family. We elected not to sign him in early February, and since then he has been accepted into a pretrial diversionary program and must continue to satisfy those requirements. Given all the information available to us, we believe Auston should be provided with an opportunity to begin his education and playing career at Michigan State."
Robertson is the fourth four-star defensive lineman in the 2016 class (joining Josh King, Naquan Jones and Mike Panasiuk). Steve Wiltfong noted that Robertson's addition changes the 2016 class rankings in the Big Ten, pushing Michigan State ahead of Penn State for No. 3 in the conference.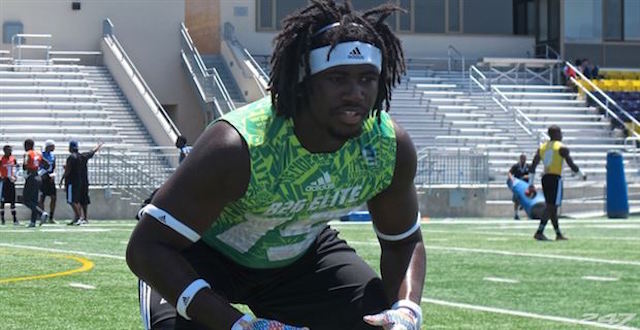 Greg Byrne and Danny White had some words about what it means to be national champions

The team at TheMichiganInsider.com have an exclusive look at Michigan's spring practice

The 'Conference of Champions' won't be in the Round of 32 for the time since 1986
Everything you need to know about Colorado's spring game

Gundy spoke at a Stillwater Public Schools Board of Education meeting

Diaco is the former DC at Notre Dame and Nebraska, and also coached UConn for three season...