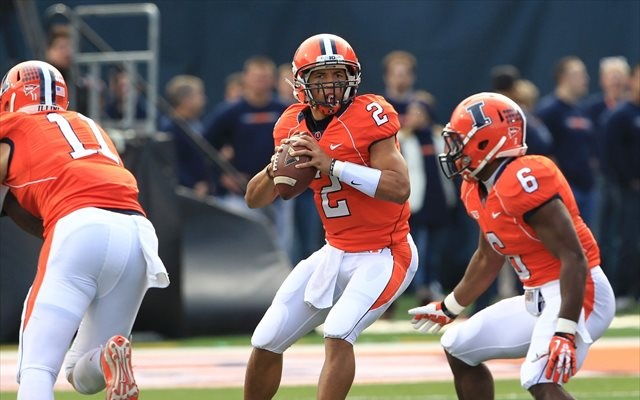 The father of Illinois quarterback Nathan Scheelhaase has received a one-year ban from the school's Champaign campus after his arrest during his son's performance against Michigan State last Saturday.
Nathan Creer, Scheelhaase's father, was charged with resisting arrest, a misdemeanor, after an altercation in the Memorial Stadium stands during the Illini's 42-3 Homecoming loss to Michigan State. Per the Associated Press, university police chief Jeff Christensen said that alcohol is believed to be a factor in Creer beoming involved in an argument with as many as four other people. 
"[Creer] resisted and obstructed the officer's efforts to remove him from the incident," Christensen said. "He became somewhat aggressive with the officer."
As is "standard practice" at Illinois for individuals not formally connected to school, per Christensen, Creer received a letter banning him from campus for a year. The ban can be appealed, though Christensen said Creer has not yet appealed his. Violating the ban could result in criminal trespass charges.
Creer pleaded not guilty to the resisting arrest charge in court Monday and has a hearing scheduled for Dec. 17, per the AP. 
For his part, Scheelhaase said the matter wouldn't be an issue as he prepares for the Illini's game against Penn State this Saturday.
"I've kept it as a family matter," Scheelhaase said after practice Tuesday, per the Champaign News-Gazette. "When you're a senior, you've kind of been through the whole gambit. You know there's going to be different distractions throughout your career, and the best thing I have is I have a bunch of people in here who are focused on this next game, focused on what we need to do every day. When you're surrounded by those people that you've been around for years now makes life really easy.
"It was great to get back into the swing of things and kind of get focused on football."