Northwestern players celebrated for making 'history' Friday
A self-congratulating press release from College Athletes Players Association says Northwestern players 'made history' with Friday's vote. The results of the vote on whether to unionize won't be known for months.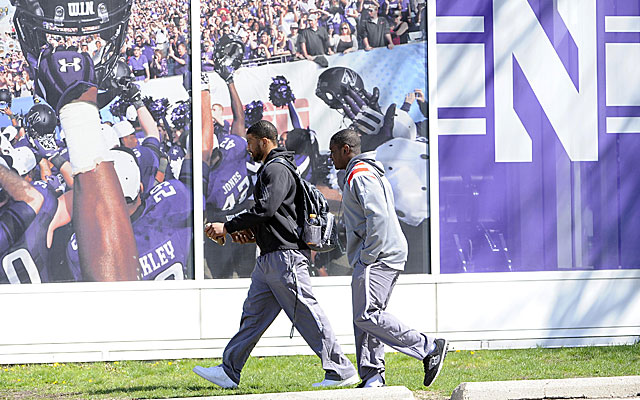 Northwestern players "made history" Friday in their union vote according to a press release from CAPA (College Athletes Players Association).
As press releases go, it's pretty much what you'd expect in this contentious debate. As his former teammates were voting, former quarterback Kain Colter was quoted as saying, "I'm proud of what the Northwestern football team has accomplished. They are giving a voice to the voiceless and empowering current and future college athletes.
"We're one step closer to a world where college athletics are not stuck with sports related medical bills, do not lose their scholarships when they are injured, are not subject to unnecessary brain trauma …"
The two sides have basically been in a spin battle for the past couple of weeks. NCAA president Mark Emmert embarked on what seemed to be a media tour to address the Northwestern vote.
A group of former Northwestern players has weighed in. 
Colleague Jeremy Fowler was there Friday morning to observe the scene on campus. 
Meanwhile, CAPA president Ramogi Huma said Friday, "Today is special because college athletes exercised their rights under labor laws, rights the NCAA has fought hard to deny them. Today's vote clearly demonstrates that amateurism is a myth and college athletes are employees."
The United Steelworkers has thrown its considerable support behind the unionization effort. Steelworkers president Leo Gerard said, " … Regardless of how the vote turns out after the pressure being applied to the players, one thing is clear: These players have already won …"
The ballots will not be counted Friday. The NLRB granted Northwestern's request for review of its regional director's ruling. That director ruled that Northwestern's players were employees.
A significant summary from CAPA at the end of the release: "If CAPA loses the election, the legal process ends. But even if CAPA loses the election, the NLRB ruling that players are employees and have the right to choose union representation will be the law. Northwestern would not be able to challenge the ruling."
It's the beginning of the end for a number of teams with College Football Playoff hopes

Every season has early surprises, but which ones are most capable of finishing the job?

Our computer model simulated every Week 8 college football game 10,000 times with surprising...
The bye weeks means there's more time for Smart to hit the recruiting trail

The Cowboys and Longhorns look to stay in the Big 12 title hunt on Saturday

The storied rivalry is a Top 25 matchup in 2017