Quick Hits: No. 2 Alabama 49, Auburn 0
Alabama crushes Auburn in historic fashion.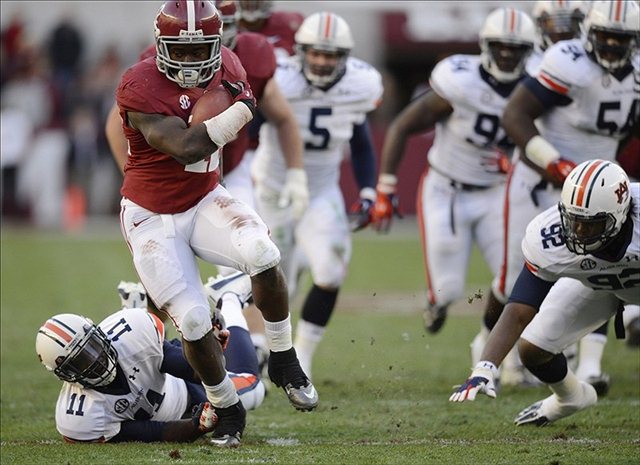 Eddie Lacy and Co. ran all over Auburn. (US Presswire)
ALABAMA WON: Seriously, Tide, couldn't you have given the SEC haters at least a glimmer of hope that the SEC Championship Game would be something other than a BCS play-in? 
They never did, scoring on all six of their first-half possessions to utterly annihilate Auburn in the Tigers' worst Iron Bowl loss since a 55-0 defeat in 1948. AJ McCarron threw for 216 yards and four touchdowns, Eddie Lacy ran for 131 yards and two touchdowns, and Amari Cooper hauled in 109 yards receiving and two touchdowns, all with only the barest minimum of resistance from the Auburn defense.
While Auburn's season of misery ends at 3-9 and with the thuddiest of all possible thuds, the win clinches Alabama's berth in the SEC title game, setting up a No. 2 vs. No. 3 showdown with Georgia that will send the winner to the BCS Championship Game.
WHY ALABAMA WON: Because the Tide is loaded at nearly every position with NFL-caliber talent capable of overwhelming all but a limited handful of teams in college football? Because the only way to nullify that, usually, is to turn the Tide over -- but they didn't commit a turnover until the score was 49-0? Because this Auburn squad is a hollow shell of an SEC football team that stopped improving around Week 3 and started regressing in wicked fashion around Week 7? Because, good heavens, have you seen this offensive line? Because Nick Saban and his staff continue to coach defense as well as any in the country, continue to be so detail-oriented Saban was reportedly fuming over Auburn's two third-and-long conversions at the end of a half his team won 42-0? Because with this being the Iron Bowl and Alabama fully focused on this week despite the SEC and BCS championship carrots down the road, that top-to-bottom this game was every bit as much of a mismatch -- maybe more of one -- than the Tide's dates with Western Kentucky or Florida Atlantic?
Because of all those reasons and many, many more.
WHEN ALABAMA WON: It took them 3:53 to score on Lacy's 2-yard touchdown. So 3:53 into the first quarter.
WHAT ALABAMA WON: The SEC West title, continued BCS No. 2 ranking, and an 11-1 record is nice. That they came via the Tide's fourth Iron Bowl win in five seasons is nicer.
WHAT AUBURN LOST: Their ninth game overall. Their eighth SEC game, the first time Auburn has ever gone 0-8 in conference play. A second straight Iron Bowl loss by a combined score of 91-14 without a single offensive point. Which is why it will be an absolute stunner if they haven't also lost their head coach.
The movie will zero in on former Penn State coach Joe Paterno during the Jerry Sandusky sc...

Bidding for Salaam's trophy, which the auction house says was obtained legally, ends Satur...

Locksley has been the offensive coordinator at Illinois and Maryland during his coaching c...
Many NFL-eligible juniors ignore advice provided by the league and risk going undrafted each...

Snyder died in Manhattan, Kansas, on Wednesday

Locksley joined Alabama's staff in 2016