Report: Louisville signee charged with felony lewd behavior with minor
Louisville signee Sharief Rhaheed-Muhammad was arrested Monday in his hometown of Fort Pierce, Fla.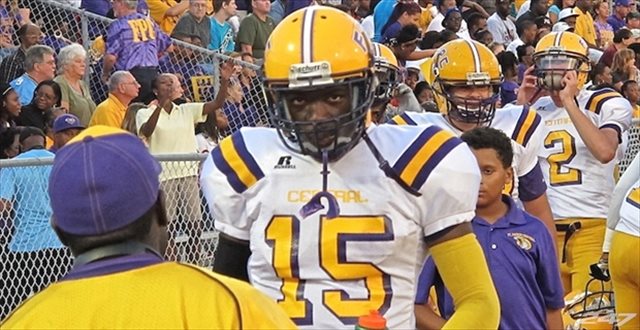 Louisville signee Sharieff Rhaheed-Muhammad faces a charge of felony lewd behavior with a minor after being arrested Monday in his hometown of Fort Pierce, Fla., TCPalm.com reported Tuesday.
Fort Pierce law enforcement officials stated they had been investigating the 17-year-old Rhaheed-Muhammad since October and determined with a "99.99 percent probability" that he had impregnated a 14-year-old girl, who later had an abortion. CBS12 in West Palm Beach reported the girl was Rhaheed-Muhammad's cousin.
Rhaheed-Muhammad was released from juvenile detention Tuesday.
Per the Louisville Courier-Journal, a Louisville spokesperson said coach Bobby Petrino was aware of the issue but would not comment on it.
Rhaheed-Muhammad was a three-star linebacker recruit who chose to sign with the Cardinals in February over offers from Arkansas, Missouri and Michigan State.
A magic trick turned into a scholarship surprise for this Texas lineman

Michigan's notorious secrecy is getting called out again

Key was named a 2017 CBS Sports Preseason All-America selection this week
Our bowls expert looks at the toughest -- and weakest -- nonconference schedules in the na...

The new uniforms will be worn on Oct. 28 at Kyle Field vs. the Bulldogs

Kiffin's Owls have added myriad troubled players since he took over in Boca Raton