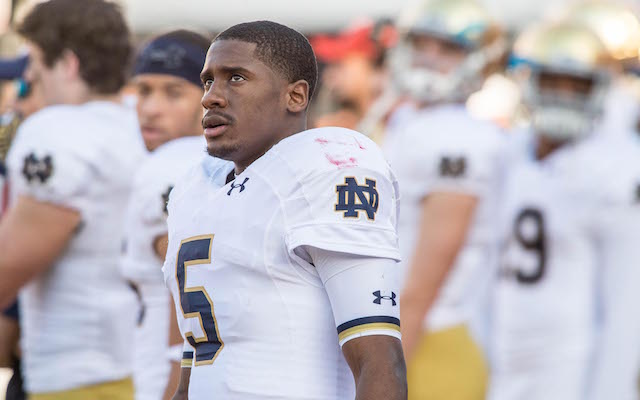 Everett Golson won't end up at Texas or any other opponent on Notre Dame's 2015 schedule, according to Fox Sports' Bruce Feldman. 
Speculation and anticipation surrounds the future of Golson as reports of school visits begin to surface. 247Sports has already identified South Carolina and Georgia as potential landing spots, and with a little dot connecting, you can figure out some other places that might make sense for the recent Notre Dame graduate. 
Feldman's report eliminates Texas from our short list, along with "several" other Big Ten teams. 
#ND didn't give a release to Everett Golson for schools it'll play in 2015 such as #Texas as well as several other BigTen tms, per source.

— Bruce Feldman (@BruceFeldmanCFB) May 11, 2015
Officially, that list is Texas, Virginia, Georgia Tech, UMass, Clemson, Navy, USC, Temple, Pittsburgh, Wake Forest, Boston College and Stanford. If Golson plays Notre Dame in 2015, it will be in a bowl game. 
As far as the note about the Big Ten: that probably rules out Michigan and further narrows the list of possible landing spots for Golson.
As far as the South Carolina interest for the Myrtle Beach native, Feldman adds that reports of a Monday visit with the Gamecocks is not accurate.
While the SEC schools are in the mix for graduate transfers thanks to a ban getting lifted last May, Golson will likely need some help from Notre Dame because of his academic issues and suspension in 2013.