Rice awards David Bailiff five-season contract extension
After going 10-4 and winning a Conference USA title, David Bailiff has had his contract extended by five seasons.mkji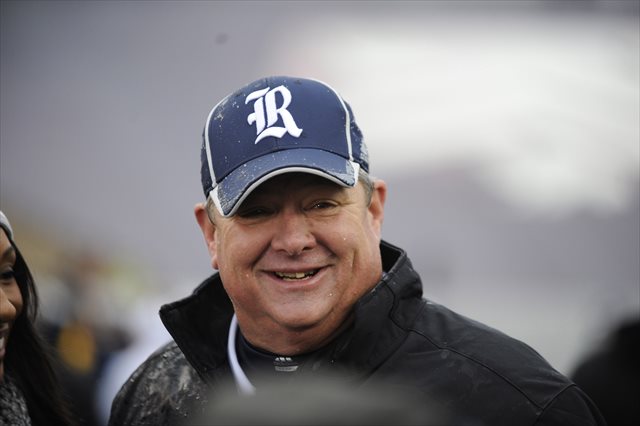 It's not easy to go 10-4 and win a conference championship at Rice, a program whose previous outright league title -- prior to 2013 -- came in the Southwest Conference in 1957. So it's no surprise that the coach that did exactly that has been rewarded. 
Rice announced Friday that David Bailiff has signed a five-season contract extension, taking his deal through the 2018 season. Terms were not disclosed.
"David Bailiff is exactly the right leader for our football program," athletic director Joe Karlgaard said. "He's a great coach, a genuine mentor to our kids, and a terrific participant in the community. I'm thrilled to work with a man of his caliber, and I look forward to his continued leadership of the Rice Owls." 
Bailiff is 40-48 overall in seven seasons with the Owls, but has three winning seasons in that span and in 2008 went 10-3 with a Texas Bowl championship -- Rice's first 10-win season in 49 years and first bowl victory in 44.
It took four seasons, but Bailiff took Rice back to the postseason in 2012 before ripping off a 7-1 record in Conference USA play in 2013 and then thumping Marshall for the league crown.
"I appreciate the commitment that Rice has made to our program and to our vision for its continued growth," Bailiff said. "We are building something special, thanks to the great work of our staff and the dedication and determination of our players to continue the momentum we have generated. As I have said, I coach some of the finest young men in the country and I am so blessed to have the opportunity to add to the legacy of Rice Football."
Georgia dismantles Mississippi State between the hedges Saturday night

The Horned Frogs looked a lot like their old selves on Saturday afternoon in Stillwater

Stay with us all day Saturday for updates and highlights from Week 4 of the 2017 season
Harbaugh also said that Trump's comments at an event in Alabama were 'ridiculous'

The Horned Frogs had all the right defensive answers for the Cowboys

The Tide looked as you'd expect the top team in the country to look on Saturday in Nashvil...