Should OSU fans be panicking over Miller injury? We asked coaches
The season-ending injury to Ohio State quarterback Braxton Miller has the emotions of Buckeyes fans ranging wildly. Should they be panicking? CBSSports.com's Jeremy Fowler asked America's coaches.
• 3 min read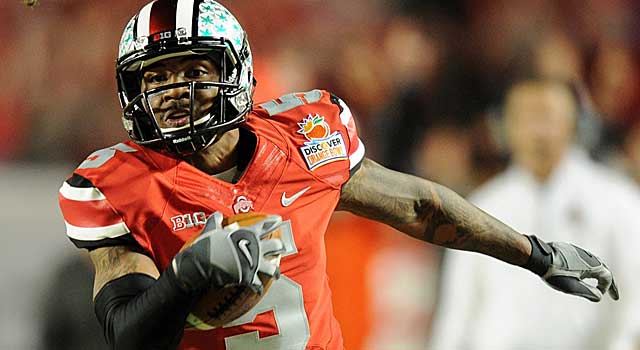 Next man up. Injuries are part of the game. The program is bigger than one player.
Coaches can trot out these football cliches when a top player goes down, a formula Ohio State is clearly exercising -- at least for public consumption -- after the loss of Braxton Miller to shoulder surgery.
A phrase you probably won't hear from key figures at OSU, or those at any program that suffers a similar fate is 'Oh, no.'
But those are the words one FBS coach remembers saying a few years ago, after his talented quarterback's injury helped turned a ranked season to 5-7.
The Miller news elicited a question that applies to every team in an injury-prone sport: Inside the program, do expectations change when the starting quarterback goes down days before the season?
CBSSports.com polled 25 FBS head coaches with texts sent on Friday afternoon.
"Publicly no, privately yes," one coach said.
Answers can depend on the coach, the quality of the starter and, most importantly, the quality of the backup. 
Of those 25...
Twelve (48 percent) say their expectations would definitely change after losing the starter.
One power-conference coach, who currently has one of the nation's top QBs at his disposal, responded simply with a "Lol, yes" to the question.
"Becomes much more difficult with smaller margin for error to accomplish expectations," noted one coach.
The alteration of the scheme was a major reason noted among the respondents in this group.
"In most cases you would have to change some strategy," noted a coach. 
"Style of play [has to change] -- one example is Oregon when they lost [Dennis] Dixon and didn't have that type behind him," said another.
"Have to shrink the (offensive) package and give the new QB what he's got at so he can gain the confidence," one said.
Five (20 percent) say they would alter expectations only after losing a dynamic, Braxton Miller-level quarterback whose level of play couldn't be replicated by current backups. 
"Yes, [it would matter but] it would depend on the quality of QB," UCF coach George O'Leary said. "The key is to keep the confidence of the team regarding the new starter."
Eight (32 percent) hold strong: No starting quarterback, no problem. It should be noted that fewer coaches in this group wanted to keep their names out of this study.
"Never change your expectations. Next man must step up," Michigan's Brady Hoke said.
"Expectations always remain the same," Baylor's Art Briles said. "Never think about other scenarios."
"Losing players is part of the game," West Virginia's Dana Holgorsen said.
Utah State's Matt Wells noted his team's success in reaching the Moutain West title game after losing Chuckie Keeton last season.
"Example: USU 2013!" said Wells about his 9-5 Aggies.
In the case of Utah State and others, a program might be fortunate that its backup suits the team's style of play perfectly. In other cases, maybe the starter was never as elite as advertised.
So what does all this mean for Ohio State? 
As one West Coast head coach put it, the Buckeyes might not miss a beat since Miller was "very streaky" as a passer.
"Some offenses can survive it fine if there's a great supporting cast," the coach said. "I don't think Miller is a great player. Good but not great." 
The variable here is how well backup J.T. Barrett is prepared to step in. 
Coaches are conditioned to spin positivity, but even most optimistic coaches acknowledge that losing a top player -- especially a quarterback -- can deflate a program. Not that coaches give up, but they know the path is that much harder.
But, you heard Hoke and others: Next man up. Injuries are part of the game. The program is bigger than one player.
Even if wins are suddenly harder to come by.
SportsLine's computer model simulated every Week 12 game 10,000 times with surprising resu...

Though a marriage between the Vols and Gruden has been rumored for a while, it seems unlik...

Barrett Sallee is cashing on 67 percent of his best bets and gives 3 strong picks for Week...
The No. 16 Bulldogs will travel to Arkansas Saturday afternoon on CBS

The Owls are 7-3 overall and 6-0 in the Conference USA East division

Wisconsin has another chance to impress the committee