Spring Practice Primer: Mississippi State Bulldogs
Dan Mullen's program is better than it was, but not as good as it wants to be. Is this the year it breaks out?
College football never ends, and during the next few weeks teams will be getting ready for the 2013 season in their spring practice sessions. Here's a look at the Mississippi State Bulldogs and what they'll be working on this spring.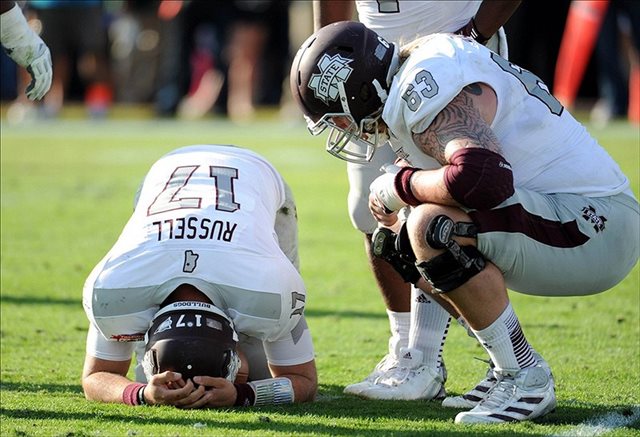 Spring practice began: March 21
Spring game: April 20
2012 record: 8-5 (4th SEC West, lost Gator Bowl to Northwestern)
Returning starters: 12 (6 offensive, 6 defensive)
The Least You Should Know About Mississippi State This Spring
-- For the first time in awhile, there's some pressure in Starkville. Going to Tuscaloosa last Oct. 27, the Bulldogs were 7-0, No. 13 in the country, tweeting "I Believe" every 12 seconds, and by all appearances finally on their way to Dan Mullen's long-awaited breakthrough season. Not so much: the Tide walloped MSU 38-7, sending the Bulldogs into a tailspin during which they lost five of their final six, none by fewer than 14 points. Particularly painful was a 41-24 thumping at Ole Miss, the program Mullen has all but keyed his entire Starkville career around beating. Combine that with the ugly Gator Bowl loss, a season without a single win over a bowl-bound team, and the Rebels' signing-day bonanza, and it's the grumpiest Bulldogs fans have felt after an eight-win season since ... ever?
But fortunately for Mullen, it's spring again and a chance to get the ball moving in the right direction again. Watching it slide further back down the hill he's spent so much time and effort scaling can't be an option.
-- The running game needs work. It took just one season for Mullen to take the Bulldogs running game from 106th in its final season under Sylvester Croom to ninth at a whopping 224 yards per-game. Unfortunately for the Bulldogs, that was back in 2009, and it's been all downhill since then--to 16th to 38th to a stunning 84th in 2012. LaDarius Perkins is the latest in a string of talented tailbacks, but the Bulldogs line and Mullen's rushing schemes -- which seemed to have the life sucked out of them last fall without the threat of Chris Relf's option keepers -- haven't done enough to give him or the other ballcarriers room to operate. With Tyler Russell still in charge and no change forthcoming at quarterback, Mullen needs to go back to the drawing board this spring and find a way to get more yards on the ground.
-- As does the rush defense. As badly as the running game slumped in 2012, even it might not have been a bigger disappointment than the Bulldogs rush defense, which despite being anchored by future pro tackle Josh Boyd and All-SEC linebacker Cameron Lawrence, languished at 12th in the SEC. Both starting tackles are gone, but if junior P.J. Jones and sophomore Kaleb Eulls can take a step forward this spring, sensational sophomore linebacker Bernardrick McKinney could spearhead a good-sized improvement all the same. (New defensive coordinator Geoff Collins -- promted after his exemplary work with the Bulldog linebackers -- could provide a boost, too.)
-- A second season in charge should do Russell some good. Now a senior, the Meridian, Miss., product was a mirror of his team at large in 2012: outstanding against the lesser lights on the schedule, mediocre at best against the SEC's heavyweights. But with a full season of starting under his belt, Russell could make good on his wealth of potential. And he will have to if the Bulldogs are going to reclaim their position as the West's up-and-coming program, given that the run game can only make so much progress in one offseason and that the Bulldogs' top four receivers from a year ago have all departed. That process starts now.
College football bowl games were all announced on Sunday, and you can check out the entire...

SportsLine simulated every bowl game 10,000 times for pick'em leagues and confidence pools

Everything you need to know to watch and pick the Las Vegas Bowl on Saturday
Everything you need to know to watch and pick the Camellia Bowl on Dec. 16

Everything you need to know to watch and pick the New Mexico Bowl on Dec. 16

Everything you need to know to watch and pick the Cure Bowl on Saturday