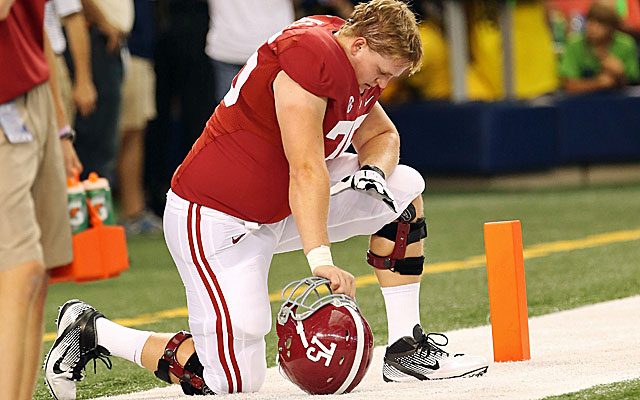 SAN DIEGO -- At 10:40 a.m. Pacific time Friday, the sun came up.
Unofficially, of course. But in terms of enlightenment it was a new day in the stuffy, bureaucratic suit-and-tied world of the NCAA. At 10:40 Friday morning 800 college administrators stuffed into a convention center conference room were asked: Do you support the concept of autonomy for the five BCS conferences?
Seventy percent were not opposed to the idea. (58 percent at least supported the concept, 12 percent were neutral.) Seventy percent were OK with ceding unprecedented power to the 65 BCS schools in the ACC, Big 12, SEC, Pac-12 and Big Ten.
Seventy percent essentially signed off on kids having agents while in school, kids getting some sort of compensation above their free education.
They all are concepts right now, but concepts that were in the heads of the voters, most of which were administrators from non-BCS (lower revenue) schools.
They handed the keys to a decades-old amateurism model to those high-resource 65.
"A comfort level," NCAA president Mark Emmert said, "has arisen."
Never mind that America's Finest City had earned its reputation outdoors while that 800 or so were stuck inside the past two days. But they actually got something done at the NCAA Convention Division I governance dialogue. Something that is going to resonate for years. Something that is going to change the way you view your favorite school.
Something that is going to make us forget what we were missing this week -- 80 and sunny.
The poll had no official impact but it was a referendum on the most prickly off-field issue of the day: How much does the nation's most powerful amateur body want to allow itself to become professionalized?
Perhaps a lot as it turns out.
"The [existing] model was unsustainable," said Barrett Jones, a former Alabama All-American, in town to accept an NCAA award. "It had to change."
That model for him, as he described it to the CBSSports.com, included leaving him only $200 to live on per month after he paid rent and utilities in his off-campus apartment.
"Professionalize college players? I don't think this does," Jones said of the concept of a stipend that would subsidize that free education.
"I love Alabama [but] we made $30 million this year. That seems kind of unfair because it's free labor … The answer is to give them [players] a higher stipend. We're not even allowed to have jobs, really."
Everything is potentially on the table. Agents, revenue from the sales of jerseys and autographs going to players. Collegiate Olympic prospects could solicit money so they could afford to train.
"If you went to Oregon, Nike would pay you," Jones theorized, "but who cares?"
None of it is finalized. These discussions will go on for months. Speaking to administrators this week, it seems the limits begin at length of season (no additional regular-season games) and scholarship limits (no more than the current 85 in football).
But the realization became, well, real on Friday. Those power conferences control the market, the rules and the purse strings. Let them spend away -- within reason.
"We're signatories to a near $7 billion college football playoff contract," Mountain West commissioner Craig Thompson reminded. "That's the separation [from the rest]."
With gobs of cash comes great responsibility. The example has been used over and over. If rank-and-file students can profit from a scholarship -- study overseas at Oxford, for example -- why can't athletes?
"They're at the top of their field in academics. We're at the top of our field in athletics," Jones said.
Jones is that elite athlete and scholar, at the top of any food chain you want to name -- academic all-American, all-SEC, three-time national champion, accounting major, graduated early. He just completed his rookie season for the Rams. Jones was in town to accept a Today's Top Ten award that honors athletes for academic, athletic and community service achievement.
He also grew up in Memphis, Tenn., next to super agent Jimmy Sexton, who just happens to represent him.
That sort of completes the circle drawn here in San Diego. SEC commissioner Mike Slive was somewhat grateful for the straw poll result.  It validated his stated mission to loosen rules regarding interaction with agents.
"We need to respect the dreams and aspirations of the young men and women who believe that professional sports is their career path," Slive said. "If you desire to be a concert pianist our institutions bend over backwards to help you get to the New York Symphony."
No one really knows how it's all going to shake out. Former NCAA enforcement director Julie Roe Lach was once part of an NCAA group that deregulated amateurism standards. It was decided long ago that it was OK for athlete to be a pro in one sport and still be an amateur in another. Think John Elway, the Yankees prospect, while he played football at Stanford.
"So on the back end, as people are nearing end of college career, do we really care that they are preparing for the next step?" Roe Lach asked. "As long it's not influencing the integrity of the game."
Yeah, well, there's that. Allowing college kids to sign with agents carries all kinds of implications.
"You don't want the wide receiver to have an agent and the agent to say, 'I don't want him to take a pass across the middle,'" she said. "On the other hand, the student-athlete his last year needs to have some professional advice."
Underclassmen have long been allowed to get draft evaluations. But with a record 96 players coming out early for the NFL, a lot of them obviously have not thought this thing through. Based on previous results there are going to be a lot of future insurance salesman (aka undrafted) come draft day on May 8.
"Democracy can be messy at times. Not that this was necessarily," ACC commissioner John Swofford said Friday. "Part of this was positive, that's not easy."
Not with a wide range of interests in the dialogue that harkened back to the days when schools voted on issues with paddles. (Green for "yes," red for "no").
"I was gratified," Slive, one of the most powerful persons in that room. "This allows us to function in a way that is much more consistent with the way the rules are going to look like going forward."
Slive and his four BCS commissioner peers have wielded a mostly velvet hammer over the last few months. Not an our-way-or-else type thing, but darn close.
Not one of them rose to speak during the two days of the dialogue. They didn't have to. Their wishes were implied.
"The silence," said one BCS-level AD, "was deafening."
During these two days you could literally see presidential power slip away. The NCAA board will have to ratify changes but those collegiate CEOs have had their chance. They know that.
It's a new day -- one where it's always sunny in the SEC, Big 12, ACC, Big Ten and Pac-12.