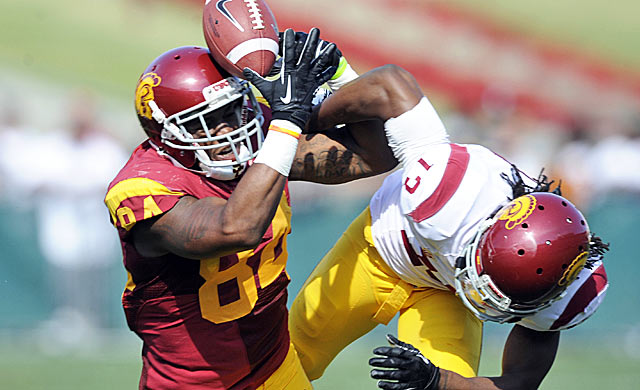 It's hard to get too much of a gauge on a team from its spring game. USC's even more than most given that on Saturday new head coach Steve Sarkisian kept so many of his projected starters out of action in its 85-play scrimmage. More than 20 players were sidelined Saturday, including tailback Buck Allen, star D-lineman Leonard Williams, cornerback Josh Shaw and safety Su'a Cravens. But after chatting with some of the USC coaches and players, here are four takeaways from the Trojans spring.

1: Beware of Leonard Williams: In 2013, the 6-5, 298-pounder made All-American teams by amassing 74 tackles (second-best on the team) along with a team-high 13.5 for losses and six sacks. Here's the scary part for USC opponents this fall: Williams told me Saturday that he did that while only playing at about "65 percent" all season due to a torn labrum in his right shoulder suffered in training camp. Williams, who sat out most of the spring and has primarily done one-on-one conditioning work with strength coaches, estimated that he's back to around 80 percent now. Asked if the Trojans had a real game Saturday, Williams said he "definitely" would've played. He says he will be at 100 percent by the start of the summer.

2. Cody Kessler is primed for a very good 2014: While Sarkisian held off on naming his starting QB till late in the spring, Kessler, a 6-1, 215-pounder who started all 14 games last season and threw 20 TDs against just 7 INTs while completing 65 percent of his passes as a sophomore, has made some big strides forward this off-season.
Trojans coaches noticed a much more confident and decisive QB and that should bode well in the new up-tempo scheme Sarkisian has brought. OC Clay Helton, who is well-versed in the attack after spending a decade in something similar while at Memphis, says he was impressed by how sharp Kessler was, how much quicker he's getting the ball out, how much better his decisions have been and his improved accuracy. According to Helton, Kessler completed on 75 percent of his passes this spring in everything the staff charted.

3. Even without Marqise Lee, the Trojans receiver crew will be much better: USC loses Lee, an All-American, to the NFL, but coaches were delighted by how budding star Nelson Agholor stepped up as a leader and displayed more of play-making presence. They're also excited that a position that was incredibly thin in 2013 is going to become much, much deeper. Keep an eye on sophomore Darreus Rogers, who was sidelined for much of 2013 with injuries.
The 6-2, 215-pounder was the Trojans most improved player this spring, according to WR coach/passing game coordinator Tee Martin, adding that Rogers is the type of wideout USC hasn't had in awhile.
"He kinda reminds me of (NFL great) Sterling Sharpe," said Martin. "He really competes and challenges for balls (in traffic), has great hands and is a great route runner."

4. The O-line is the Trojans X-factor: USC should be much improved in a bunch of key spots: QB, WR and in the secondary, but the biggest thing that could keep the Trojans from being a top 15 team is its offensive line. It's been a big headache pretty much since Pete Carroll left and the NCAA sanctions have only made things worse. It figures to be a major concern again.
Last season, Kessler was sacked 30 times. USC is going to have to rely on a bunch of unproven younger guys up front this fall, and even though many of them were highly touted recruits, some may have to see action before they're ready. It's also always tough to get a sense on a group where a bunch of guys are playing for their third position coach in three years.