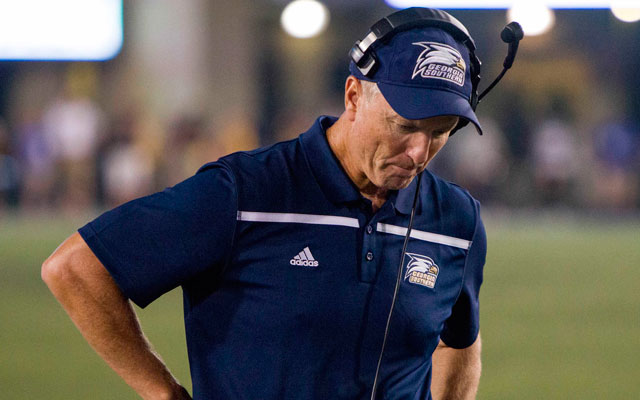 Georgia Southern coach Willie Fritz has expressed interest in the Iowa State job, sources told CBS Sports.
The 55-year-old Fritz has guided the Eagles to a 16-6 record in two seasons as coach in Statesboro, Ga. The Eagles are currently 7-3 coming off an overtime loss at Georgia.
In his first year as head coach, Fritz led Georgia Southern to the Sun Belt title. Because the program was still transitioning to FBS, it was not allowed to play in a bowl game.
The Eagles lead FBS in rushing for the second straight year. Fritz runs a power run option scheme at Georgia Southern but has vast experience in running various kinds of offense.
"They have the ability to become more of a passing team," said a source close to Fritz. "Part of Willie's thought process was they had so much success with option football, why go away and make a drastic change? I think he has the ability to go to more of a spread attack."
Iowa State's Paul Rhoads was fired Sunday, bringing a 32-54 record into his final game Saturday against West Virginia. It is not known if there is reciprocal interest in Fritz by Iowa State.
Fritz has won at virtually every level since joining Coffeyville (Kan.) Community College as a defensive coordinator in 1987. In 13 years as Central Missouri's coach, he won 97 games and advanced to one Division II playoff.
In four years at Sam Houston State, Fritz won 40 games. The Bearkats went to three straight FCS playoffs, losing consecutive national championship games in 2011 and 2012.
One coaching friend said Fritz is of the "Jerry Kill model." Kill, recently retired at Minnesota, worked his way up to FBS winning at Southern Illinois and Northern Illinois before getting to the Big Ten.
Fritz's name surfaced at Kansas last year before the Jayhawks hired David Beaty.