With Joker coaching WRs, Gators hope to rekindle passing game
Florida hasn't had a 1,000-yard WR since the 'Fun 'N Gun' days, but that could change with Joker Phillips coaching up young receivers .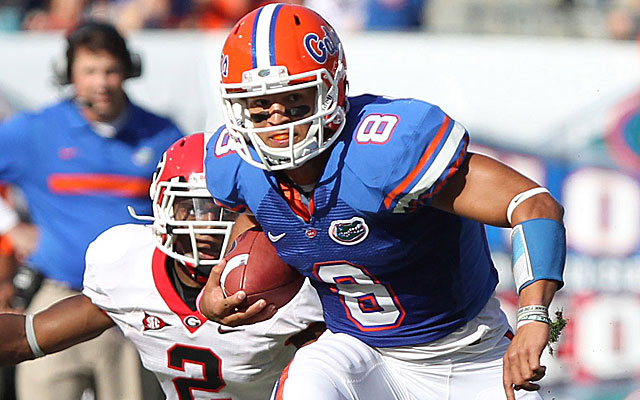 GAINESVILLE, Fla. -- In the 12 years of Steve Spurrier's "Fun 'N Gun" offense at the University of Florida (1990-2001), there was no team in college football that had more high-profile wide receivers than the Gators.
These guys were so famous that Spurrier never used their last names. He didn't have to.
It wasn't Ike Hilliard and Reidel Anthony. It was "Ike and Reidel," as in "Butch and Sundance."
It wasn't Jacquez Green. It was "Quezzie."
If having a receiver post 1,000 yards in a season is the mark of excellence, few teams at the national championship level did it better than Florida. From 1995 to 2001, Spurrier's last season in Gainesville, the Gators had nine receivers to break the 1,000 yard mark. In 2001 (Reche Caldwell, Jabar Gaffney) and 1995 (Chris Doering, Ike Hilliard) Florida had two players with more than 1,000 yards in receiving.
Today, those glory years of being "Wide Receiver U" seem far, far away for the Florida Gators. Specifically:
• Since Spurrier left after the 2001 season, Florida has had only one 1,000 receiver (Taylor Jacobs in 2002).
• Under Spurrier, Florida had 14 wide receivers to catch 50 or more balls in a season. Florida has had 10 wide receivers to catch 50 balls since he left, but none in the last three years.
• And here's the kicker: Explosive plays are defined as those going for 20 yards or more. They were a staple under Spurrier. Last season Florida had only nine pass plays of 20 yards or more involving the wide receivers.
"That is certainly not what we want," said head coach Will Muschamp when I sat in his office earlier this year. "And that is something that has to change. We have to get more explosive plays out of the passing game."
Florida won 11 football games last season despite having the No. 103 offense in college football. Florida was No. 114 nationally in passing (146.31 ypg) but still would have won the SEC East if not for a 17-9 loss to Georgia when the Gators turned the ball over six times.
Now there are a bunch of reasons why the Gators have gotten to this point. One reason is that in the four years (2006-2009) with Tim Tebow as Florida's quarterback, Urban Meyer and his staff simply didn't bring in that many elite wide receivers. Oh, they brought in some guys who looked good on paper, but the game's not played on paper. Percy Harvin was a notable exception.
The Florida Times-Union reports that from 2008 to 2012 Florida signed 14 wide receivers. Five of them transferred. Only one of the remaining nine, Quentin Dunbar, ever caught more than 30 passes in a season.
Another reason the passing game struggled in 2012 was that Jeff Driskel was a young quarterback trying hard to learn a system. He ran too much and got sacked too often.
"But some of those sacks were because I held onto the ball too long and didn't get rid of it," said the rising junior. "We are going to be better in the passing game because I'm going to be better and our receivers are going to be better."
Another major reason Florida's passing game didn't put up big numbers last season is that the defense was so good, it became the No. 1 job of the offense not to turn the ball over. In 2011, Muschamp's first season as head coach, Florida was minus-12 in turnover margin and finished 7-6. Last season, because they protected the football better, the Gators were plus-15 (30 takeaways, 15 turnovers).
"The reality is that in our offense last year, with a young quarterback and some developing wide receivers, and a proven back in Mike Gillislee, it was our job to take care of the football first and foremost," said Brent Pease, Florida's offensive coordinator. "Now we have some room for growth and to get better."
Pease is going to have to do it with young players. Florida had six players with double-digit receptions last season and only two of them are returning. Dunbar (36 catches) is the leading returning receiver while the reliable Trey Burton (18 catches) will be in the slot. Solomon Patton (5-foot-9, 168 pound) is a senior with only eight career catches. He'll figure into the mix as a fifth wide receiver.
Florida's 1,000-yard receivers
Year
Player
Yards
2002
Taylor Jacobs
1,088
2001
Reche Caldwell
1,059
2001
Jabar Gaffney
1,191
2000
Jabar Gaffney
1,184
1999
Darrell Jackson
1,156
1998
Travis McGriff
1,357
1997
Jacquez Green
1,024
1996
Reidel Anthony
1,293
1995
Chris Doering
1,045
1995
Ike Hilliard
1,008
Florida signed five wide receivers last February and at least two of them are going to play a lot. De<player idref=, the best of the group, enrolled early and went through spring practice. He has been impressive in the last couple of scrimmages. Ahmad Fulwood from Jacksonville is big (6-4, 200) and can stretch the field.
But aside from an upgrade in talent, Florida's wide receivers are going to be better in 2013 because Joker Phillips will be coaching them. The former head coach at Kentucky came on board last spring to provide stability at a place where Florida really needed it.
A year ago the position was coached by a graduate assistant because wide receivers coach Aubrey Hill suddenly resigned on Aug. 3, right at the start of preseason practice. Hill, a former Miami assistant, reportedly had ties to Hurricanes booster Nevin Shapiro, who is at the center of an NCAA investigation into the school.
Phillips will be the fifth wide receivers coach that Florida has had in the past five seasons. Before Phillips was the head coach at Kentucky, he was the offensive coordinator. Before that, he was the wide receivers coach. Before that he played wide receiver at Kentucky. He knows his stuff.
"I can't tell you how great it is to have Joker Phillips on our staff," said Muschamp. "He played the position. Coached the position. He's been an offensive coordinator and a head coach. It is great to have somebody like that in the staff room. We are going to be better because of him." Because of what Phillips has done with the young wide receivers, Muschamp probably won't have to go to his nuclear option in order to get big plays out of the passing game. Loucheiz Purifoy, Florida's best cover corner and the best overall athlete on the team, worked extensively at wide receiver during the spring. If the young receivers didn't start showing some signs of life in August, Purifoy was going to become Florida's version of Georgia's Champ Bailey. Right now it looks like the Purifoy experiment can be put on hold.
"We'll see what happens when the games start," said Muschamp. "But we're going to do what we have to do to improve that part of our game."
A concert is a nice way to break up preseason camp

Mills was arguably Georgia Tech's most important player coming into the season

Hugh Freeze's phone records reportedly show another troubling pattern for Ole Miss
They aren't necessarily great teams, but they're teams I'm really interested in following this...

The Irish will wear them on Nov. 18 against Navy

The fourth-year coach of the Nittany Lions led the program to the 2016 Big Ten Championshi...