The Bacon 'Bag: Tiger's major chances, the Pettersson penalty and more
Our weekly Bacon 'Bag tackles some PGA Championship questions along with which college has the most LPGA wins and if Tiger Woods is going to pass Jack Nicklaus.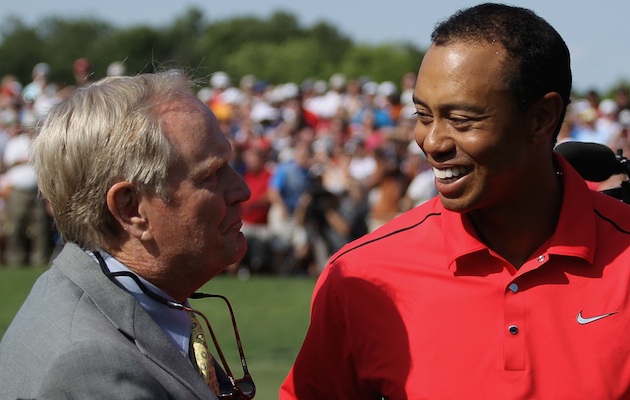 Does Tiger still have a chance at Jack Nicklaus' major record? (Getty Images)
Golf is full of questions. How do I hit it further? How do I break 90? What is wrong with Tiger Woods? Why are you such an idiot?

It's a game that will never be figured out in the millions of years people will play it, but it's fun to try to figure it out. Every Tuesday, it'll be you guys that help us answer the in-depth (and ridiculously fun) questions about the game. Have a question? Fire it our way on Twitter to either @shanebacon or @eyeongolf with the hashtag "#eyeqs". We will pick out the best of the week, answer them as best we can, and continue this throughout the rest of the season.

So we begin right here with our weekly Q and A with the readers …
@shanebacon @eyeongolf who was the biggest surprise at the #PGAChamp this week? #eyeqs

— Golfwerkz (@golfwerkz) August 13, 2012
A. It would be easy to pick Lee Westwood, Hunter Mahan or Rickie Fowler missing the cut as a shocker, since all three had something to seriously play for, but if you say anyone but David Lynn you're absolutely kidding yourself. 
The 38-year-old Englishman finished solo second in his first start ever on the PGA Tour, and he did it against the stiffest of competition without really letting his nerves get to him. Sure, he had played some good golf heading into the PGA, but a fourth at the French Open and a 36th place finish at the Scottish Open doesn't exactly scream "top-two at a major."
Lynn is the answer, and nobody else is even close.
Most likely to win another major: McDowell, Oosthuizen, Bradley, Bubba, Kaymer, Schwartzel, Webb Simpson.#eyeqs

— Bathtub Hahn (@bathtubhahn) August 13, 2012
A. Wow, great question. All these names definitely have that "could win four majors, could win one" feel to them, right? Graeme McDowell has been solid this season in majors, but failed to close any out. Louis Oosthuizen nearly won the Masters before Bubba Watson, another name on the list, snagged it from him (and Bubba himself lost in a playoff at the 2010 PGA). Even Keegan Bradley, the surprise in Atlanta a season ago, finished T-3 last week as the defending champion.
So, my list, with the names you've given me goes like, with most likely to win another major up top and least likely at the bottom.
Graeme McDowell (too talented, too tough, keeps giving himself chances)
Louis Oosthuizen (golf swing is too good not to click during another major week, especially the British)
Bubba Watson (talent level is extremely high and his length and ability to move it right to left always gives him a shot at Augusta, not to mention St. Andrews)
Webb Simpson (just seems like another Payne Stewart or Lee Janzen type)
Keegan Bradley (tough customer who seems to get better when the pressure builds)
Charl Schwartzel (an incredible performance at Augusta, but only one other top-10 in a major in his career)
Martin Kaymer (the biggest question mark on the list, since his game has seemed to disappear since Whistling Straits)
@shanebacon i got 2..1. do you think Tiger will win another major? and 2. do you think Tiger will pass Jack? #eyeqs

— nick stasiak (@1staz8) August 13, 2012
A. I've been asked the first question plenty of times in the last year, and my answer is a little flip-floppy. Do I think Tiger has the potential to win another major? Yes, absolutely. Do I think it's going to happen anytime soon? No, not after his last three starts. I could see Tiger snagging a major in a couple of years, after the hype of this run at Jack Nicklaus' incredible 18-majors dies down. I don't think Tiger will catch Jack because of all the chances he's missed out on, but I could see Tiger letting his incredible talent shine when he's 38-42. Also, we must remember that he will get to play St. Andrews at least three more times, and that is always going to be a course that gives Tiger a great shot at a major. 
@shanebacon #eyeqs Do you agree with the penalty call on Pettersson? Not that it wasn't enforced correctly, but the intent of the rule?

— Chris Charles (@BetterThanM0st) August 13, 2012
A. Your question is totally the right approach to the ruling. Not that the ruling but wrong, but simply the rule, and yes, I think it's ridiculous.
Here is my reasoning why it's a dumb rule that leaf blowing in the wind can hit a guy's club in the hazard and cause a penalty; the whole reason that "grounding your club" in a bunker isn't allowed is for condition testing. That basically means that if you unfortunately hit it in a hazard, the penalty is you are going to have no idea what kinda of lie, grass, mud, etc. faces your next shot. It's the same reason that most of the time (sans Kiawah Island), you can't test a bunker before hitting the shot because that would give you an unfair advantage since taking practice swings gives you a good idea of what type of sand you're about to play out of. 
Hitting a leaf isn't testing your conditions. It's simply, hitting a leaf. It has no advantage or disadvantage to the golf shot you're about to play, or are going to play. So for Carl to be penalized for that doesn't justify the rule. That's my biggest hang-up with it.
It's the exact same reason that Amare Stoudemire shouldn't have been thrown out of that '08 playoff game against the Spurs. Yes, the rule says that if you step on the court, you're suspended, but the idea is simply to keep guys from getting into an altercation. Amare took one step on the court, turned around and went back to his seat. That is not partaking in an altercation the same way that hitting a leaf isn't helping you extract your ball from a hazard any better than if you didn't hit it. 
@eyeongolf #eyeqs.Recently, Brittany Lang was first from Duke to get LPGA win.Can you tell me which college has the most LPGA wins?

— Make more putts (@sam_LPGAfan) August 14, 2012
A. Hey Sam, glad you asked, because this question allows me to gloat a little bit. I called the LPGA office, talked to someone in communication, and turns out, they don't actually keep stats on such a thing.
That said, we dug around, and the answer is my alma mater, University of Arizona! Bear Down! Both Annika Sorenstam and Lorena Ochoa went to Arizona, along with some other notable winners (Natalie Gulbis is on that list), so yeah, the default, not 100 percent but basically 100 percent answer, is Arizona.
Now if you'll excuse me, I'm going to go have a refreshment at Dirtbags. 
The next season of golf has a real chance to be one of the best any of us has ever seen

This season will fascinate as old stars converge with up-and-coming superstars

With a single golf lesson up for auction, Tiger Woods changed some lives forever in Texas this...
The Days have had a rough 2017 from beginning to end

Why in the world would a former FedEx Cup winner hop on 24 hours worth of flights this wee...

Following the debacle at the ANA Inspiration earlier in 2017, Thompson has some thoughts